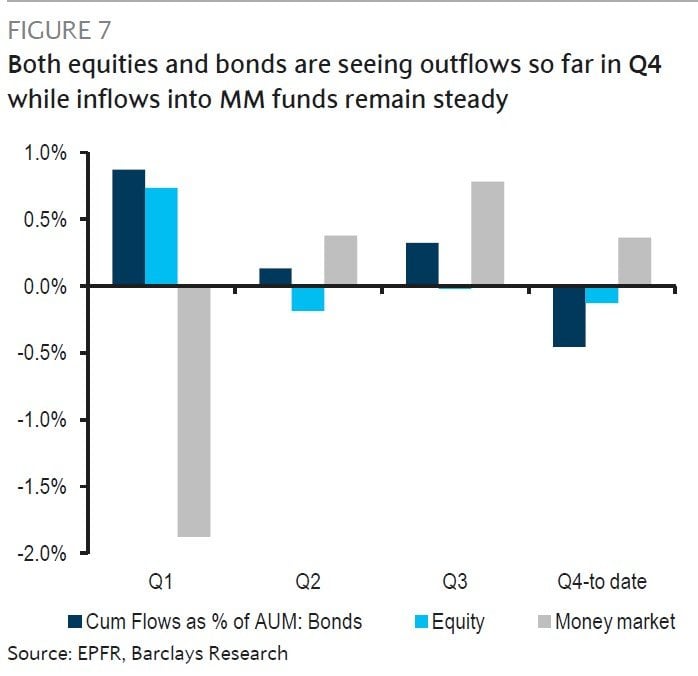 Most of the time when stocks go up, bonds go down, and when stocks go down, bonds go up, but this fall has been interesting. It's been a scary several couple of months for risk-averse investors, but many hedge funds and institutional investors have been cheering the return to volatility, especially this month.
Over the last three trading sessions, the S&P 500 has bounced up and down dramatically, as have the NASDAQ 100 and the Dow Jones Industrial Average. The major U.S. stock indices ended last week with a bout of widespread selling, but that has reversed course again today with all four indices rebounding dramatically in early trade this morning.
Flight to safety or contrarian signal for stocks?
Amid all this volatility, Barclays strategist Emmanuel Cau and team said in a recent note that investors have continued their flight to safety. Mutual funds have been selling both stocks and bonds and allocating toward cash instead, and investors continued the trend.
Alkeon expects data growth to surpass 5G's capabilities by 2028 [Q4 Letter]
Alkeon Growth Partners wrote at length on tech stocks and why they are defensive in their recent letter to investors, which was reviewed by ValueWalk. The fund also highlighted 5G and other advanced technologies and the investment opportunities they offer. Q4 2020 hedge fund letters, conferences and more Artificial intelligence and machine learning The Alkeon Read More
Q3 hedge fund letters, conference, scoops etc
The Barclays team found that inflows to money market funds compared to equity and bond funds have drifted above their six-month average.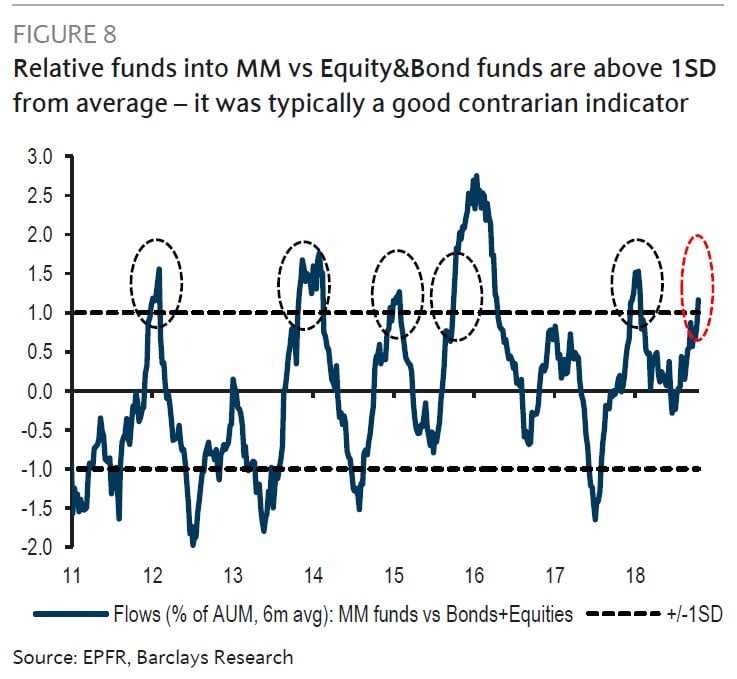 They add that there have been five other times with similar flow trends since 2010, and in each of them, equities ended up moving higher over the following three to six months while bonds declined.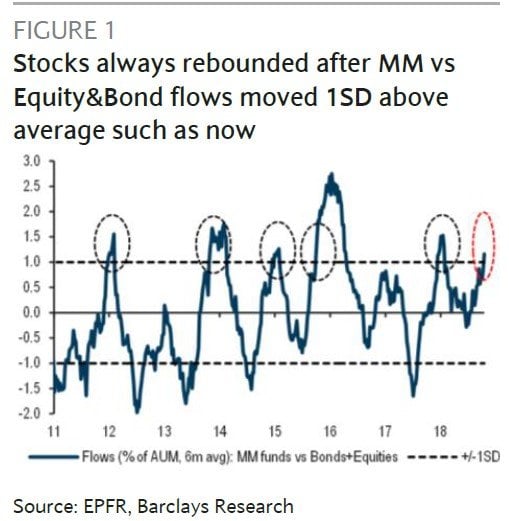 Comparing equity flows in the U.S. and the rest of the world, the Barclays team said the year-to-date gap between them "still looks extreme" historically, although it stabilized last month.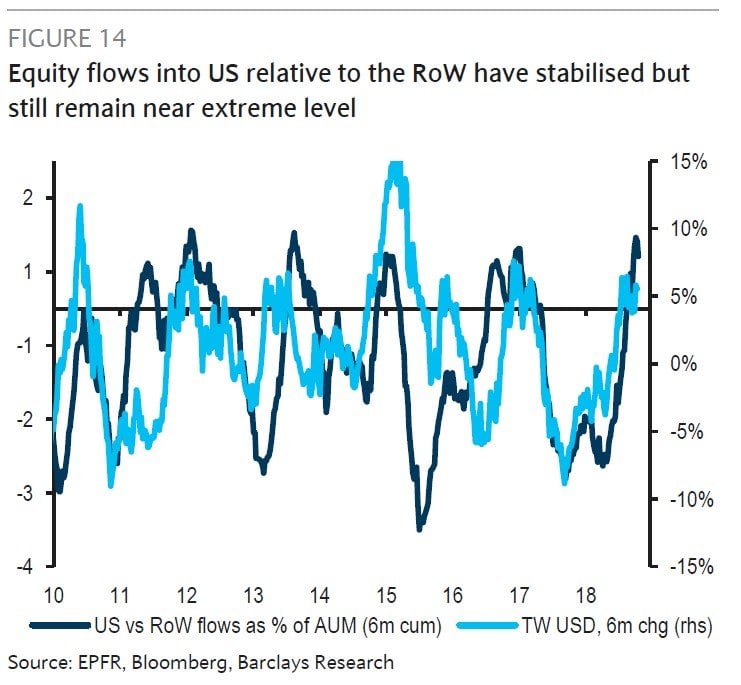 They observed outflows among U.S. equity funds last month, while emerging market equity funds recorded their biggest inflows in half a year. Outflows from European equity funds also continued unabated after 32 consecutive weeks. According to Barclays, this is the longest streak of outflows recorded in two years.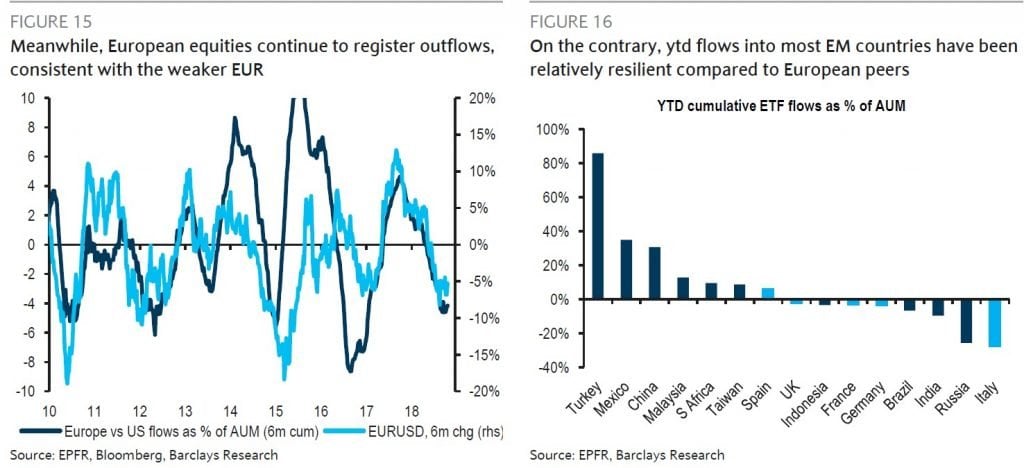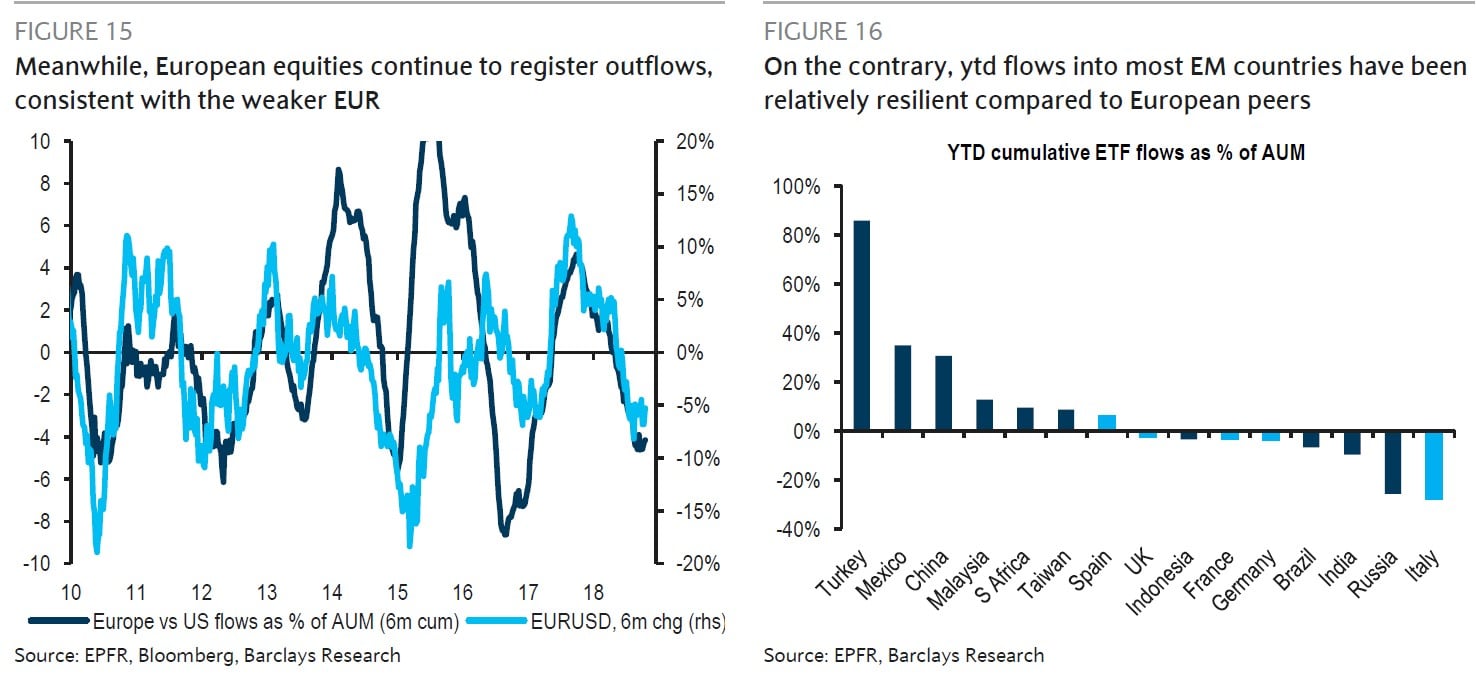 The firm is still cautious on emerging markets due to the Federal Reserve's continual tightening, the strength of the U.S. dollar, and trade tensions. Cau and team added that just a "small proportion of the significant inflows into EM bonds and equities" over the last couple of years has been unwound so far this year, so they anticipate additional profit taking in those markets in the coming months.
Macro hedge funds are short bonds and equities
The Barclays team also looked at positioning among macro hedge funds, which seem to be "extremely short" bonds and also short equities. They based this conclusion on an analysis of the sensitivity of the HFRX Macro HF & CTA index to Treasuries.
They believe macro hedge funds have been short equities into the recent selloff, while CTA funds appear to have "held residual long exposures." According to Cau and team, this positioning would account for the beta spike in equities within the broader index while the index of only macro funds continued to be short.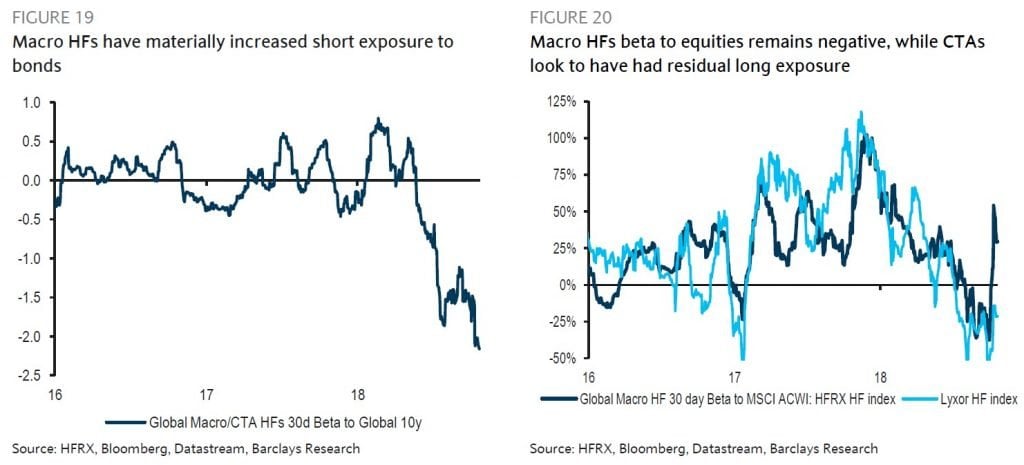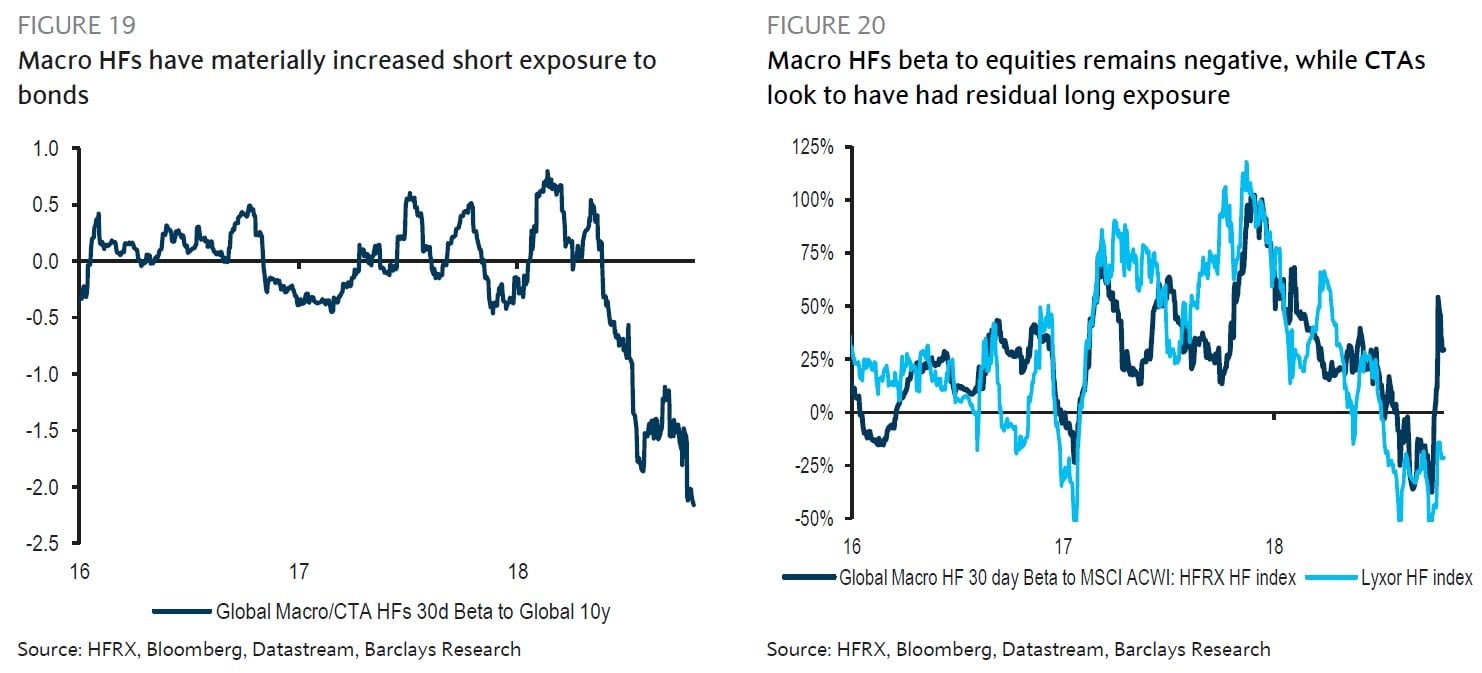 Overall, Barclays says hedge funds are still long U.S. stocks and short European equities.
Rotation from growth to value continues
The firm also found signs of de-risking within the equity market as the rotation from growth into value picked up momentum since early in the third quarter. Cau and team pointed out that growth rallied in the first half of this year, but then there was a dramatic rotation out of growth, which started to underperform sharply.
The Barclays team said the top three growth exchange-traded funds in the U.S. are reporting year-to-date outflows, while the top three value ETFs are recording inflows for the year. Cau and team believe this this consistent with the bond yield rebound.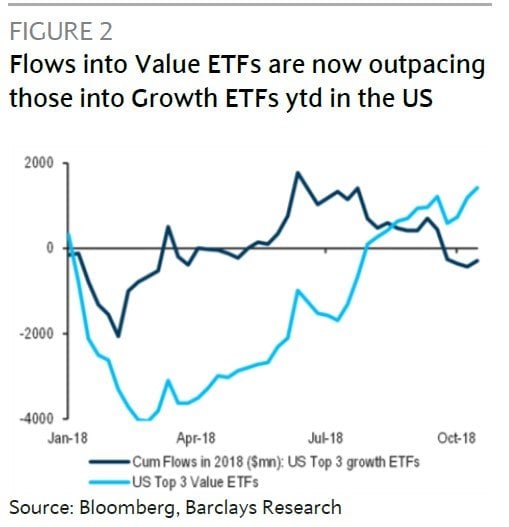 De-risking within sectors also on the rise
Looking at the equity market from a sector standpoint, the Barclays team also noted a shift toward defensive positioning. Cyclicals allocation shifted lower in September, while allocation to defensive sectors such as utilities, consumer staples and telecom shifted higher.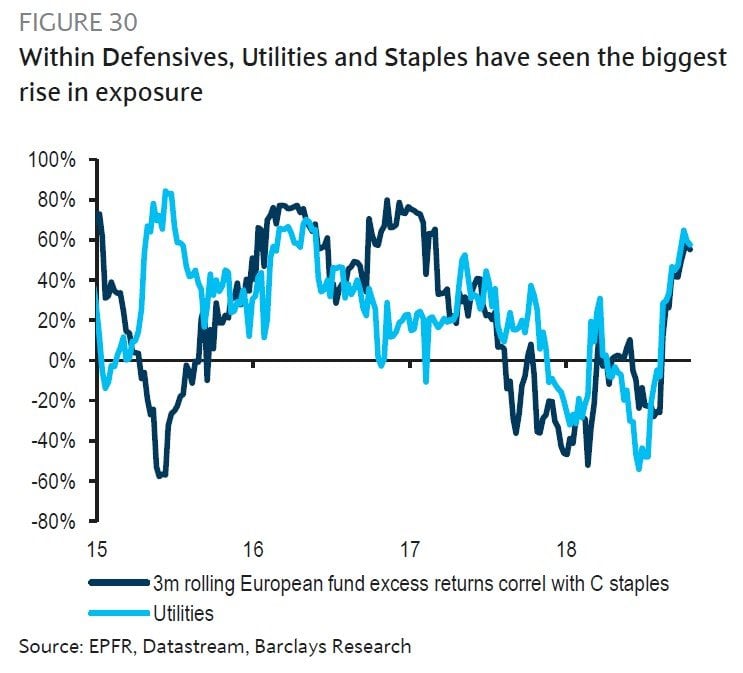 The Barclays team also noted that inflows to financials equity ETFs have held steady while tech-focused ETFs have racked up significant outflows over the last few months.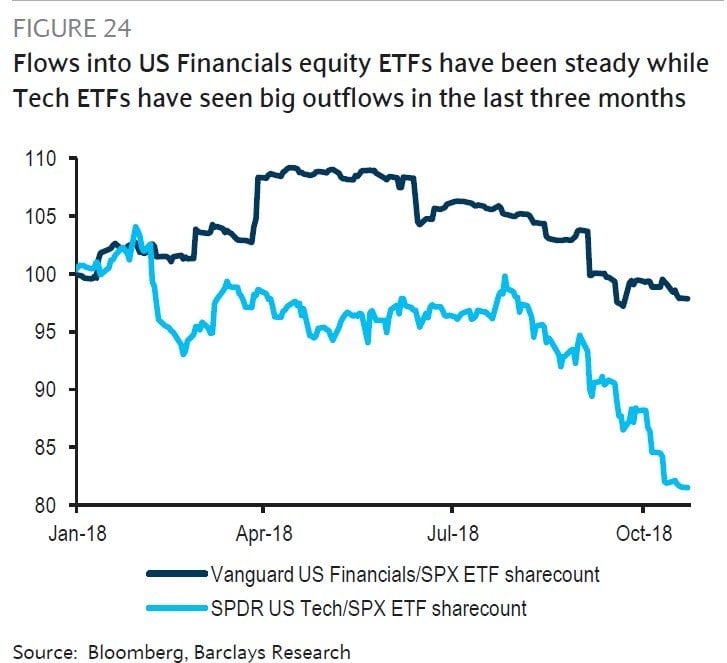 This article originally appeared on ValueWalk Premium