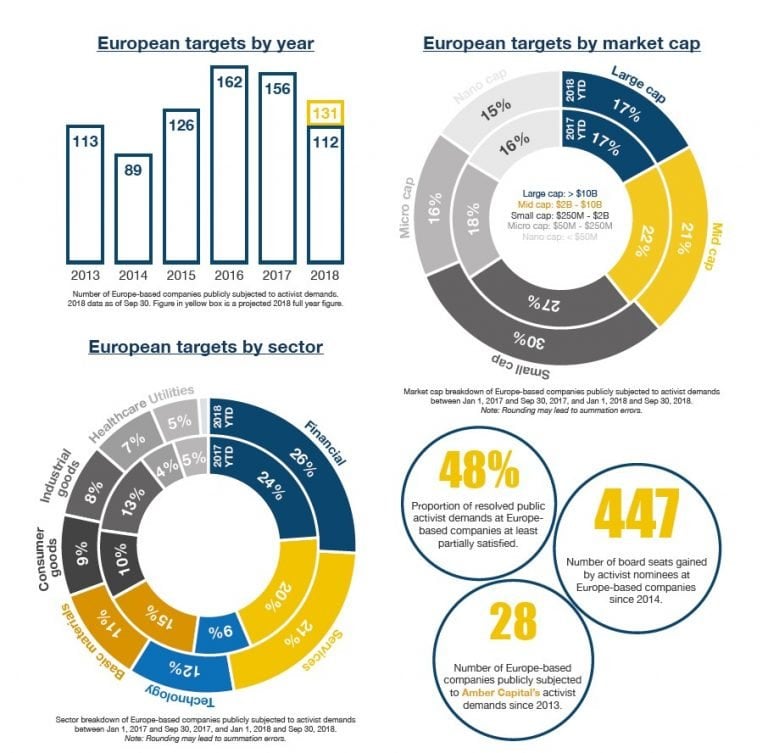 Activist Insight is delighted to announce the release of Activist Investing in Europe 2018, produced in association with Skadden. The 36-page report, which features commentary by industry experts from Georgeson, Brunswick, and Morgan Stanley, provides a comprehensive overview of activism in the region, with statistics from Activist Insight, legal analyses, and Q&A sessions with Skadden lawyers.
The report provides a comprehensive overview on the state of activism in Europe, with in-depth analysis of the United Kingdom, France, Germany, Italy and Switzerland. It also includes discussion on the key campaigns over the past year and quantitative analysis on the number, size and sector of companies publicly targeted by activists.
Key data and trends from the report include:
Peter Lynch: How Investors Can Find Their Edge
Peter Lynch was one of the best growth investors of all time. As the Magellan Fund manager at Fidelity Investments between 1977 and 1990, he averaged a 29.2% annual return. Q1 2021 hedge fund letters, conferences and more The fund manager's investment strategy was straightforward. He wanted to find growth companies and sit on them Read More
Activists have publicly subjected 112 Europe-based companies to activist demands in 2018 (as of 30 September)
The US$7.7 billion of newly disclosed activist investments in Europe during the first quarter was the biggest start to a year since 2015 – and only the third quarter in which the value of new activist stakes was higher in Europe than in the U.S. since 2013
The number of U.K.-based companies publicly subjected to activist demands is expected to hit a record high in 2018, having already matched last year's total at the end of the third quarte
Although winning board seats is seen as harder in Europe than in the U.S., activists have placed 447 directors since the beginning of 2014
The proportion of activist targets in the technology sector increased from 9% to 12%, when comparing the first three quarters of 2017 and 2018
Quotes
Armand Grumberg, head of Skadden's European M&A practice, commented: "The European market has become highly active among activist investors, while traditional long only institutional investors have been increasingly vocal about their portfolio companies. Given the evolving dynamics and the generally increased sophistication of activist campaigns as well as a better understanding of the European legal framework by U.S. activist investors in particular, companies should strongly consider their preparedness for an activist campaign as they plan corporate strategies or transactions."
Josh Black of Activist Insight, and editor of the report, added: "Activists have had a dramatic impact in Europe in 2018, with breakups from Whitbread to ThyssenKrupp unlikely to have occurred without their input. The allocation of significant resources to Europe by U.S. activists and improved receptivity to their role ensures that the coming year will likely be another noteworthy one in the development of this market."
Activist Investing In Europe
Josh Black, Activist Insight.
WHETHER through lack of opportunities in the U.S. or an unusually appealing economic climate, Europe came to the fore in activism during 2018. According to Activist Insight Online data, the $7.6 billion of newly disclosed activist investments in Europe during the first quarter was the biggest start to a year since 2015 and only the third quarter in which the value of new activist stakes was higher in Europe than in the U.S. since 2013.
The number of activist campaigns may not be growing, however. At the end of the third quarter, activity in four of the five markets covered in-depth by this report had fallen compared to the same period last year.
Then again, those countries accounted for just over half of the total number of situations in Europe tracked by Activist Insight Online. The likes of Poland, Slovenia, and Czechia have activist cultures, if not yet a great deal of attention from traditional activists. Although the strength of the U.K. activism market stands out, the allocation of significant resources to the Continent should not be overlooked.
Three themes stand out from 2018's experience. First, the appeal of European and specifically U.K.-listed assets to American buyers. The likes of Whitbread, SodaStream, and Sky sold themselves or business divisions to U.S. buyers in the first nine months of the year, while the number of U.K.-based companies subjected to public demands by U.S.-based activists has doubled from 2017 to 2018.
Second, the fulfillment of a prediction made in last year's Activist Investing in Europe report, when we wrote that "U.S. activist interest in Europe has increased and the groundwork has been laid for a sustained level of activism." ValueAct Capital Partners now has three significant investments in the U.K., including the only non-U.S. stake in its impact investing fund, while Trian Partners raised 270 million pounds through the London Stock Exchange for what may be a U.K. target.
Third, the big campaigns have been less event-driven and more operational in nature. Non-European-based activists are more likely to push for M&A-related demands, a fact that was in evidence last year at Clariant and AkzoNobel. But ValueAct and Trian are known for their operational focus, while the year's biggest headlines were generated by Elliott Management's proxy contest at Telecom Italia, where the Italian government intervened to prevent asset sales. ThyssenKrupp, where Elliott and Cevian Capital pushed for a looser conglomerate structure, was more complicated than a mere breakup play, even though the interim CEO ultimately fell behind a plan to split the business in two.
Nonetheless, this year looks set to exceed 2017's level of public demands for M&A to take place, with 17 recorded in the first three quarters of this year versus 15 in the same period last year. Opposition to M&A, often enabled by favorable minority protections, has melted away, falling from 15 in the first three quarters of 2017 to eight in 2018 thus far. European investors are reaping the advantages of a strong dollar and the deployment of private equity capital.
More broadly, institutional investors continue to be vocal even outside of boardrooms and collective action vehicles such as The Investor Forum. At Unilever, Aviva, and Ryanair, individual institutions have offered public criticisms. At Sports Direct, pressure finally led to board changes, while Unilever scrapped a plan to reincorporate solely in the Netherlands amid fears it would disadvantage U.K. institutional investors. Whether this trend spreads to the Continent, where the players are substantially different, will be a big question for 2019.
Thanks in no small part to the rising profile of activism in Europe, we have been able to expand this report and hope it will become the pre-eminent annual survey of the topic. We are grateful for the support of Skadden, our partners for a fourth time, as well as new contributors Georgeson, Morgan Stanley, and Brunswick.
Download the full report on Activist Investing In Europe 2018 here.