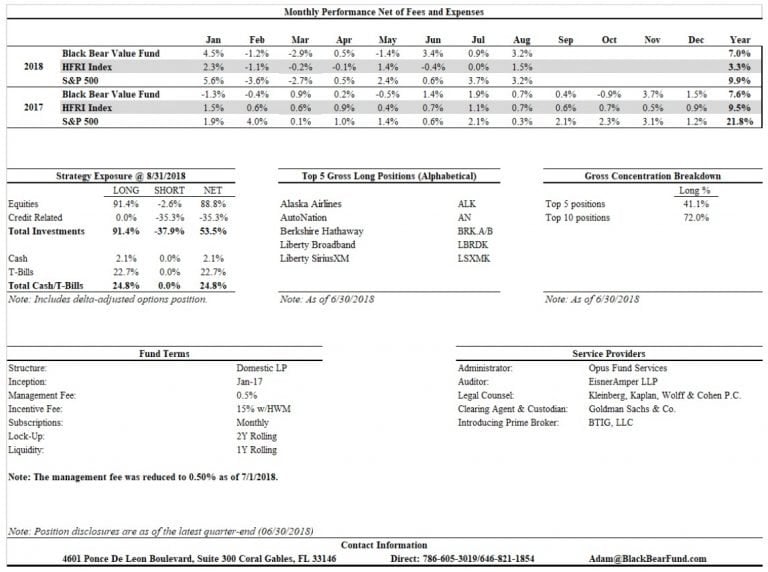 Black Bear Value Fund commentary for the month ended August 31, 2018.
Dear Partners and Friends,
The Black Bear Value Fund returned approximately 3.2% net in August bringing the 2018 net return to 7.0%.  The S&P 500 returned 3.2% in August bringing the 2018 return to 9.9%.  The HFRI index returned 1.5% in August bringing the 2018 net return to 3.3%.
This mining and metals fund is having a strong year so far
The Delbrook Resources Opportunities Master Fund was up 9.2% for May, bringing its year-to-date return to 33%. Q1 2021 hedge fund letters, conferences and more Dellbrook is an equity long/ short fund that focuses exclusively on the metals and mining sector. It invests mainly in public companies focused on precious, base, energy and industrial metals Read More
Q2 hedge fund letters, conference, scoops etc
As I have mentioned in prior emails, the S&P 500 is an imperfect comparison and getting more imperfect for our portfolio as time goes on. Our portfolio has increasingly less overlap. We have investments in foreign countries, in non-indexed companies, in cash and a large short credit position. However, as you have the alternative to invest in the S&P 500 it's performance is still a relevant benchmark.
It was suggested to me that I provide some comparisons to other funds.  After some thought, I decided to include the HFRI multi-strategy index and will provide that data point going forward.
The timing of your investment could result in different returns so please consult your statement.  Statements should be arriving from the fund administrator shortly.
Fund Strategy
Black Bear Value Fund, LP is an opportunistic, concentrated and fundamental value investment partnership. The Investment Manager seeks to preserve capital and achieve long term capital appreciation with sensible risk by focusing on the margin of safety of an investment. We view risk as the probability of permanent loss of capital, not the temporary swings in a security's market price. We actively seek undervalued and concentrated investments in the stock and bond markets that can be purchased at discounts to their intrinsic value/recovery value. We employ a tax efficient approach given our long-term investment horizon.
Portfolio Manager
The Fund is managed by Adam Schwartz who has 16 years of buy-side investment experience in a variety of themes including equities, structured products, corporate credit and capital structure arbitrage. Prior to founding the Investment Manager, Adam served as a Director and senior member of the investment team at Fir Tree Partners, a $13BB peak-AUM multi-strategy investment manager (2007-2015). Prior to joining Fir Tree, Adam was an Investment Analyst at LibertyView Capital Management, a multi-strategy investment fund within Lehman Brothers, as well as at Kore Advisors, an investment fund seeded by Paloma Partners. Adam received his BS and MS with a concentration in Accounting from Washington University in St. Louis in 2001/2002.