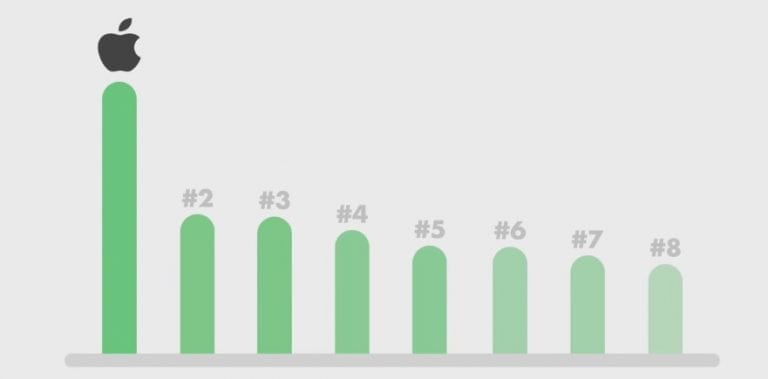 Apple, which was on the verge of bankruptcy in the late 90s, is now the first U.S. company to hit a $1 trillion market cap. Apple's latest milestone follows the jump in its stock after it reported another set of strong quarterly earnings numbers earlier this week.
Not the first company to a $1 trillion market cap
Apple crossed the $1 trillion market cap this morning after its stock (AAPL) went over $207.05 per share. AAPL stock has been rising since Tuesday after the company reported better-than-expected numbers for the quarter ending in June.
There are chances Apple will not retain its $1 trillion market cap given the volatility in the stock market, but over the coming days, we expect to see AAPL bouncing back and forth around the $1 trillion market cap.
Financial Planning and Taxes with Van Leeuwen & Company's Kenneth Van Leeuwen
ValueWalk's Raul Panganiban interviews Kenneth Van Leeuwen, CFP, founder of Van Leeuwen & Company, and discuss his approach to investing, financial planning, and taxes. Q1 2021 hedge fund letters, conferences and more The following is a computer generated transcript and may contain some errors. Interview with Van Leeuwen & Company's Kenneth Van Leeuwen
It must be noted that Apple is actually not the first company to hit a $1 trillion market cap. In 2007, PetroChina touched that milestone, but it soon dropped back. Most of the shares in PetroChina, which is now worth about $220 billion, were held by the Chinese government. Nevertheless, the iPhone maker is surely the first U.S. company to reach the milestone and is the only trillion-dollar company currently.
There are chances it won't be up there alone for long. Amazon is also fast approaching a $1 trillion market cap after posting robust third-quarter earnings. In fact, the tech sector has broadly had a good year so far. Tech giants such as Amazon, Google and Microsoft have all traded near their record highs this year. Amazon is worth about $900 billion, while Google and Microsoft have crossed the $800 billion mark.
Apple's growth in numbers
Apple was initially known for its Mac personal computers, but there is no doubt the iPhone has played a major role in helping Apple enter the trillion-dollar club. Tim Cook succeeded Steve Jobs as CEO after his death in 2011. Since then, Cook has been overseeing the development of the iPhone, which has transformed Apple's fortunes.
Thus, it wouldn't be wrong to say it was Jobs' vision that pushed Apple toward the trillion-dollar milestone, but it was Cook's leadership that steered the company toward the mark. In 2006, the company reported a profit of $2 billion on sales of almost $20 billion. In comparison, the iPhone maker reported sales and profits of $229 billion and $48.4 billion, respectively, last year. It also became the most profitable U.S.-listed company last year.
Over the past year or so, AAPL has soared by almost a third, and the stock has jumped about 1,100% since the first iPhone went on sale in 2007. The jump since AAPL was first up for trading in 1980 is surely more amazing–about 50,000%. Over the same period, the S&P 500 has gained about 2,000%. According to calculations by CNBC, an investment of $1,000 in Apple in early August 2008 would now be worth about $9,222.50. This number includes price appreciation but excludes dividends.
The surge in Apple's stock is primarily driven by two factors. First, the company is now selling comparatively fewer but more expensive phones; last year it released the $1,000 iPhone X. Secondly, it came after the company diversified its revenue sources. The company now makes $10 billion a quarter from services, including music streaming, cloud storage and selling apps.
Will Apple continue to climb?
Though AAPL has hit a $1 trillion market cap, there are good chances it will continue to climb. During the earnings call on Tuesday, the company stated that it expects a strong year ahead, and we all know why: the release of new iPhones.
Wall Street also believes the stock could still go higher. Thirteen analysts expect the stock to rise beyond $225, including the most bullish price target of $275 from Brian White of Monness, Crespi, Hardt & Co.
Prior to this week's rally, Apple stock gained in May as well after Berkshire Hathaway CEO Warren Buffett revealed that his company had acquired 75 million additional Apple shares, adding to the 165.3 million shares they already owned. At the time, some analysts even questioned Apple's growth prospects, citing slower-than-expected iPhone sales.
However, in an interview on Squawk Box, Buffett stated that long-term investors must not be concerned with near-term iPhone sales.
"The idea that you're going to spend loads of time trying to guess how many iPhone X … are going to be sold in a three-month period totally misses the point," he said.
Berkshire Hathaway's Apple stake is now worth over $48 billion, and in the last four months, it has earned the company more than $8 billion, according to MarketWatch. In May, Buffett told CNBC that he would "love to own 100%" of Apple, as he is a fan of "the economics of their activities" and "the way" their management think.