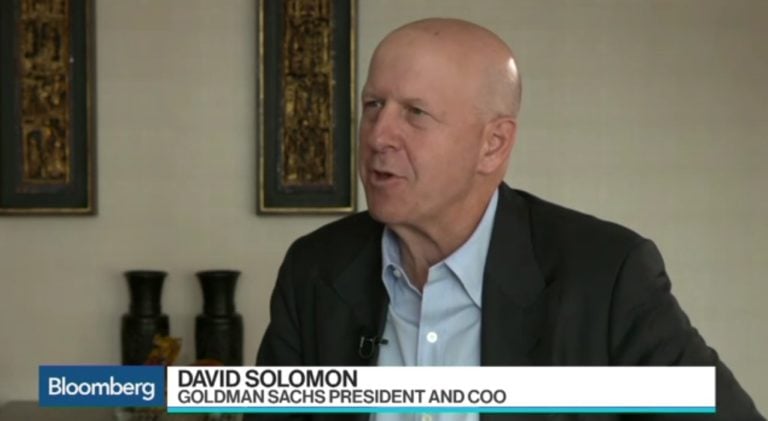 David Solomon, president and chief operating officer at Goldman Sachs Group Inc., discusses trade friction between the United States and China, the firm's business in China, how he views the U.S. economy, and succession plans at the firm. He speaks with Bloomberg's Stephen Engle on "Bloomberg Surveillance." (Source: Bloomberg)

Q1 hedge fund letters, conference, scoops etc, Also read Lear Capital: Financial Products You Should Avoid?
Goldman's David Solomon On Trade, China Business, Succession
Transcript
London Value Investor Conference 2022: Chris Hohn On Making Money And Saving The World
Chris Hohn the founder and manager of TCI Fund Management was the star speaker at this year's London Value Investor Conference, which took place on May 19th. The investor has earned himself a reputation for being one of the world's most successful hedge fund managers over the past few decades. TCI, which stands for The Read More
What is your take from being here in China on the brewing trade friction if you will some are saying it's already getting into a bit of a war. What's your perspective on it. Steve I just want thank you for being here. Thank you for having me. It's good to be back in China. It's nice to spend some time with you this morning. Look the relationship between China and the United States is a hugely important economic relationship. There's no question that the level of friction around the trade discussion has been escalating and in the context of that that's leading to some uncertainty and some question about where this will go. Obviously hard to predict at this point. Market participants are watching it very very closely but to the degree that it escalated more significantly it would be bad for both China and the United States.
So my hope would be that the rhetoric gets put aside and over time here there's a constructive solution that's worked through. But I'm watching this as you are and we'll have to wait to see how it all plays out. What are you getting from your Chinese clients when you come here and meet with them. I'm sure it's at the top of their list of concerns.
Well certainly it's everybody's talking about it and you know the implications of this escalate to an all out trade war. There'd be there'd be implications on market activity there'd be implications on investment there'd be implications both here in China and for U.S. clients so people are watching it.
People are interested in seeing how this unfolds and everyone's hopeful because this relationship is so important that they'll be a constructive solution and we all move forward. We heard from Lloyd Blankfein just yesterday saying that this was more of a negotiating tactic perhaps from the White House and that they're not either. Both sides are not going to be conducting mutual suicides here would you agree with that. It's certainly in the interest of both parties to find a constructive solution. So I think Lloyd's referring to the fact that if people do what's economically in their medium and long run interests you know we should get a solution over some period of time. How concerned are you that this could spill over into areas such as financial services we know about the big bang reforms that the Chinese government has announced about allowing foreign banks to have full ownership of their joint ventures which are currently joint ventures. You do have a 33 percent stake with gal Hua you would like I would assume to get up to 51 which is allowed now and then perhaps in about three years up to 100 percent. Do you think there's a potential for this happening.
Look we're we're encouraged by the messages that leadership here has conveyed around continuing to open up and liberalize markets. We're moving forward on the basis that that's something that we will accomplish over time and are very very focused on it. And so we continue to work and invest our business here. We see the opportunities for us here in China to be quite significant. We announced a higher today a significant hire partner hire and our investment banking business here in China. So we continue to invest in the business to grow our business.
We've been here for a while. We're going to be here for a long time. And so if you put things in a broader perspective you know we're confident that this will all move forward appropriately. Veteran banker Waitz I believe your answer is going to be the new cochina ahead of the investment bank ahead of our China business here in Beijing. What does that say. What signal does that send as far as the amount of capital and amount of emphasis you're going to have in the investment banking going forward if indeed as well on the securities joint venture you do get wholly own control of that and how much you're going to allocate with capital. Well I think the important thing to note is that we've been investing here for a long time with a joint venture structure where we've owned 33 percent of our business we continue to invest today. We're encouraged by the fact and are moving toward a 51 percent ownership and are hopeful over a period of time that want 100 percent of our business here. But that process will move forward it's not stopping us though from investing and putting us in a position to serve our clients and continue to provide the services that are so important to the what signals are you getting to. Are you getting any signals from the government that perhaps they might delay applications or reviews of applications because either the state media People's Daily did have a op ed in April saying nations that violate WTO rules or engage in trade wars will not benefit from the liberalization policies that they're enacting. I'm not good at speculating about what would happen.
Updated on