Notes from Chris Irons, Quoth the Raven Research from The Art Of Short-Selling conference which took place on May 3rd 2018.
Also check out our Sohn Conference notes right here.
Also Baupost 2017 letter
the danger of Chinese leverage
Discipline while value investing in bubby times
Q1 hedge fund letters, conference, scoops etc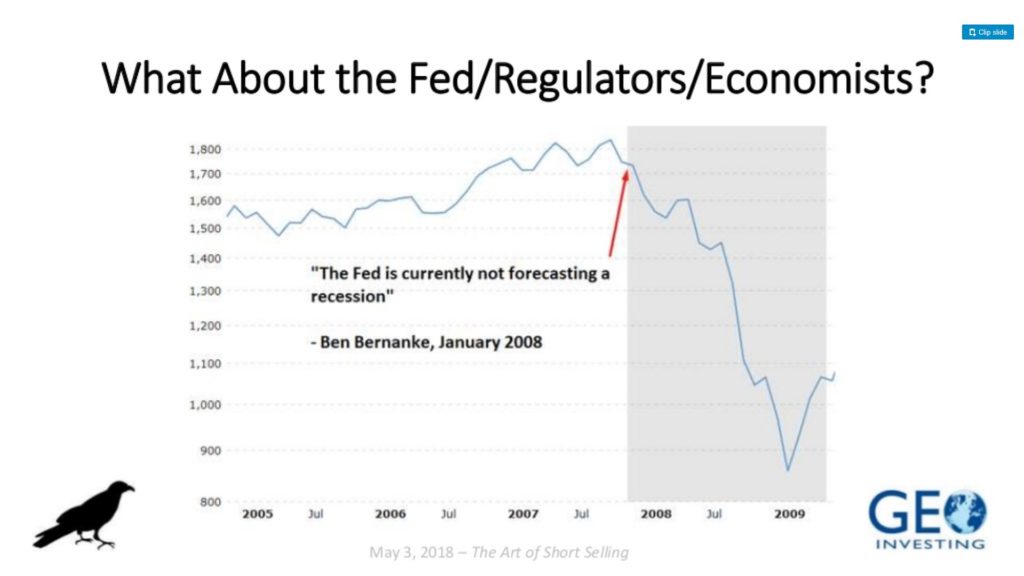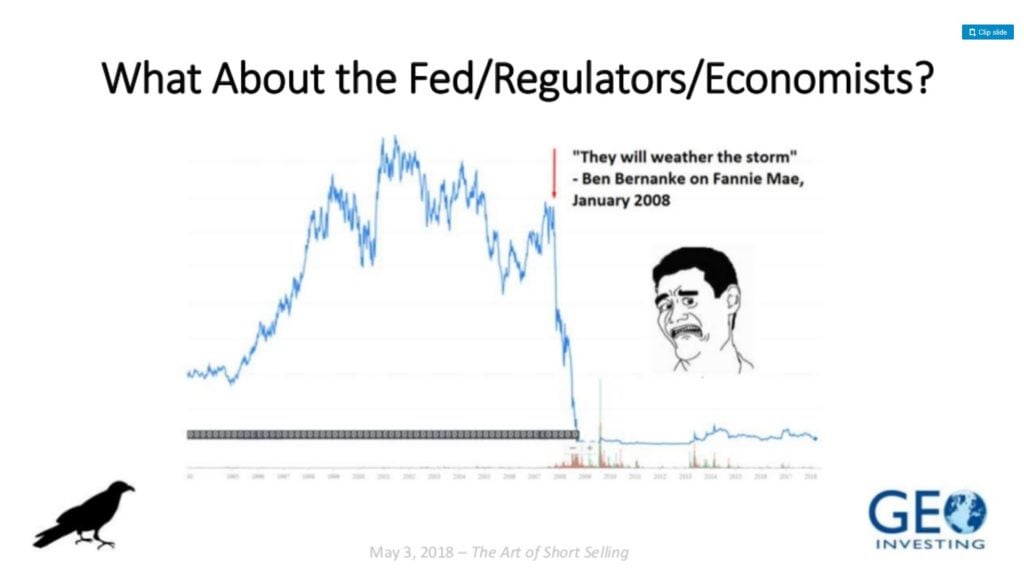 Chris Irons, Quoth The Raven Research - Short Selling (the art, pain, and opportunity)
Quoth the raven research
Own gold
No faith in federal reserve, central bank, government
Gold vs government
Gold –finite supply, use to back dollar, still held by central banks
Gold vs. Government 30 Second Overview Gold: 1. Finite supply 2. First used as money ~3000 years ago 3. Used to back the U.S. dollar until demand for gold redemptions became too overwhelming 4. Still held in reserve by Central Banks 5. History of holding its value 6. Hedge against inflation, global uncertainty, instability and basically any type of economic/monetary catastrophic situation you don't think about on a daily basis Government: 15 days ago sends my friend, who is a mailman, a heat advisory while he's delivering mail in Buffalo. The temperature was 36°F outside. May 3, 2018 – The Art of Short Selling
Shorting "The System" • To me, shorting "the system" means being diversified properly so in the event of a significant United States based (or global) economic crisis, currency crisis, sovereign debt crisis or crisis of monetary policy or economic theory, you'll be hedged or poised to benefit – owning gold covers all of these scenarios • Many people carry "systemic hedges" as a very small weighting or small percentage of capital – if at all. The Siegels and Buffetts of the world will tell you to be 100% in stocks at all times and to buy all dips. • This isn't necessary, it isn't diversification, it requires no thought, in my opinion it's generally insane and it's a strategy only applicable to a Fed-insured rigged market that only goes up – like ours • My idea is to be overweight systemic hedges at all times – they don't have to dominate your portfolio, but keeping a double digit weighting of capital in gold, silver and commodities like oil is a serious way to hedge against the system and the dollar – these are all things that Central Banks can't print more of May 3, 2018 – The Art of Short Selling
Shorting the system
Being diversified properly so in the event of crisis
Many people carry systemic hedges
Don't have to dominate portfolio
Is now a good time to short the system
Meet your system
Free market, without government buying bonds
Pay attention when the herd says your crazy
Trust your own judgment, live with it and love it NAS
Confirmation bias
How to own it
Alex jones meter
Riskier – gold miner stocks, gold etfs, gold futures – less risky
Pain is everyone will tell you are wrong
Trust your research and own interest
Continue reading here

Like Us On Facebook - For Business And General News: ValueWalk - For Tech And Science News: ValueWalk Tech - For Tech Insights, Technical Questions and Queries: Follow Our COO, Sheeraz Raza.