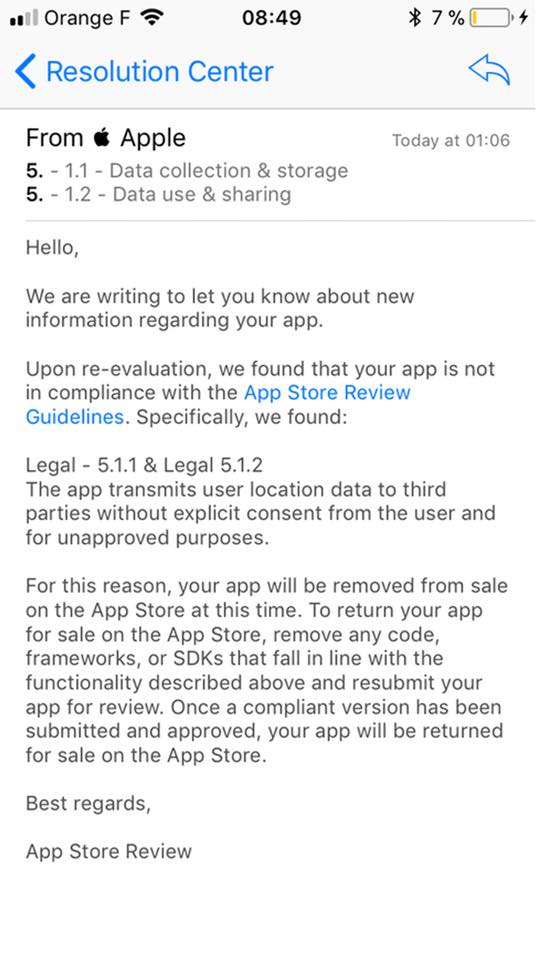 Apple has started more strictly enforcing regulations on apps sharing location data in an effort to protect user privacy.
While there are definitely some downsides to the Apple ecosystem such as their unwillingness to play nice with other ecosystems and the locking down of all of their devices, there are some major benefits that the company offers through their iOS devices: one of which being privacy.
While companies like Microsoft have bowed to governmental requests for information on users, Apple has been pretty firm in their stance that they won't be sharing user data with government agencies – a decision which has been controversial in the wake of some criminal investigations.
Alluvial Fund May 2021 Performance Update
Alluvial Fund performance update for the month ended May 2021. Q1 2021 hedge fund letters, conferences and more Dear Partners and Colleagues, Alluvial Fund, LP returned 5.4% in May, compared to 0.2% for the Russell 2000 and 1.0% for the MSCI World Small+MicroCap . . . SORRY! This content is exclusively for paying members. SIGN UP Read More
However, whether it's a good thing or a bad thing that Apple is focused on user privacy, it's clear that they are doubling down on that commitment with more strict enforcement of regulations around apps sharing location data.
The effort to more strictly regulate apps sharing location data comes ahead of the General Data Protection Regulation implementation which takes effect on May 25th. Part of the company's process for preparing for that regulation has been shutting down apps that violate sections 5.1.1 and 5.1.2 of the App Store Review guidelines – mainly related to the practices of apps sharing location data.
An affected developer posted the notice from the company that he received on Twitter, and it reads "Upon re-evaluation, we found that your app is not in compliance…The app transits user location to third parties without explicit consent from the user and for unapproved purposes."
It's clear that the effort from Apple to crack down on apps sharing location data is in preparation for the implementation of the upcoming regulation, but it's also quite timely in the wake of the massive privacy scandal concerning Facebook and Cambridge Analytica. In a time when people are more concerned than ever before about the type of data their devices collect on them, it's likely a good thing for the end user.
However, this may also cause quite the annoyance for customers in addition to app developers – having some of their favorite applications shut down with no warning due to apps sharing location data.
Apple has advised affected developers to remove violating "code, frameworks, or SDKsw" and resubmit the app for another review. "Once a compliant version has been submitted and approved, your app will be returned for sale on the app store."
As for what the line in the Apple terms and conditions reads, Section 5.1.2 states that developers "may not use or transmit someone's personal data without first obtaining their permission and providing access to information about how and where the data will be used."
It goes on to say that "data collected from apps may not be used or shared with third parties for purposes unrelated to improving the user experience or software/hardware performance connected to the app's functionality, or to serve advertising in compliance with the Apple Developer Program License Agreement."
While this may end up being a major headache for major developers, it's probably a good thing in the end as it makes sure that the apps on the App Store are developed in a way that adequately informs users about how apps sharing location data actually affects them, as well as where that data is being transferred to.
While many people were probably aware that Facebook was using their data in one way or another to turn a profit, the fact remains that the majority of us were not aware to the extent at which the company was improperly using information.
With allegations that Cambridge Analytica may have actually played a major hand in determining the outcome of the US Presidential Election, it's clear that many people are worried about their data being used in a way which they aren't comfortable with.
Moving forward it will be interesting to see both how developers adjust to the increased enforcement of regulations around apps sharing location data as well as further steps Apple takes to protect user privacy and remain one of the top devices when it comes to user security.