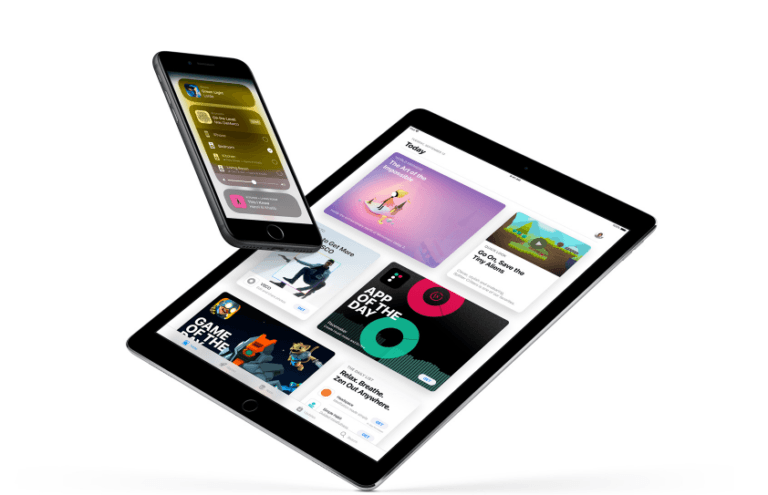 Apple is gearing up to unveil the iOS 12 in June at its WWDC event, but iPad users should be more excited about the next year's iOS 13 rather than iOS 12. Bloomberg contributor Mark Gurman recently revealed some interesting iOS 13 features focused on the iPads. Gurman, who has a fairly good track record with leaks, said the next year's iOS is code-named "Yukon." So, what iOS 13 features are we going to see in 2019?
According to the Bloomberg contributor, the 2019 iOS's biggest highlight will be a completely redesigned home screen. Axios has also reported that the iOS 13 would bring a redesigned home screen along with improvements to core apps such as Mail and updates to the picture-taking, photo editing, and sharing experiences. The iPad's home screen at the moment looks similar to that of the latest iPhones.
The iPad home screen in its current form works just fine, but there is a lot of screen space that could be better utilized. That's why the iOS 13's redesign will largely focus on the iPad, though the iPhone users will also notice the difference. Mark Gurman has said in the past that the new home screen was initially planned for the iOS 12. But Apple has pushed back the release of many new features to 2019 to focus on bug fixes, performance, and stability improvements this year.
Robinhood 2021 Conference: Cathie Wood discusses her investment process with Lee Ainslie [Exclusive]
ARK Invest is known for targeting high-growth technology companies, with one of its most recent additions being DraftKings. In an interview with Maverick's Lee Ainslie at the Robinhood Investors Conference this week, Cathie Wood of ARK Invest discussed the firm's process and updated its views on some positions, including Tesla. Q1 2021 hedge fund letters, Read More
Somewhat. iOS 13 "Yukon" will have a big iPad-focused feature upgrade as well, including an updated Files app. some other things in the works are tabs in apps like in MacOS, same app side by side, Apple Pencil stuff. The home screen redesign is iPad focused.

— Mark Gurman (@markgurman) May 4, 2018
Other rumored iOS 13 features are the ability to use multiple windows of the same app side-by-side in Split View multitasking mode, and a revamped Files app. Apple introduced the Files app with iOS 11, so an update next year wouldn't come as a surprise. The 2019 iOS is also said to get in-app tabs similar to tabs in the macOS apps. Apple is also rumored to improve the Apple Pencil. Maybe, the second-generation Apple Pencil is on the cards?
Last year's iOS 11 also focused on the iPad. It introduced an App Switcher, a revamped iPad dock, Files app, a redesigned QuickType keyboard, Drag & Drop support, and some new Apple Pencil features such as Instant Notes and Instant Markup. Apple will unveil the iOS 12 along with watchOS 5, macOS 10.14, and tvOS 12 on Monday, June 4 at the Worldwide Developers Conference (WWDC). The iOS 12 will be rolled out to the public in September with the next-gen iPhones.
The iOS 11 was a messy update with tons of bugs. So, Apple has reportedly decided to address performance and stability issues with iOS 12 rather than introducing tons of new features. The iOS 12 is expected to bring only small new features such as an enhanced Do Not Disturb, a new Digital Health Tool for better parental controls, new Animoji characters, a new Animoji interface for iPads, support for multiplayer augmented reality games, and a revamped Stocks app.
There have been persistent rumors that Apple would unify its desktop and mobile operating systems' API to make the iOS apps work on the Mac. The company's 'Marzipan' project will allow developers to create a single app that would run on the iPhones, iPads, and Macs. Recent reports suggest that it will be introduced next year as one of the iOS 13 features. Mark Gurman has said that the feature could be introduced as early as this year, but it is one of those features that have been pushed back to 2019.
John Gruber of Daring Fireball has learned from inside sources that Apple would introduce the cross-platform support next year with iOS 13 and macOS 10.15. Apple CEO Tim Cook has in the past mocked the idea of merging the iOS and macOS. But cross-platform apps could help Apple offer a smoother user experience across devices. Microsoft has tried to do something similar with its Windows Universal Platform, and Google has done it with Chrome OS and Android.
The iOS 13 is still more than a year away. We will learn more about the iOS 13 features as we inch closer to its release.