Scott Ferguson's presentation from the 2018 Sohn Conference pitches long Whitbread PLC
Q1 hedge fund letters, conference, scoops etc
Southpoint Capital likes these stocks [Q1 Letter]
Southpoint Qualified Fund and Southpoint Qualified Offshore Fund returned 2.5% net for the first quarter, compared to the S&P 500's 6.2% return and the Russell 2000's 12.7% gain. During the first quarter, Southpoint's funds averaged 133% long and 70% short. Q1 2021 hedge fund letters, conferences and more The fund's long positions added 13% gross Read More
Scott Ferguson is the Managing Partner and Portfolio Manager of Sachem Head Capital Management, a value-oriented investment management firm based in New York. Prior to starting Sachem Head, he spent nine years at Pershing Square Capital Management, which he joined pre-launch as the firm's first investment professional. Prior to Pershing Square, Scott earned an M.B.A. from Harvard Business School in 2003 and was a vice president at American Industrial Partners, an operations focused private equity firm, from 1999 to 2001. Scott was also a business analyst at McKinsey & Company from 1996 to 1999. Scott graduated from Stanford University with an A.B. in Public Policy in 1996. He currently serves on the board of directors of the Henry Street Settlement and Episcopal Charities of the Archdiocese of New York, and is a former director of Autodesk, a leading design & engineering software company. Scott is also a member of the Robin Hood Leadership Council. He lives in New York with his wife and three children.
Scott Ferguson 2018 Sohn Conference Comments
Scott talks about a company called Whitbread, which has two main business units: Premier Inn which has brands? like Holiday Inn and the second Costa Coffee. He believes that Premier Inn is a good unit which should do well during any type of downturn.
He wants to split up the units and beleivethat it could lead to a 50 percent upside for the company.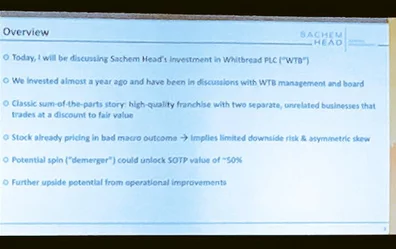 Specifically, Scott calls this plan a a "demerger" he believes that because the two divisions are together WTB trades at a deep discount to both hotel comps and at a discount to global coffee comps  - interesting synergetic combination... Wiki notes:
Whitbread PLC is a British multinational hotel, coffee shop and restaurant company headquartered in Houghton Regis, Bedfordshire, United Kingdom. The company has its origins in brewing.
Scott says he invested almost two years ago and has been speaking to both the management and board of directors.
He also notes that there are two ETFs with spinoff focus CSD and SPUN