VOXX International (VOXX) is a manufacturer and distributor of electronic products. The company operates in three segments: Automotive, Premium Audio, and Consumer Accessories.
Q1 hedge fund letters, conference, scoops etc
"The Automotive segment designs, manufactures, distributes and markets rear-seat entertainment devices, satellite radio products, automotive security, remote start systems, digital TV tuners, mobile antennas, mobile multimedia devices, aftermarket/OE-styled radios, car-link smartphone telematics applications, collision avoidance systems and location-based services. The Premium Audio segment designs, manufactures, distributes and markets home theater systems, high-end loudspeakers, outdoor speakers, iPod/computer speakers, business music systems, cinema speakers, flat panel speakers, Bluetooth speakers, soundbars, headphones and DLNA (Digital Living Network Alliance) compatible devices. The Consumer Accessories segment designs, manufactures, markets and distributes remote controls; wireless and Bluetooth speakers; Singtrix karaoke products; 360 Fly® Action Cameras; EyeLock iris identification and security-related products; personal sound amplifiers; and A/V connectivity, portable/home charging, reception and digital consumer products."Source 10K
David Einhorn At The 2021 Sohn Investment Conference: Buy These Copper Plays
There's a gold rush coming as electric vehicle manufacturers fight for market share, proclaimed David Einhorn at this year's 2021 Sohn Investment Conference. Check out our coverage of the 2021 Sohn Investment Conference here. Q1 2021 hedge fund letters, conferences and more SORRY! This content is exclusively for paying members. SIGN UP HERE If you Read More
VOXX founded in 1960 as Audiovox by John Shalam the current Chairman and controlling shareholder.
Multiple deep value attributes make VOXX International a solid investment idea.Deep value qualities include but not limited.
1) The market price of $4.70 is 87% of its NCAV of 5.36.
2) Year over year enterprise value 60% decline versus a market price drop of only 5% from 04/20/17 to 04/20/18. The sale of VOXX's Hirschmann subsidiary for 170M reported on 08/31/17 used to pay down VOXX debt and hence reduction of enterprise value ignored by the market.
3) Hidden asset recorded on balance sheet below market value. A 50% ownership of profitable automotive distributor ASA. For the most recent 10k year ending 02/28/2017 equity in income reported for ASA was 6,797,000.The ASA investment is recorded on the balance sheet below market value at $21,926,000.VOXX owns 9 operating facilities or offices located in New York, Indiana, Florida, and Arkansas in the United States, as well as in Germany, Venezuela and Hungary. Investment securities on the book for 10,388,000.
4)Trailing twelve-month gross profit of 207.13M versus the current enterprise value of 90.54M or market value of 114.94M.
5)Stable outstanding share count of 24.43M as of 02/2014 versus the most recent quarter of 24.20M.
6)Tangible book value per share was 5.62 as of Feb 2014 versus 04/20/18 value of 9.74 per share. Debt per share was 4.71 as of 04/2014 versus the most recent quarter value of .70 per share.
Below is historical data from the year ending 02/2014 to current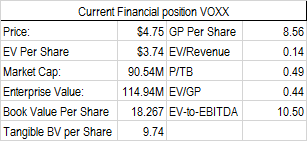 Reported on 01/09/18 quarterly results report a growing profitable company with a strong balance sheet and significant opportunities ahead. The operational plan for  2018 is to find accretive acquisitions and possibly monetize assets.
VOXX continues to innovate as shown above by its product listing taken from the 10k. EyeLock is a financial drain and rolls up into the consumer accessory segment. November 30, 2017 EyeLock lost $3.9 million compared to a net loss of $4.8 million in last year's third quarter. But, management forecasts a positive future for EyeLock. It offers an iris-based level of security. All options considered as it pertains to the EyeLock situation such as licensing or divesting. Lastly, an authorization plan is in place to purchase up to 1.4 million shares. Share repurchases most balance with the goal of acquiring longer-term investments.
Positive 2017 insider activity; 11,000 shares traded for $49,500 or $4.50 per share. Value Institutional holders include Kahn Brothers, Dimensional fund advisors, Chuck Royce and others.
Risks: Poor acquisitions made with the available credit and cash.  Managment controls the board with class B shares. This closely held ownership reduces the influence of outside shareholders.
Long:VOXX
Article by Shadow Stocks