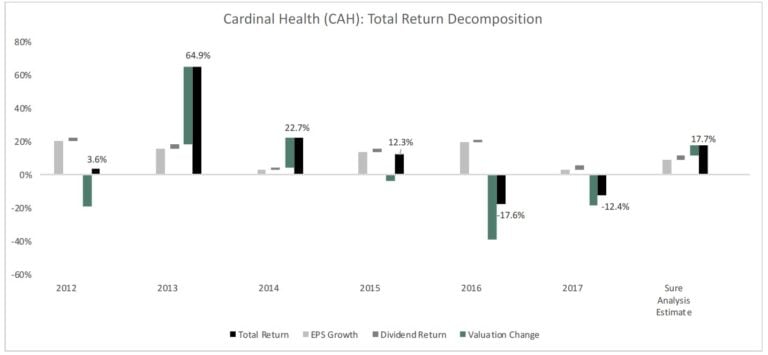 Key Metrics
Crypto Hedge Fund Three Arrows Blows Up, Others Could Follow
A few years ago, crypto hedge funds were all the rage. As cryptocurrencies rose in value, hundreds of hedge funds specializing in digital assets launched to try and capitalize on investor demand. Some of these funds recorded double-digit gains in 2020 and 2021 as cryptocurrencies surged in value. However, this year, cryptocurrencies have been under Read More
Overview & Current Events
Cardinal Health is one of the "Big 3" drug distribution companies along with McKesson (MKC) and AmerisourceBergen (ABC). Cardinal Health serves over 24,000 United States pharmacies and more than 85% of the country's hospitals. Cardinal Health is a global company with operations in over 60 countries and approximately 50,000 employees. With 32 years of consecutive dividend increases, Cardinal Health is a member of the Dividend Aristocrats Index.
In February, Cardinal Health reported (2/8/18) financial results for the second quarter of fiscal 2018. Revenue increased by 6% while non-GAAP earnings-per-share increased by 13%. The company also reported an increased in its fiscal 2018 financial outlook. Cardinal Health now expects to generate adjusted earnings-per-share in the range of $5.25 to $5.50, which reflects a $0.40 per share benefit from the lowered federal tax rate. For context, the company was previously forecasting adjusted earnings-per-share of $4.85 to $5.10. All said, the company's quarterly financial performance was strong and we expect Cardinal Health's momentum to continue moving forward.
Growth on a Per-Share Basis

Cardinal Health's financial results around 2009 and 2010 are materially impacted by its spinoff of CareFusion Corporation, which was completed on September 1, 2009. Despite this material spinoff, the company's segment revenues, segment earnings, and per-share dividends continued to grow during this tumultuous operating period.
Since 2010 – the first full fiscal year after the CareFusion spinoff – Cardinal Health has compounded its adjusted earnings-per-share at 13.5% per year. We believe that this growth rate is likely higher than what the company will achieve over the long-term. Instead, we're pegging Cardinal Health's long-term earnings growth rate at 9% per year, which implies a 2023 earnings estimate of $8.30.
From an income perspective, Cardinal Health has actually grown its dividend at a slower rate than earnings. The company's dividends per share have compounded at about 10.4% per year since the CareFusion spinoff. We expect this trend to reverse in the future – Cardinal Health's dividend growth rate has the potential to accelerate, especially if the company's earnings continue to grow at the rate we anticipate.
Valuation Analysis

Cardinal Health has traded at an average valuation of 15.5 since 2010, the first year in which the CareFusion spinoff did not interfere with the company's financial performance or stock price valuation. Based on comparable valuations elsewhere in the healthcare industry, we believe that an earnings multiple of 15.5 times earnings is a reasonable multiple for Cardinal Health, which gives a fair value estimate of $83. For context, Cardinal Health is trading at $63, or a price-to-earnings ratio of just 11.7. If the company's valuation multiple can expand to 15.5 times earnings over the next 5 years, this will add 5.8% to the company's annualized returns during this time period.
Safety, Quality, Competitive Advantage, & Recession Resiliency

Cardinal Health has a scale-based competitive advantage and operates in an oligopoly (along with McKesson and AmerisourceBergen) that is very price competitive. This has the unintended benefit of discouraging potential competitors ,which makes Cardinal Health's industry positioning even more powerful.
Although debt appears to be a significant component of Cardinal Health's balance sheet, this is a bit deceptive. The Debt/Assets ratio cited in the table above is calculated as Total Liabilities divided by Total Assets. Because of the company's sourcing-and-distribution business model, Cardinal Health's liability mix has a tremendous weighting towards accounts payable – 45% of the company's total assets at the end of the most recent reporting period. This explains how Cardinal Health's debt-to-assets ratio has steadily increased without a corresponding deterioration in the company's interest coverage ratio. Aside from leverage, the company's other quality metrics score well and we believe that the company's characteristics (both quantitative and qualitative) make it suitable for conservative investors with a long-term view.
Final Thoughts & Recommendation
We believe that Cardinal Health's investment thesis is very strong right now, primarily due to the company's valuation. Three factors are resulting in widespread market pessimism surrounding Cardinal Health. The first is the potential entry of Amazon into the drug distribution industry, which seems unlikely given the industry's laser-thin margins. The second is Cardinal Health's perceived role in the opioid crisis, which we believe is being overblown by the markets. The third factor is an ongoing price war among participants in the drug distribution industry, which is temporary in nature. All of this means that today's investors are being given a rare opportunity to buy an excellent company at a great price. Dividend payments, earnings growth, and valuation expansion give Cardinal Health the potential to deliver to high-single-digit returns for today's investors. Accordingly, Cardinal Health earns a buy recommendation.
Total Return Breakdown by Year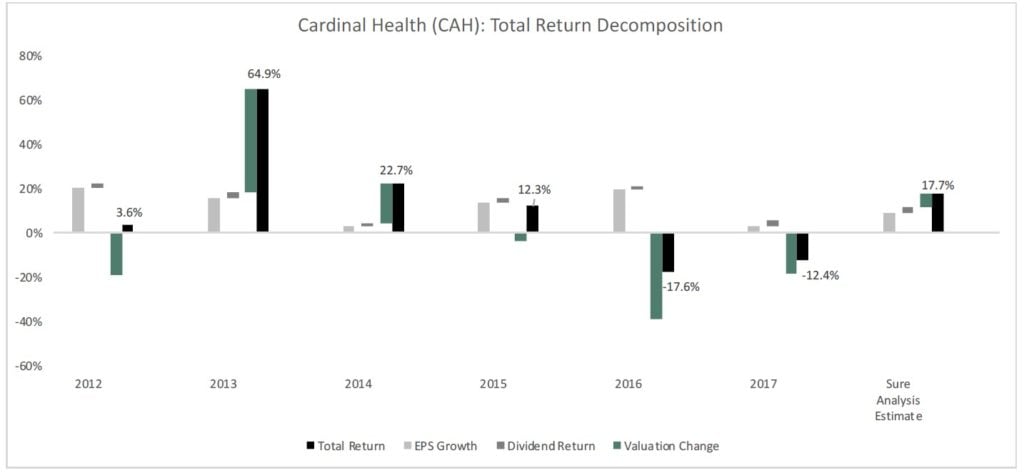 Article by by Nick McCullum, Sure Dividend
Updated on