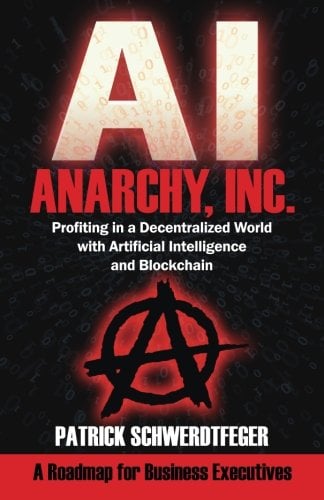 Patrick Schwerdtfeger has a startling vision of the future. He believes that the world as we know it is undergoing changes that will rapidly disrupt and change nearly everything we are used to. Technology is both (1) part of the problem and (2) part of the solution. AI and blockchain are facilitating decentralization and anarchy, but those changes create enormous opportunities for savvy businesses. Technology represents an existential threat to those who don't embrace it, but also an unparalleled opportunity for those who do.
Check out our H2 hedge fund letters here.
His important new book, Anarchy, Inc., Profiting in a Disruptive World with Artificial Intelligence and Blockchain, was just released (Authority Publishing February 21,2018).
Carlson Capital's Double Black Diamond Strategy Gains 5.3% On Jewelry Play
Carlson Capital's Double Black Diamond fund added 3.09% net of fees in the second quarter of 2021. Following this performance, the fund delivered a profit of 5.3% net of fees for the first half. Q2 2021 hedge fund letters, conferences and more According to a copy of the fund's half-year update, which ValueWalk has been Read More
Schwerdtfeger sees our culture shifting away from centralized services toward one of exponential individual opportunity – where there are only providers and customers. No management. No administrators. No middle layers at all.  Technology has given everyone tools that get smarter every time you make an error—and pass that knowledge along to the same tools other people are using around the world. The data is so vast and so cheap that the rate of innovation we see today will seem glacial by comparison.
"It's not all bad," he says. "Mankind also develops new skills that enable CEO's and business leaders to survive and thrive in an increasingly disruptive world".
His book offers predictions about the near future as well as critically important intelligence, and insights on how to not only embrace the coming changes but to get ready, get in synch, and stay on top as it happens.
Here is just a sampling of some of his startling revelations and recommendations:
Look forward.  Don't allow yourself to live within an echo chamber, including only those opinions you already agree with.  Actively seek out opinions that contradict your own.  The truest measure of intelligence is the ability to hold two opposing views at the same time, so practice this. The world is becoming more decentralized, resulting in competing and vastly divergent realities.  Nobody's willing to change their mind, and everyone has plenty of evidence that they're right and everyone else is wrong.  This is a form of anarchy. Do it differently.
Look in the mirror.  Success amidst anarchy requires defiant leadership! The most strategic thing you can do is fine-tune your unique value proposition. Open a document on your computer, or pull out a notebook and write down your thoughts to this: Who are you?  What do you stand for?  Since the world is characterized by competing realities, you have to pick your reality and ignore the rest.  You can't change people's minds.  Build your tribe and ignore the haters.  The only thing that matters is your unique value proposition and how it differs from competing products or services.
Look up. Introduce more premium options for your VIP customers.  Take your highest price and multiply it by 10.  What 'done-for-you' solution could you sell at that 10x price?  What would need to be included in order for that 10x price to be a great deal?  Focus your marketing on that 10x solution.  It will expand the 'frame' of your business.  It projects confidence into the marketplace.  What would an industry leader do?  Now, act like an industry leader!
Look down.  Be the disrupter, not the disrupted. Watch for simpler and less expensive solutions for your most cash-strapped customers.  Disruptive innovation often caters to the least profitable market segment first, so identify those cash-strapped customers and imagine what they want.  Innovations down there will create disruption everywhere else.  Generally speaking, they want simpler and less expensive solutions.  Can you create those solutions?
Look side to side.  Change creates opportunity.  Set aside a couple of hours and evaluate your marketplace.  What are your competitors doing badly?  What do people complain about in your industry?  Who are the cash-strapped customers, and what do they want?  Capitalize on opportunities to steel revenue from "adjacent markets."  Don't ask: Who's going to eat my lunch?  Ask instead: Who else's lunch can we eat?  Anarchy is an opportunity for offense, not defense!
Anarchy, Inc., Profiting in a Disruptive World with Artificial Intelligence and Blockchain by Patrick Schwerdtfeger
Paperback: 194 pages
Publisher: Authority Publishing (February 21, 2018)
ISBN-10: 1935953923   ISBN-13: 978-1935953920
For more information visit: www.patrickschwerdtfeger.com
About Patrick Schwerdtfeger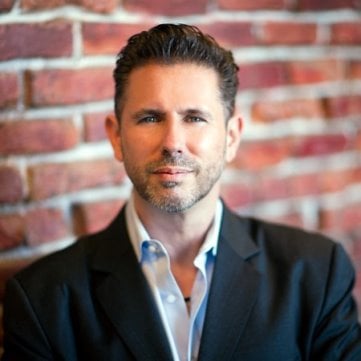 Patrick is a business futurist who specializes in technology trends including big data, artificial intelligence and blockchain. and is the owner of Trend Mastery, Inc., a strategic consulting agency that focuses on the impact of these exponential technologies. He's authored four previous books including "Marketing Shortcuts for the Self-Employed" (2011, Wiley & Sons, Inc.). He has lectured at various educational institutions including Stanford and Purdue Universities and is a regular speaker for Bloomberg TV. Patrick has spoken about technology trends at conferences and business events around the world,
Patrick's other books include "Keynote Mastery: The Personal Journey of a Professional Speaker" (2016, Authority Publishing), "Webify Your Business: Internet Marketing Secrets for the Self-Employed" (2009), and "Make Yourself Useful: Marketing in the 21st Century" (2008). He's also the host of the Strategic Business Insights video blog (with over 24,000 subscribers and 5 million views on YouTube) and has been featured by the New York Times, Associated Press, Businessweek and National Public Radio (NPR) among many others.
Patrick was born in Vancouver, Canada, and received his Bachelor of Commerce (Marketing and Finance) from Carleton University in Ottawa (1993). He never knew he was an American citizen until he was 27 years old and moved to Los Angeles just six days after receiving his first American passport. Patrick now lives in the San Francisco Bay Area.
He founded the Entrepreneur & Small Business Academy in April 2007 and began holding events for local business owners and self-employed practitioners. The group grew quickly (current membership of 3,500+) and Patrick was selected by American Express as one of the country's top small business organizers. Along with 49 other organizers from around the country, he participated in an AMEX OPEN Small Business launch event in New York City in January 2008.
2018 Keynote Speaking Highlights (so far)
Las Vegas: Institute of Internal Auditors, General Audit Management (GAM) Conference
Orlando: Ameriquest Business Services, 2018 Symposium
Dallas: National Association of College Stores (NACS) 2018 CAMEX Conference
Las Vegas: Exhibitor Live 2018 Conference and Trade Show
Dubai, UAE: Government of Dubai, Department of Energy and Water (DEWA) Innovation Summit
Tampa: Produce Marketing Association (PMA) Fresh Connections Technology Conference
Bangalore, India: IIFL Wealth Management Cryptocurrency Summit
Chicago: GCM Grosvenor Blockchain Education Session
Kansas City: Wachter 2018 Kick-off Meeting
Patrick's has extensive experience as a speaker worldwide and has contributed directly to his value to the global economy. He has addressed countless industries and learned the challenges and opportunities associated with each of those industries' business models, giving him a broad understanding beneficial to all of his audiences. He has spoken in myriad countries, gathering diverse cultural perspectives from around the globe. This has also added depth and perspective which benefit future clients. Patrick truly is a global business speaker.

What People Are Saying
Patrick Schwerdtfeger's Anarchy, Inc. provides predictive models and highly effective tools that will enable CEO's to thrive in an increasingly disruptive world.  - Craig Hettrich, President of Renaissance Executive Forums, Former CEO of Java City
Profiting in the new economy will take vision, boldness, and knowledge which is why Anarchy, Inc. is a must-read for the leaders of today . . . and tomorrow! - Jerry Ross, President, National Entrepreneur Center
Do you embrace disruption or ignore it? Patrick Schwerdtfeger's book Anarchy, Inc. gives insights on how to embrace not only blockchain and AI, but the global implications that will impact us all. If you want to find a way to embrace the disruption while being self-reliant, this is the book for you. - John Livesay, CMO, Quantm.one, Author of The Successful Pitch
Schwerdtfeger's Anarchy, Inc. is as close as it gets to predicting the future and is a must read! If you don't believe society is in the middle of a revolution, this book will convince you otherwise. The content is sure to engage busy executives around the water cooler and stimulate new ways to approach strategy in an increasingly decentralized and disruptive world. If you want to be a business leader and be ahead of the competition, read this book! - John G. Wensveen, PhD, Vice Provost, Miami Dade College
Patrick presents the argument that we can thrive amidst anarchy; that we need to think about our industry and stay on offense. We must run towards innovation, planning carefully when to invest in new technologies. This is a 'must read' for every professional looking to sustain and grow his business and advise his clients through the coming revolution. - Jon Lisby, Chief Executive Officer, Kreston International Ltd.