MagneGas (MNGA): Strong Sell On Opaque Offshore Entities, Insider Enrichment And Paid Stock Promotion; -92.9% Downside by The Pump Stopper,
Summary
Investigation shows MNGA International partners appear nonexistent, defunct or unviable. MNGA co-founder Bo Linton partner Albert Reda jailed for fraud.
MNGA auditor was just barred by SEC for "falsified and backdated audit documents" among other misconduct. MNGA insiders fail to file SEC filings or hold shareholder meetings in timely fashion.
Santilli family related party enrichment abounds with $14.1m+ of insider compensation, ~12x more than spent on R&D, Santilli family seized total control over MNGA through convoluted preferred share voting rights.
Tests show Magnegas -30% slower, 26% more expensive. Praxair now selling demonstrably superior product nationwide. Santilli and MagneGas apparently failed in 1998, resulting in legal action and no strategic buyer.
Despite 9+ years of failure, 1,100%+ dilution and -$32m of losses, with recent paid stock promotion MNGA temporarily inflated to unsustainable 113x revenue valuation. Insiders aggressively selling stock.
I believe Magnegas (NASDAQ:MNGA) is an imploding paid stock promotion shell of insider enrichment and hype with immediate -92.90% downside risk. With a stock shell purchased for $32,000 and cumulative total R&D spending of $1.18m, this team of calculated wipeout artists have carefully orchestrated a clever "reboot" of a failed 1998 penny stock story with obsolete and unviable technology while paying themselves $14.1m, ~12x more than has been invested in R&D. Through a convoluted and under the radar preferred share structure, the Santilli gang have apparently seized complete control over MNGA and can do whatever they want now without recourse.
With paid stock promotion using some of Wall Street's worst paid touts, MNGA stock has temporarily managed to rise +344% to the obviously unsustainable valuation of 113x 2014 revenue or $120m. Investigation of MNGA's claimed offshore partners shows unviable, nonexistent or defunct company shell. The last time MNGA hit a similar $120m valuation the stock price immediately imploded as shareholders experienced a swift and uncompromising -93.8% stock price decline.

(graphic from Magnegas with my own edits)
Even if you assume MNGA is a legitimate company run by people you should trust with your savings, the current valuation of 113x trailing revenue means the stock is still -92.9% overvalued using a "best case" valuation. Simultaneously, global cutting gas juggernaut Praxair apparently "passed" on MagneGas years ago when it was available for virtually nothing and instead is now aggressively marketing their next gen "StarflameC" cutting gas nationwide, which is estimated to cut ~20% faster than MagneGas while costing at least -50% less with many other benefits. Meanwhile core MNGA patents issued at company inception are expiring soon, rendering any hope of long term upside a moot point. Further confirming this view, MNGA insiders are aggressively dumping their stock into the temporary stock promotion despite MNGA insider history of failing to disclose their trades to the SEC on a timely basis. Without further diluting shareholders, MNGA will go bankrupt as cash burn and losses continue to accelerate.
In this report I will outline the true nature of MNGA, what is going on behind the scenes, deep due diligence into their partners and how this unviable business has managed to stay alive. Pour yourself a very tall glass of warm gin and bring your patience for this incredible blueprint the Santillis have managed to perpetuate so far.
All research and opinions based on public info shared below for the public's good to help you in your due diligence.
History of MNGA: Born Through a Shell Company with "Questionable" Characters Involved
Apparently Ruggero was hired at MNGA's forefather company Florida founded "Earthfirst" in 1998 which touted a purported familiar sounding "revolutionary process" for producing syngas from waste, antifreeze and used motor oil with their plasma reactor technology which could be transported onsite. This gas was attempted to be sold into the welding market under the name "NextGas" at the time where they claimed a huge commercial production facility for their gas with claims it was 40% faster/cleaner/safer based on a higher hydrogen content while their stock traded on the OTC markets under ticker "EFTI". They claimed applications in the utility markets and even signed questionable JVs with far off utility partners in Dominican Republic as they racked up -$50m in losses.
After ~3 years of employment, it seems starting in 2001 Santilli's relationship with Earthfirst ended badly with Earthfirst accusing him of libel and violating his non-compete contract (bottom of page 23 on the newspaper page 7b) where a Hillsborough judge seems to have granted Earthfirst a temporary injunction.
At "Earthfirst", insiders took egregious compensation for themselves, losses piled up as the concept proved an unviable failure as shares outstanding ballooned with endless dilution. Eventually this first Santilli company collapsed around 2006 with their unviable product which, tellingly, no big partner or company stepped in to buy for pennies when it was available for practically nothing.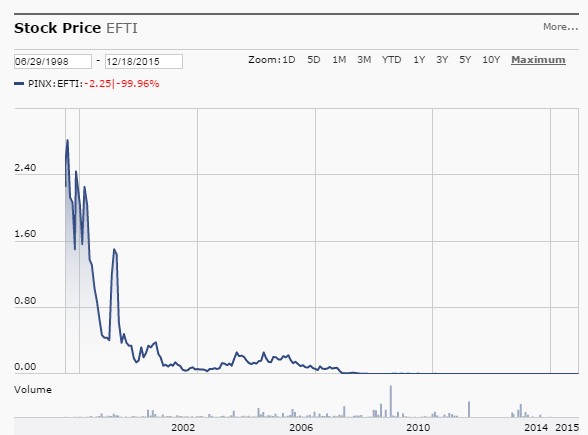 (pic credit)
Despite already failing once and Earth First now officially gone, the same unviable idea was free to be rebooted in 2007 by Ruggero. As a result, MNGA was co-founded by Ruggero with penny stock wipeout master Bo Linton using a defunct stock shell they purchased for $32k in cash. Thus, MNGA was born touting the claims of "MagneGas" again but with some deliberate and interesting twists.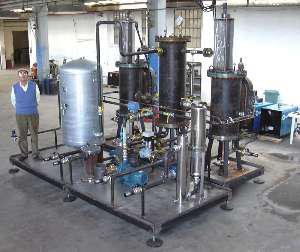 (picture of Magnegas contraption with Rugerro Santilli)
To understand what the MNGA game plan was from the start we can look into the founders to gain insight. MGNA co-founder Bo Linton's bio states he "led the development of the business plan" of MagneGas and also owned 15% of MNGA stock. Unfortunately, Bo Linton's career of wiping out penny stocks was so prolific he has drawn comparisons to Jordan Belfort, the Wolf of Wall Street. I will present a brief history here but I recommend you dig into this MNGA co-founder on your own as the story is amazingly bad in my view.
MNGA Co-Founder Bo Linton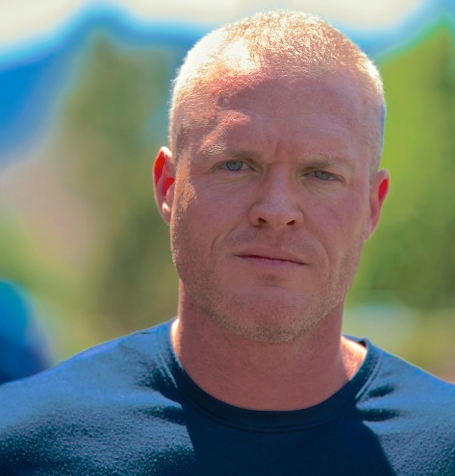 Source: Google Images
Who is this MNGA founder Bo Linton? Virtually everything I found Bo Linton associated with has an interesting, recurring pattern of shareholder disaster:
Linton involved in Immunotech Laboratories, Inc. (OTC:IMMB): -99% Loss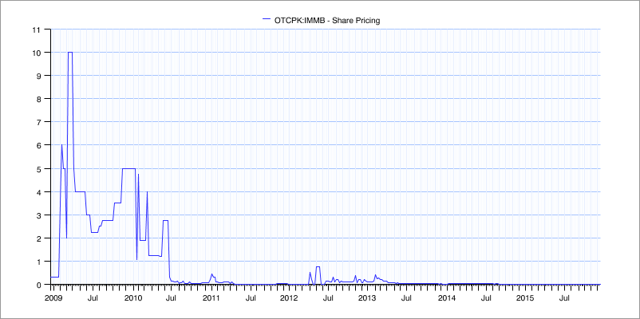 Source: Capital IQ
Linton Director and CEO of Clean Energy & Power, Inc.: -99% loss, stock "inactive"
(click to enlarge)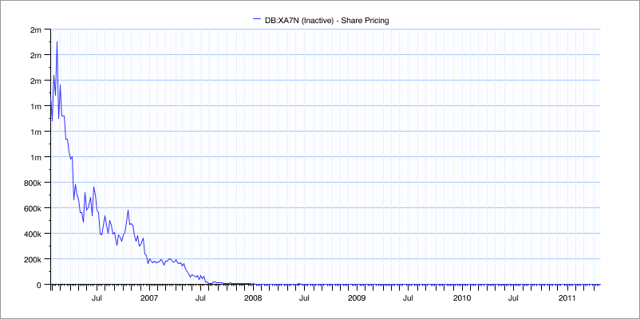 Source: Capital IQ
Linton also the Chief Executive Officer of Kleangas Energy Technologies, Inc (OTCPK:KGET)
(click to enlarge)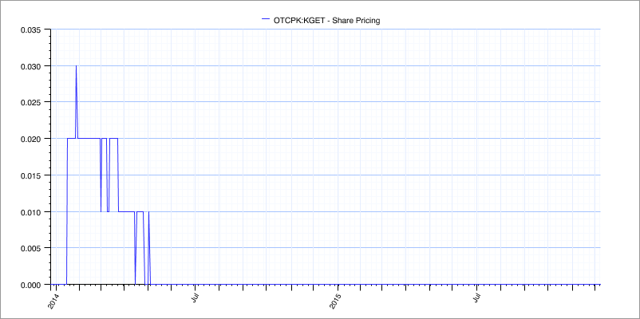 Source: Capital IQ
Linton was the President of Carbon Jungle Inc. (OTCPK:CCTL): Stock from $900 per share to ~$0
(click to enlarge)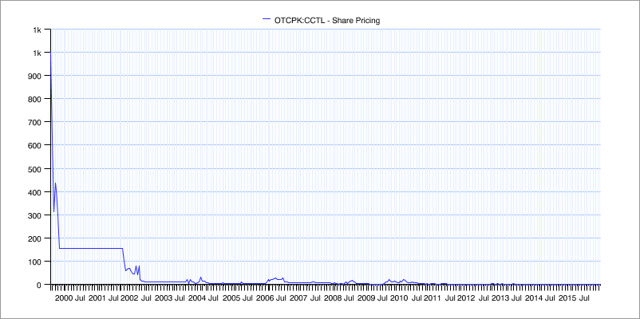 As further color on Bo Linton and who he has