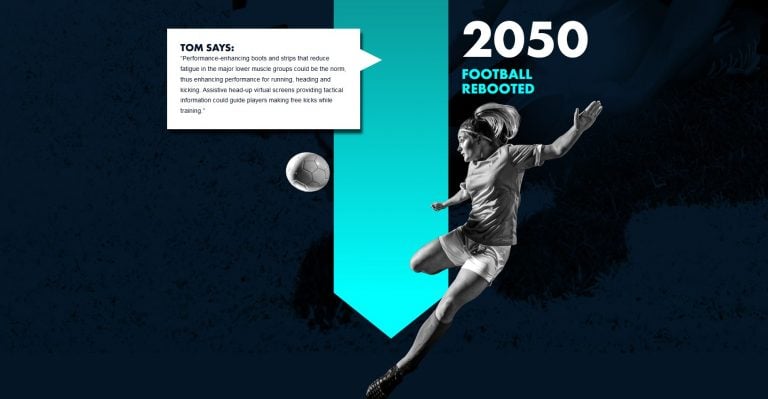 Grosvenor have teamed up with Tom Cheesewright, an applied futurologist, to reveal what the future holds for five of the world's most iconic sports; Football, Tennis, F1, E-sports and running.
Grosvenor reveals the technology that will be used in sport in the years 2025 and 2050.

Technology is transforming sport at a lightning pace, and it's accelerating every day. Imagine a world where in-game fitness monitoring becomes the norm in football, or if tennis players can boost their serve speed by 10% with a super-lightweight racquet.
Q2 hedge fund letters, conference, scoops etc
Fund Manager Profile: Kris Sidial Of Tail Risk Fund Ambrus Group
A decade ago, no one talked about tail risk hedge funds, which were a minuscule niche of the market. However, today many large investors, including pension funds and other institutions, have mandates that require the inclusion of tail risk protection. In a recent interview with ValueWalk, Kris Sidial of tail risk fund Ambrus Group, a Read More
Futurologist Tom Cheesewright has provided insight as to what the future holds for the world's most iconic sports:
Football: present and future
2018: Video Assistant Referee is a gamechanger
The International Football Association board officially approved Video Assistant Referee (VAR) for use in games. The technology made its World Cup debut in Russia.
2025: prime performance monitoring
In game player fitness monitoring, combining worn sensors with video gait analysis, will feed real-time information to coaches about fatigue and injuries. This means we could see players taken off before an injury occurs or excessive fatigue kicks in.
2050: football rebooted
Performance-enhancing boots and strips that reduce fatigue in the major lower muscle groups could be the norm, therefore enhancing performance for running, heading and kicking. Additionally, assistive head-up virtual screens providing tactical information could guide players making free kicks during training.
Tennis: present and future
2019: through the eyes of a hawk
First introduced in 2002 to create a 3D representation of the path of the ball, Hawk-Eye continues to innovate. Using six high-tech automated cameras, the technology is designed to help analyse performance and assist training.
2025: boosting the elite
Lighter rackets made from durable materials could offer elite players a 10% increase in serve speed, while tennis courts made from safer surface materials could lessen the risk of lower limb strain, thus extending injury-free careers.
2050: bionic man
Bionic enhancements designed to reduce injury risk could potentially increase performance, giving rule-makers a hard time determining the difference between active and passive assisted technology.
F1: present and future
2018: armed with a halo
Halo is introduced in a quest to keep drivers safer and protect them from flying debris. All teams must now include the halo armour when building their chassis, which has in turn created problems with aerodynamics and stress distribution.
2025: electric atmosphere
F1 racing will follow in the footsteps of Formula E and become entirely electric, which will offer greater race performance - only manufacturer lobbying could slow down this transition. An augmented reality driving environment could give drivers a sixth sense of competitors and car performance via a virtual display and body mounted actuators.
2050: ride like the wind
F1 cars will take on a radical shape change. A return to active downforce designs popular in the '70s is predicted as new materials, science, and careful track redesigns create super-safe cars that could hit speeds in excess of 300mph!!
E-sports: present and future
2019: in the mood
The Intel RealSense 3D camera allows developers to build games that can adapt difficulty levels based on the player's emotions, by scanning 78 different points on a person's face.
2025: blurred reality
Expect to see competitions redesigned for a mixed reality world, where both players and fans will operate in virtual reality arenas. Permission to use non-drug-based enhancements, such as electrical brain stimulation, could increase focus.
2050: survival of the fittest
The line between e-sports and physical sports will blur, with elite e-sports athletes finding they need training regimes on a par with their traditional sporting counterparts in order to compete.
Running: present and future
2019: Tokyo debut
Intel has developed 3D athlete tracking to monitor runner performance in real-time. There are plans to utilise its ground-breaking technology at the Tokyo 2020 Olympics.
2025: AI coaching
Expect real-time monitoring for runners where awareness around hydration, core body temperature, and respiration rates would be the norm. Training patterns will be driven by AI race strategists.
2050: an early start
Screening pre-pubescents already engaged with sport to identify candidates with the highest elite-performance potential could become common practice.
---
About Grosvenor Casinos
Owned by the Rank Group Plc, Grosvenor Casinos is a UK-based chain of 55 casinos located in major towns and cities across the UK, for more information please visit www.grosvenorcasinos.com.
Strictly over-18s only. Please bet responsibly. www.begambleaware.org
For further information on the clubs and online, visit: https://www.grosvenorcasinos.com/
About Futurologist, Tom Cheesewright
As one of the UK's leading commentators on tomorrow's technology, Tom helps individuals and organisations around the globe design futureproof plans in response to change. His foresight has seen him featured on the BBC, ITV and Sky News, as well as publications including The Guardian and The Times.