Whitney Tilson's email to investors WeWork pushes back IPO; New book by Netflix co-founder; Purdue Pharma bankruptcy; Four races in the past two weekends.
1) It looked for a moment that the bankers were going to be able to smear enough lipstick on this pig to get The We Company IPO done… But some governance improvements and a huge valuation cut weren't enough to fool investors (for now, anyway) into believing that this is anything but a terrible business model with accelerating losses. WeWork Pushes Back I.P.O. After Chilly Reception From Investors – NYTimes.
Q2 hedge fund letters, conference, scoops etc
I commented on this in a 10-minute interview I did yesterday on the TD Ameritrade Network, which you can watch here.
Echoing what my colleague Enrique Abeyta wrote in yesterday's e-mail, I said, "The difficulty We is having going public is indicative of the real downside of all of these unicorn IPOs."
Regarding Slack Technologies (WORK), I noted...
Insiders are dumping like crazy... It's down 30%, but it's still trading at 20-plus times revenues [actually 26 times trailing] and it's probably going to get cut in half... It's a good company with a good product, but the valuations just got really silly.
Returning to We, I added...
I can tell you my short-selling friends are so hoping that this thing comes out at, let's say, initially, a $15 billion valuation and goes up to $20 billion. They want to short the heck out of it because this company, unlike a company like Slack, which... is a software as a service, has a very light business model – you know, Slack could very well be worth 10 times revenue – but WeWork has one of the worst business models I've ever seen... enormously capital intensive and the first recession, this goes bankrupt.
Lastly, I happened to check out We's website, and it's exactly what I expected: super-annoying and filled with meaningless gibberish!
2) I just ordered and can't wait to listen to the new book by Marc Randolph, the co-founder and first CEO of Netflix (NFLX), That Will Never Work: The Birth of Netflix and the Amazing Life of an Idea.
Netflix is an incredible entrepreneurial story. I know Reed Hastings, the other co-founder, personally – he's on the national board of KIPP charter schools and I'm on the New York board. He's a stellar human being and extraordinary business leader. I know his story, but I'm sure Randolph will add new perspectives.
Here are two articles about the book:
The tale of how the company managed to take on Blockbuster Video and survive the bursting of the dot-com bubble is the subject of Mr. Randolph's "That Will Never Work," a book to be released on Tuesday by Little, Brown. Part memoir, part guide for the budding entrepreneur, it's the story of Netflix as scruffy start-up, from those brainstorming sessions to the height of its red-envelope days, before it spent billions on original content and had 151 million subscribers worldwide.
So when Joy Covey, Amazon's chief financial officer, called Reed to see if we would be interested in coming up to Seattle to meet with her and Jeff Bezos, Amazon's founder and CEO, I felt a mixture of both fear and hope.
Amazon was only a few years old, but Bezos had already decided his site wouldn't just be a bookstore. It was going to be an everything store. And we knew that music and video were going to be his next two targets.
We'd also heard that Bezos planned to use a good chunk of the $54 million raised during his company's 1997 IPO to finance an aggressive acquisition of smaller companies.
3) It's good to see Purdue Pharma file for bankruptcy – but don't let the Sackler family walk away with billions of dollars of their blood money! Purdue Pharma Looks to Extend Bankruptcy Shield to Sacklers. Excerpt:
Hours after seeking bankruptcy protection for the company Sunday night, Purdue's lawyers said they would ask a judge to issue an injunction that would halt legal hostilities from attorneys general who won't sign on to a settlement the drugmaker has offered. The company's owners, members of the wealthy Sackler family, are entitled to a shield from litigation, Purdue said it would argue...
4) I've run four races over the past two weekends as I train for my fourth World's Toughest Mudder. The 24-hour obstacle course race is coming up in mid-November. (My write-ups of my first three are posted here.)
I'm not a fast runner, but I'm stubborn – the longer the race, the better I do! (I've won the 50+ age division twice at the World's Toughest Mudder, setting the all-time-record in 2016 with 75 miles and nearly 300 obstacles.)
Two weekends ago, I ran the Middle Fork 10K trail run near Seattle on Saturday, finishing seventh place out of 77. I then flew back to New York, landed after midnight, got up early, and ran the Fifth Avenue Mile for the first time on Sunday – in 6:22, good enough for top 25% in my age group.
Last Saturday, I ran the Shawangunk Ridge Trail half marathon, finishing in the middle of the pack because I stopped for a bit to film a video (more on this in a later e-mail), and on Sunday, I joined my oldest daughter, Alison, for the last few miles of an 18-mile race to prepare for the New York City Marathon.
Here are pictures from all four races...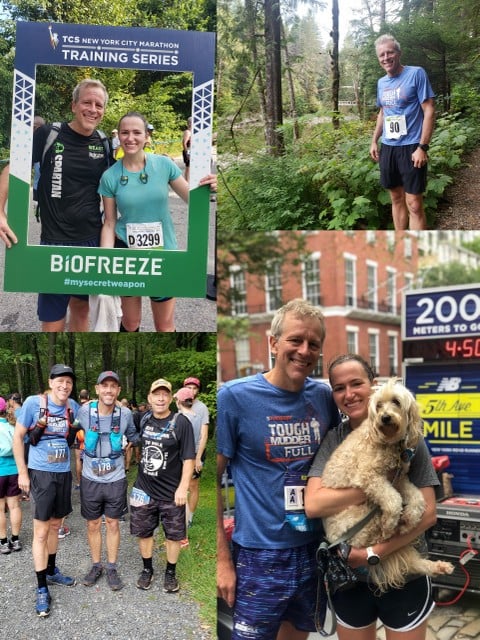 Best regards,
Whitney