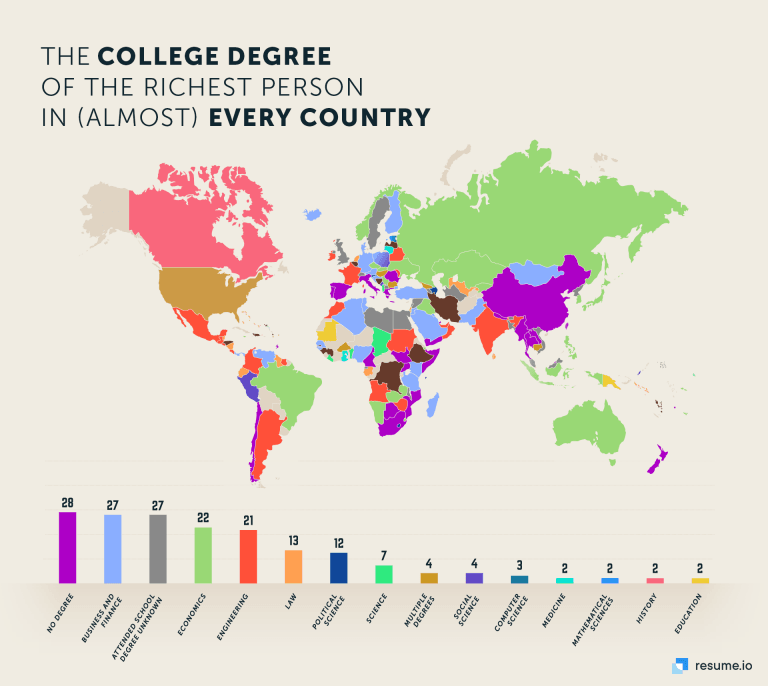 When you're at school, the path to success is normally laid out for you and it almost always involves going to college. But what should you study at college if you want to be a well off person? Is there really a route to riches laid out that you simply need to follow in order to emulate what millionaires and billionaires around the world have done before you?
Of course, it's never quite that simple. But that doesn't mean that there's nothing to learn from what has obviously worked for the well off people around the world, which makes this research particularly intriguing. It shows what the richest person in (almost) every country in the world studied at college and the one statistic jumps off the screen at you straight away.
Carlson Capital Tells Investors: Twitter Still Has Tremendous Upside [Exclusive]
Carlson Capital's Double Black Diamond Fund returned 85 basis points net in August, bringing its year-to-date net return to 4.51%. According to a copy of the fund's September update, which ValueWalk has been able to review, its equity relative value and event-driven strategies outperformed during the month, contributing 131 basis points to overall P&L. Double Read More
Q4 2019 hedge fund letters, conferences and more
That is that the biggest number happens to be the 'no degree' category, with 28 very rich people who didn't get a college degree at all but still managed to make their fortune. Of course, this is still a small number compared to the combined total of all the various degrees put together, but it's a sign that college really isn't the only way to the top.
For example, one of the well off people in the world is Amancio Ortega, the Spanish billionaire owner of retailer Zara. His net worth is believed to be around $70 billion, but instead of going to college, he started working for a local shirtmaker as a teenager, learning how to make clothes by hand. Finding a trade at an early age helped him on his way to incredible riches, so there are other routes that don't involve higher education.
Africa
There's several well off people from countries in Africa who also didn't study a college degree, including Johann Rupert in South Africa and Cameroon's El-Hadj Baba Ahmadou Danpullo. However, the richest man in Africa certainly did. Nigerian billionaire Aliko Dangote studied Business Studies & Administration, which certainly sounds like the right kind of subject for someone intending to make his fortune, honing the skills he'd learned as a child selling sweets to classmates in the playground.
Subjects like Business Management & Accountancy and Commerce and Management also show up in Africa, as you'd expect. After all, if you want to make a lot of money from your business, it makes sense to learn how to do exactly that. Engineering also shows up here with four African countries' well off people have studied that at college, so clearly that is also a useful subject to have knowledge of.
Asia
Of course, the easiest way to get rich quick is to inherit a load of money from your parents and that certainly worked for Asia's richest man. India's Mukesh Ambani inherited his father's gas and oil company, which has made him a billionaire, but still, his Chemical Engineering education at college will have been helpful for making sure the business continues to be successful. Economics and Business subjects are again prominent here, alongside International Economic Relations for Russia's richest person, Vladimir Potanin.
Meanwhile, a lack of higher education didn't do Li Ka-shing any harm. He had to leave school at 15 to work at a plastics trading company, but that led to him starting his own similar company on his way to building a business empire that takes in almost everything you can imagine and reigning as the richest person in China.
Europe
Europe's richest person is France's Bernard Arnault, who has built up a fortune of over $100 billion. He had a helping hand from moving into his father's business, having studied Engineering at college. It's hard to say whether that helped him as he accumulated iconic fashion brands like Christian Dior on his route to incredible riches, though.
The well off people in Portugal, Spain (Amancio Ortega) and Italy all skipped college. Maria Fernanda Amorim inherited her wealth from her late husband who was Portugal's "King of Cork", while Maria Franca Fissolo also gained her fortune as a widow, in her case to Michele Ferrero of Nutella and Kinder fame.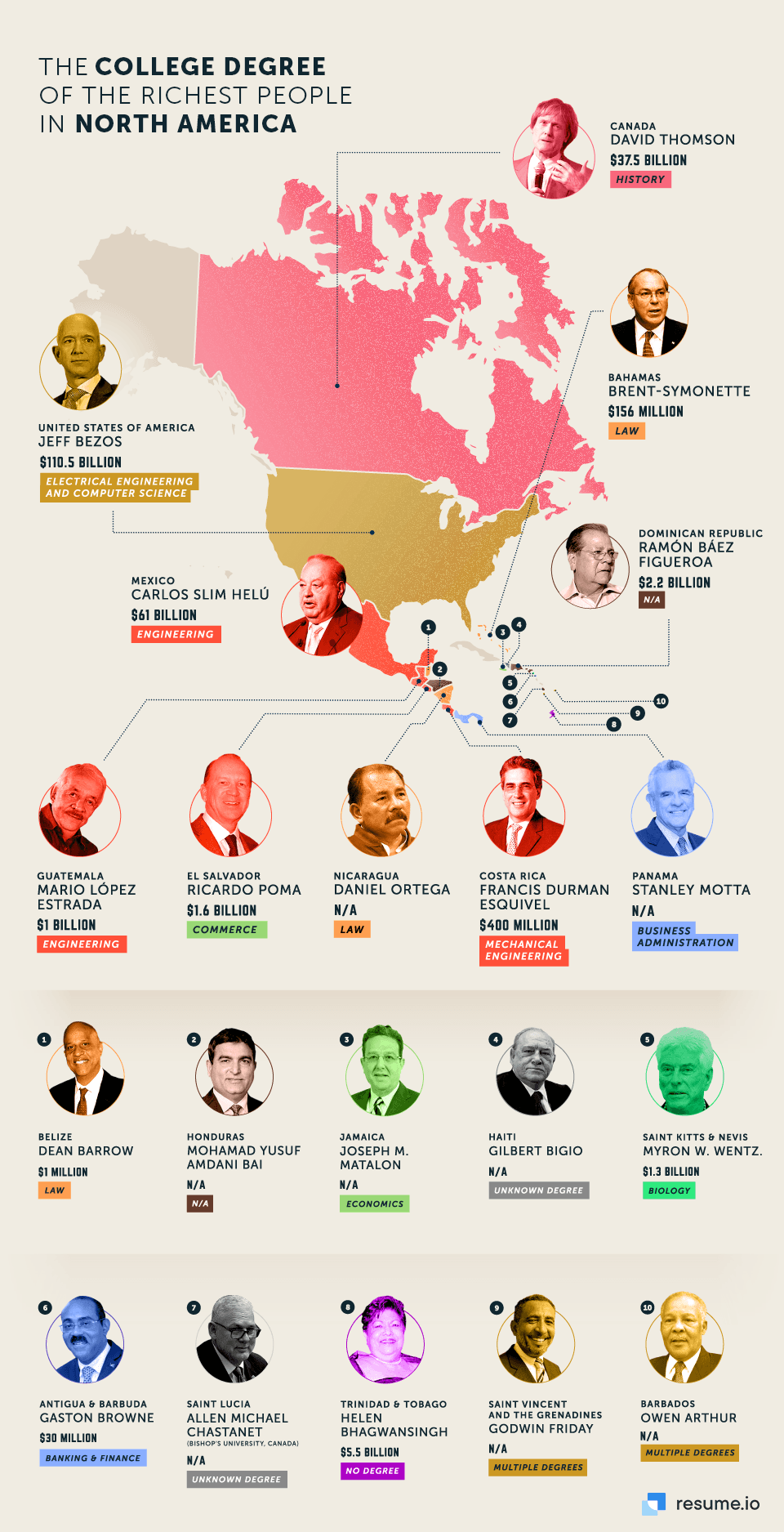 North America
The richest man in the world is, of course, Amazon's Jeff Bezos, despite his costly divorce settlement. He studied Electrical Engineering and Computer Science at Princeton, which seems like an excellent start to someone who made his fortune from founding an online bookstore right at the dawn of the internet age, which has gone on to take its place in almost every aspect of our lives.
So far we haven't seen many examples of people studying the more academic subjects at college before going on to be mega-rich, but if this is your interest there's always hope in the shape of David Thomson. The richest person in Canada and chairman of Thomson Corporation (owners of Reuters) studied History at Cambridge University and seems to favour the art world to the one he has found himself working in, with reports suggesting he wants to leave the family business behind.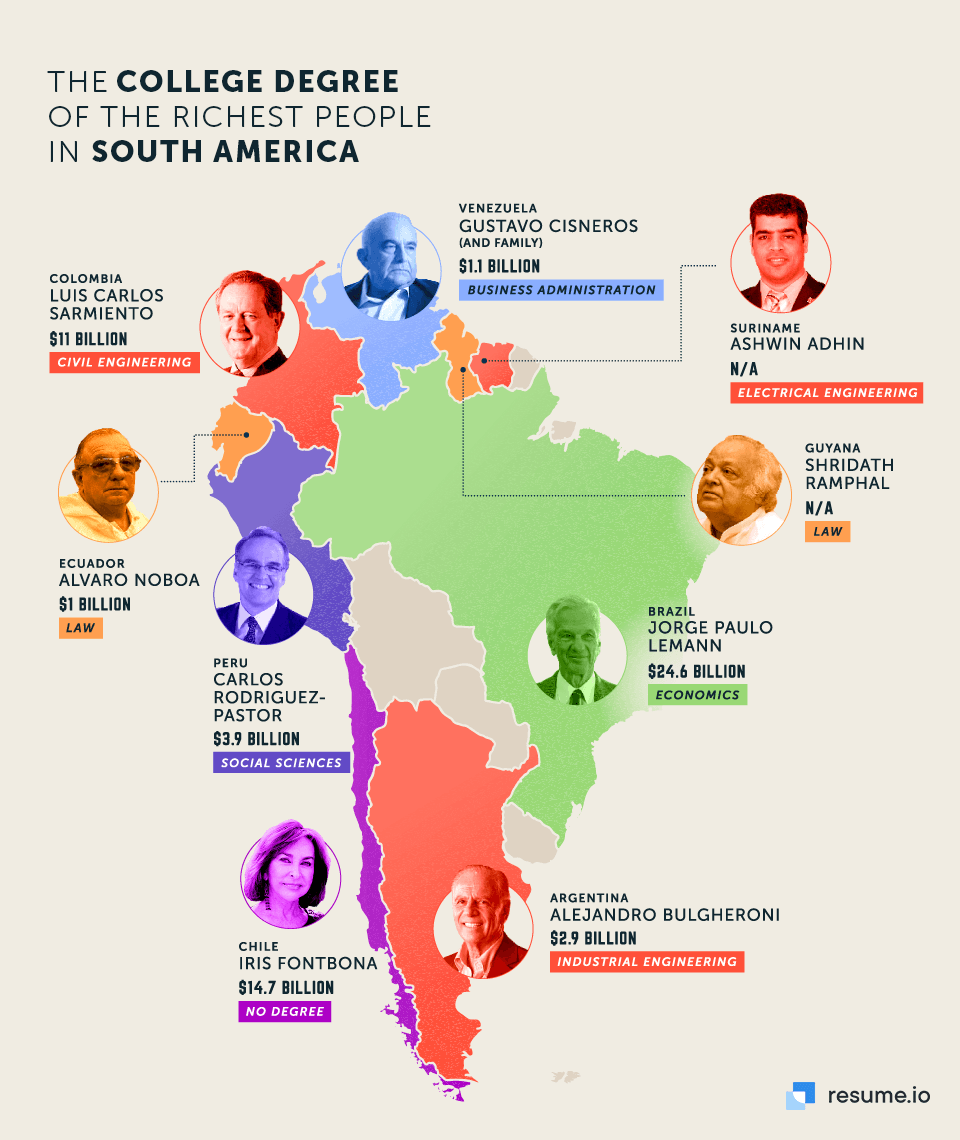 South America
One of the well off people in South America is Chile's Iris Fontbona, who inherited her late husband Andrónico Luksic's mining and beverage empire. But far from sitting on that wealth, she's actually greatly increased it with some shrewd business decisions. All of which has come without any college education.
Many of her South American peers have the usual Economics, Engineering and Business backgrounds, but Alvaro Noboa studied Law on his route to becoming the richest person in Ecuador. He presumably hoped that would help his political aspirations, but having run unsuccessfully for President in 1998, 2002, 2006, 2009 and 2013 it looks like he might have to settle for being incredibly rich.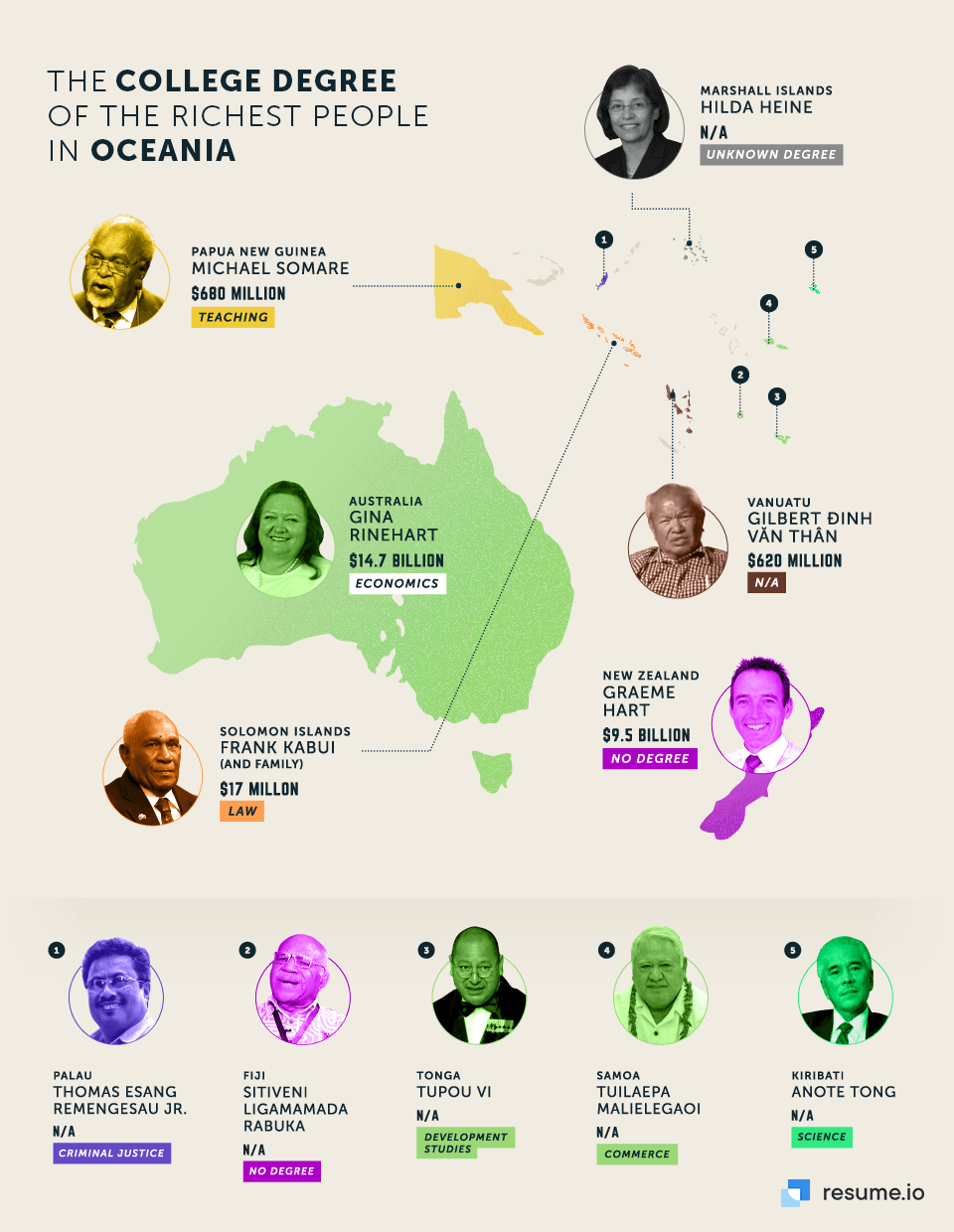 Oceania
Another billionaire without a college education is Graeme Hart from New Zealand. He's worth $9.5 billion but when he left school he worked as a tow-truck driver and a panel beater. Gina Rinehart is Australia's richest person, but despite starting an Economics degree, she dropped out to work for her father's iron ore business and has transformed its fortunes since inherited it from him.
So, what are the lessons we can take from all of this? The most important one seems to be that choosing the right course at college can certainly be very helpful - especially if it's Economics or Business-related - but good instincts and entrepreneurial ideas are certainly needed too.