What the activism world is talking about
Activist investor ValueAct Capital has turned its focus to climate concerns with its latest target, making it the most recent activist to explore environmental, social, and governance (ESG) issues. Jeff Ubben's firm announced the launch of a new fund focused on ESG goals, and recently revealed a stake in utility firm AES, where it seeks to help the company decrease its debt and move away from fossil fuels. Ubben was appointed to the company's board and is supportive of AES' plan to increase its focus on renewable energy sources.
Fund Manager Profile: Kris Sidial Of Tail Risk Fund Ambrus Group
A decade ago, no one talked about tail risk hedge funds, which were a minuscule niche of the market. However, today many large investors, including pension funds and other institutions, have mandates that require the inclusion of tail risk protection. In a recent interview with ValueWalk, Kris Sidial of tail risk fund Ambrus Group, a Read More
The move comes two weeks after Jana Partners announced the launch of a new impact investing fund and partnered with the California State Teachers' Retirement System (CalSTRS) to demand tech giant Apple increase the scope of parental controls of its iPhone.
In other news, CalSTRS announced the upcoming retirement of its director of corporate governance, Anne Sheehan. ValueAct's move is likely to further intensify the debate about whether activist investors have begun to lean more toward stewardship, which tends to stress words like sustainability, rather than value, and whether they can help companies improve their future prospects. In a letter to ValueAct's limited partners, Ubben reportedly stressed his belief that his new fund can make money by finding companies that either have, or plan to adapt, sustainable business models that can enhance financial gain. He also wrote that he "hopes to pull forward public company actions that have near-term costs as well as future stock gains."
In fact, more and more shareholders are beginning to see value in ESG concerns, including BlackRock, whose CEO Larry Fink  told chief executives of companies his funds own that they must be prepared to describe their strategies for long-term growth in the context of ESG issues. In addition, activist investors Blue Harbour, Trian Partners, and Red Mountain Capital have been actively promoting ESG sustainability. Many activists say good corporate governance is beneficial to long-term outperformance.
What we'll be watching for this week
Will Qualcomm increase its offer for NXP Semiconductors now that institutional investment manager Ramius Advisors has joined activist investor Elliott Management in pressuring the company for a higher takeover bid?
Which recommendation will J. Alexander's shareholders follow: that of proxy advisory firm Egan-Jones, which supported the company's merger with 99 Restaurants, or that of Glass Lewis and Institutional Shareholder Services, which sided with activist Marathon Partners Equity Management and recommended against the deal?
Will shareholders of CanniMed Therapeutics vote in favour of the merger with Newstrike Resources instead of Aurora Cannabis' takeover bid at the company's annual meeting Thursday?
Activist shorts update
After years of anonymity, the founder of Viceroy Research decided to reveal his identity. Fraser Perring, a former British social worker, told Bloomberg on Wednesday that he started betting against companies while he was still working as a child-protection officer for Lincolnshire County Council. The short seller, who splits his time between New York and the U.K., later partnered with Australians Gabriel Bernarde and Aidan Lau in 2016 after learning they were researching the same company that he was.
The trio, which posts negative reports about companies under the pseudonym Viceroy, is responsible for leading the short campaigns that brought down the stocks of U.S.-based healthcare company MiMedx and South African furniture retailer Steinhoff International. Before the big reveal, the only official description of the team came from its website, in which the three described themselves as "a group of individuals that see the world differently."
Chart of the week
The percentage of European companies publicly subjected to activist demands operating in the industrial goods sector by year.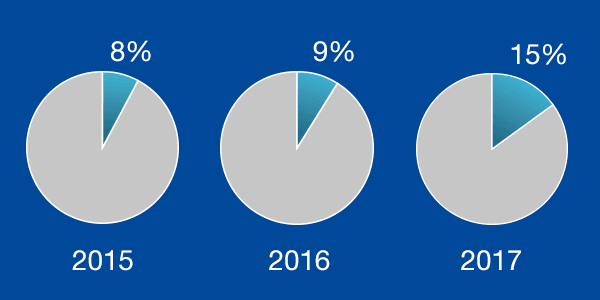 For bespoke data requirements, contact our team at [email protected] or subscribers of Activist Insight Online can visit our interactive statistics page.
Article by Activist Insight