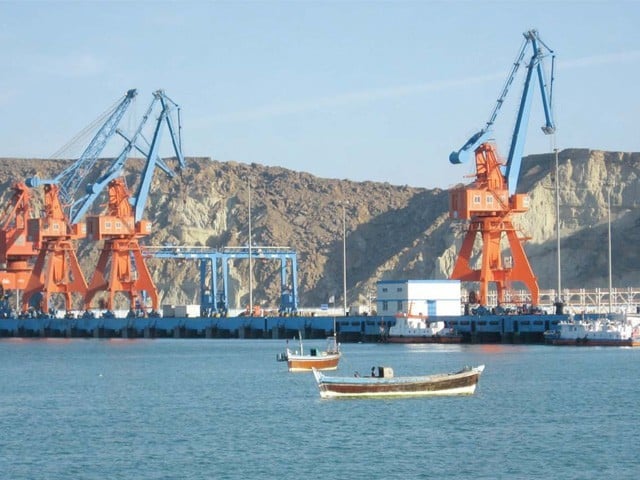 According to a recent report from the Voice of America, Pakistani officials have confirmed that the U.S.-led military coalition in Afghanistan has requested access to Pakistan's Gwadar port. The Chinese-built southwestern port of Gwadar would be used as a much shorter and economically viable route for the NATO supply line to landlocked Afghanistan, U.S. officials have said.
Hasil Bizenjo, Pakistan's federal minister for maritime affairs, said that NATO representatives proposed the idea during a meeting he recently held with both local and international business leaders.
"They (NATO) are very interested and we are working on it," Bizenjo told the Voice of America during an interview earlier this week. "NATO people told us it would be extremely convenient for them in terms of quick transportation of supplies from Gwadar directly to Kandahar. They are very interested and we are working on it," he said.
This Crypto Hedge Fund Manager Thinks The Crypto Winter Is Almost Over
When the Great Financial Crisis hit in 2008, the pseudonymous Satoshi Nakamoto published the first paper on bitcoin, proposing a new financial system that didn't depend on "trusted" third parties. However, today's crypto ecosystem has diverged so far from the original intent of cryptocurrency set out in that paper that it's virtually unrecognizable. Now we're Read More
The U.S.-led military coalition NATO supply line currently goes through Karachi, the most populous city in Pakistan and its southernmost port. The NATO supplies are then placed on trucks and start their week-long journey to Afghanistan via Torkham, the northwestern border crossing from Pakistan into Afghanistan's Nangarhar province.
The lifeline to the coalition troops could get significantly faster
The coalition residing in Afghanistan consists of about 16,000 troops from the U.S., NATO, and its partner nations. The Resolute Support Mission, which began in 2015, provides training, advice, and assistance to Afghan security and military forces in their conflict with the Taliban, ISIS, and the Haqqani network.
The Resolute Support mission is highly dependent on ground and air lines of communications through Pakistan, known as GLOC AND ALOC, to keep the NATO supply line going, as, besides the 16,000 troops, it also employs around 26,000 military contractors.
As shipping NATO supplies via the current network takes weeks, switching the route to Gwadar could significantly speed up the truck convoys shipping the supplies to the coalition's military installations throughout Afghanistan.
The port of Gwadar, a staple of the China-Pakistan Economic Corridor, is located in the southwestern Balochistan province, bordering Afghanistan's southern Kandahar province.The troubled province also hosts one of the five U.S. military bases located in Afghanistan.
If the NATO supply line to Afghanistan was to go through Gwadar, the coalition truck convoys could reach Afghanistan in less than 24 hours since arriving at the port. The Chinese-built Gwadar port is connected to Chaman, a major border crossing between Afghanistan and Pakistan that links the two provincial capitals, Quetta and Kandahar. A newly constructed highway that connects the two cities could mean a safer and much more efficient shipment of NATO supplies to the war-shattered Afghanistan.
Could U.S.-Pakistan relations be recovering?
Despite the tensions that have always plagued U.S.-Pakistan relations, Islamabad was always viewed as a close ally of the west. By earning the status of a non-NATO ally for allowing the U.S.-led coalition forces to use the Pakistan-run GLOC and ALOC supply lines to invade Afghanistan in 2001, Pakistan had also secured a steady flow of U.S. military and civilian aid into the country.
However, as the U.S.-Pakistan relations have gotten off to a pretty rocky start in 2018, the U.S. initiative to move the NATO supply line to Gwadar came as a surprise to most of the public. Facing setback after setback, the proposal to redirect U.S. and NATO supplies from Karachi might be a sign that the U.S. is ready to work on mending the troubled relations with Pakistan.
Following a New Year's Day tweet by U.S. President Donald Trump, in which he accused Islamabad of providing havens to terrorists fighting in Afghanistan despite receiving over $33 billion in aid, Pakistani officials reacted strongly and branded Trump's comments as "unwarranted" and "completely incomprehensible," saying Pakistan was being scapegoated for U.S. failures in Afghanistan.
Subsequently, the Trump administration withheld a large portion of security assistance it was giving to Pakistan, demanding that Islamabad takes "concrete" steps against Islamic militants currently operating from Pakistan.
Responding to President Trump's claim, Pakistani officials have said that Pakistan has not received more than $14 billion from the U.S. Stating that the money was not aid, but reimbursement for money spent on deploying security forces on the Afghan-Pakistani border, the officials added that Washington still owes Islamabad around $9 billion.
The extremely negative statements that came from both the U.S. and Pakistan have put additional pressure on the already strained relationship between the two former allies. However, as officials from both countries continue to claim, U.S.-Pakistani relations were far from "the brink of collapse," as the media had described. Pakistani officials have also denied claims that Islamabad intended to shut down all NATO supply lines going through Pakistan.
Citing an unnamed U.S. government source, the Voice of America reported that a "robust ongoing" bilateral dialogue is on track between the two countries, particularly their militaries. Army spokesman Major-General Asif Ghafoor told VOA that the recent conversation between Pakistan's army chief, General Qamar Javed Bajwa, and CENTCOM commander General Joseph Votel helped remove any "apprehensions" about future cooperation.
Pakistani Senator Mushahid Hussain, who heads the defense affairs committee of the upper house of parliament, also spoke to VOA saying that Islamabad's deepening ties with China, Turkey, Iran, and Russia were giving Pakistan more leverage over the U.S.
"The U.S. needs Pakistan more than we need it because of our location, because of our role and because of the options (available to Islamabad)," Hussain said. However, the Senator also added that the GLOC and ALOC lines remain operational because Pakistan is committed to supporting efforts to bring peace and stability to Afghanistan.