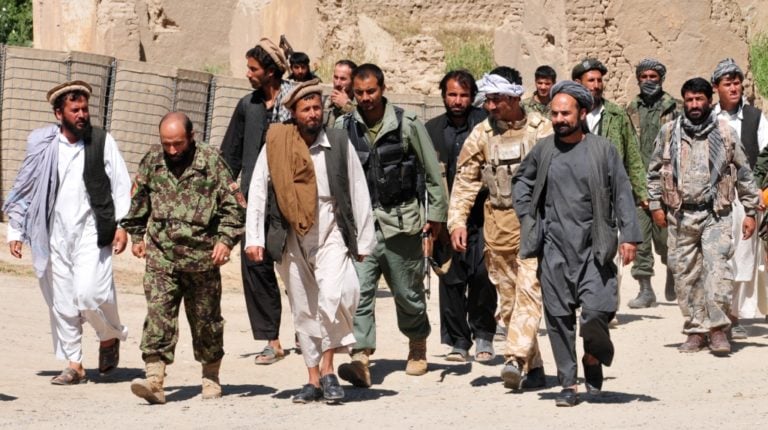 U.S. Central Command head Gen Joseph Votel spoke with Pakistan's Chief of Army Staff Gen Qamar Bajwa.
Tehreek-e-Taliban Pakistan still the most potent threat. Footprints of Daesh (ISIS) increasing, killed 153 in 6 deadly attacks. Pakistan Security Report 2017, released by Pak Institute for Peace Studies.
PA reinstated envoy in Islamabad.
Palestinian President Mehmood Abbas has reinstated its ambassador to Pakistan. It was unveiled to Pakistani media by Maulana Tahir Ashrafi, a prominent religious cleric and chairman of the Pakistan Ulema Council (PUC). PUC is an umbrella organization of various religious scholars hailing throughout the country. Tahir Ashrafi  told media that he had requested Palestinian President Mahmood Abbas and the country's Chief Justice Dr Mehmood al bahash to reinstate Waleed Abu Ali. Envoy, Waleed Abu Ali, was recalled for attending a rally organized by the Difa-e-Pakistan Council (DPC) to protest the U.S. decision on Jerusalem. The decision was taken by PA, after strong protests by the Indian government. The Indian government denounced the envoy presence with Hafiz Saeed in this rally. Ali's presence at the  rally was seen as a huge setback between Indo-Palestinian relations as India risked its close ties with the U.S. by voting against it in UNGA and favoring the Palestinian claim to East Jerusalem.

Cleric Allama Tahir Ashrafi exclusively told this scribe that he himself called the Palestinian Chief justice about the issue.  CJ dr Mehmood Al Bahash informed him today that envoy Waleed Abu Ali has been reinstated by Mehmood Abbas and he will resume his office on Wednesday. He also said that envoy Waleed Abu Ali also confirmed about his reinstatement. Tahir Ashrafi further added that the envoy should not have participated in a such rally, which was held under the banned leadership.
On the other hand, the Indian news agency ANI claims that the former Palestinian Ambassador to Pakistan, Waleed Abu Ali, was 'very much in Palestine.' ANI also denied the information.
ValueWalk's June 2022 Hedge Fund Update: Tiger Global's Losses Total 44% In 2022
Welcome to our latest issue of issue of ValueWalk's hedge fund update. Below subscribers can find an excerpt in text and the full issue in PDF format. Please send us your feedback! Featuring Tiger Global's losses total 44% in 2022, Allianz Global's $5.8bn SEC settlement, and commodity funds draw in cash. Q1 2022 hedge fund Read More
Meanwhile, after the suspension of U.S. security aid, political tension still exists between Washington and Islamabad. However, some senior defense officials on both sides are quite hopeful for the betterment of the current situation between the past best allies.
U.S. Defence Secretary, James Matttes, also confirmed the telephonic contacts between the commander of the U.S. Central Command, Gen Votel, and Pakistan Army Chief Gen, Qamer Bajwa. According to media reports, on Friday, the U.S. Defence Secretary James Mattes, during a special briefing at the Pentagon, acknowledged the Pakistan sacrifices in the war against terror.
"Pakistan has lost more troops in total then all of NATO, but we have strong disagreements on some issues and we are working on those," Mattes added.
According to the news, which is published in the daily DAWN, James Mattes said that the Pentagon was maintaining its communication with the Pakistan Army establishment including General Qamar Bajwa, COAS.
Mattis said the U.S. continues to work with Pakistan and would restore security payments "if we see decisive movements against the terrorists who are as much of a threat against Pakistan as they are against us."
It is aforementioned that the U.S. uses military supply lines that run food and equipment from Pakistan to Afghanistan.  Mattis said that the Pentagon will continue to coordinate such logistics and added that he has "no indication" and is "not concerned" that Pakistan will close its airspace or supply lines.
During an interview with VOA, Pakistan Army spokeperson, Major General Asif Ghafoor, said that Pakistan never fought for money, but for peace. He said that U.S. aid suspension will undermine security cooperation and regional peace.
The military spokesman said, "Suspension of security assistance will not affect Pakistan's resolve to fight terrorism; however, it for sure will have an impact on Pakistan-U.S. security cooperation and efforts towards regional peace. Pakistan has targeted terrorists 'indiscriminately,' including Haqqanis at a 'heavy cost of blood and treasure.' There are no more 'organized' terrorist sanctuaries inside Pakistan," he maintained.
Pakistan Institute for Peace Studies (PIPS) stated in their fresh report that Tehreek-e-Taliban Pakistan is still the most potent threat, followed by nationalist insurgents. PIPS  is an independent research and advocacy think-tank.
In their report, PIPS reveals that "Footprints of Daesh increasing, killed 153 in 6 deadliest attacks Down 16% from the year before, 370 terrorist attacks took place in Pakistan killing 815 and injuring 1,736 people. Balochistan and FATA (Federaly Administrated Tribal Areas), mainly Kurram Agency, remained critical areas with 288 and 253 terrorism-related killings, respectively, in 2017."
Also Read:
Where To Read The Book Fire and Fury | Inside The Trump White House
These are some of the major findings of the Pakistan Security Report 2017, released by Pak Institute for Peace Studies, an Islamabad-based think-tank specializing in security and conflict dynamics of Pakistan and the region. The report also noted that compared to 2016, a significant surge of 131 percent was witnessed during 2017 in cross-border attacks from Pakistan's borders with Afghanistan, India and Iran. A total of 171 cross-border attacks claimed 188 lives and injured 348 others. An interview with National Security Advisor, Lt. Gen. (Retd.) Nasser Khan Janjua, in the report, reveals that National Security Policy has been documented and circulated internally in the governments.
About the Author
Arshad Mehmood is Pakistan based Journalist. He is first ever Pakistani Journalist who wrote an introductory article about Holocaust. It is reported in national language Urdu. It was published in the largest circulated news paper Daily Nawa e Waqt, in their Sunday Magazine. Further its English version was published in some International media outlets. He is associated with prominent media outlets in Pakistan and abroad. Arshad Mehmood is a patriotic Pakistani Journalist struggling to paste country's soft image among the globe.
Updated on