Tesla Inc.'s (Nasdaq: TSLA) CEO Elon Musk has long been a controversial and vocal mouthpiece for the electric car company, often to the detriment of the company's stock.
Musk's antics and off-the-cuff remarks in the news and on Twitter have provided fuel time and time again for a rather large bearish contingent.
Q2/H1 Hedge Fund Letters - Letters, Conferences, Calls, And More
With Nearly Half of Academic Research Called "Fake," Former Energy Trader Seeks To Keep Them Honest
Last week's trip onto the earnings stage was no different for Tesla's CEO. Musk offhandedly dismissed concerns about Tesla Model 3 cancellations — orders now stand at about 455,000 compared to Musk's proclamations to the press of about 513,000 preorders — as inconsequential and that original numbers were "just a guess."
What's more, he often handles concerns regarding Tesla's cash burn in much the same way. Musk clearly has the mentality of someone more focused on the goal than on how to get there or how much it will cost.
To that end, Musk told investors following last week's quarterly earnings report that: "When we make mistakes, it is because we are stupid, not because we are trying to mislead anyone."
With statements like that flying around, it's no wonder that TSLA stock is the most shorted stock on Wall Street right now. It's hard to build confidence among traditional investors when your CEO is a bit on the flippant side.
However, as Tesla's quarterly earnings performance shows, it may finally be time for TSLA stock bears to set Musk's irritable inaccuracies aside and re-examine their stance on the company.
---
The No. 1 Stock to Own for 2017
Wall Street legend Paul Mampilly just revealed his No. 1 investment for 2017 … a tech stock he says is about to hand those who act fast the opportunity to make a lifetime's worth of gains in just months.
---
Tesla's Shocking Results
Despite TSLA stock advancing more than 50% since the start of this year, Tesla the company has attracted a veritable flood of negativity — no thanks to Elon Musk.
Heading into last week's earnings report, about $9.03 billion worth of TSLA stock was sold short — more than any other company on Wall Street. (A short sale is a bearish bet where a trader expects the shares of the company to fall.) In fact, Tesla's short position stands about $2.4 billion more than AT&T Inc., the second most shorted stock.
But short sellers weren't the only ones with a dour opinion of Tesla. Consensus analyst earnings expectations stood at a loss of $1.80 per share, but the Street's whisper number indicated that traders were expecting an even wider loss of $1.87 per share.
What's more, analysts were looking for negative cash flow and capital spending to come in far worse than CEO Elon Musk had previously provided guidance for.
Tesla smashed all of those targets.
Earnings came in at a narrower-than-expected loss of $1.33 per share on revenue of $2.79 billion, which topped the Street's target for sales of $2.51 billion.
Capital spending rose to just $1.5 billion for the first half of 2017, well below expectations for $2 billion.
Negative cash flow, while still rather brisk at $1.16 billion, was below both Tesla's and Wall Street's expectations.
In short, it was a complete sweep of the board for Tesla.
What's more, those bears holding $9.03 billion in TSLA stock short are now in considerable pain. According to data from S3 Partners Research, hedge funds lost more than half a billion dollars on Thursday, when TSLA shares soared roughly 6% following earnings, while Tesla short sellers lost roughly $300 million.
The dilemma for TSLA bears is: Do they hold their positions and hope for a plunge in the stock, or do they finally throw in the towel and cut their losses?
Investing in Tesla Stock
Given TSLA stock's irrationality of late, cutting your losses as a Tesla bear seems prudent. In fact, some analysts believe that part of the stock's rise last week was due to hedge funds finally bailing on their short TSLA positions. If more start to follow suit, it could have an uplifting effect on TSLA stock over the next several weeks as short sellers buy back their shares to close out their losing positions.
TSLA stock is in a solid technical position. The shares have reclaimed support at their 50-day moving average and are in the process of building support above the $350 region. Furthermore, the shares have more room to run before their 14-day Relative Strength Index hits overbought levels.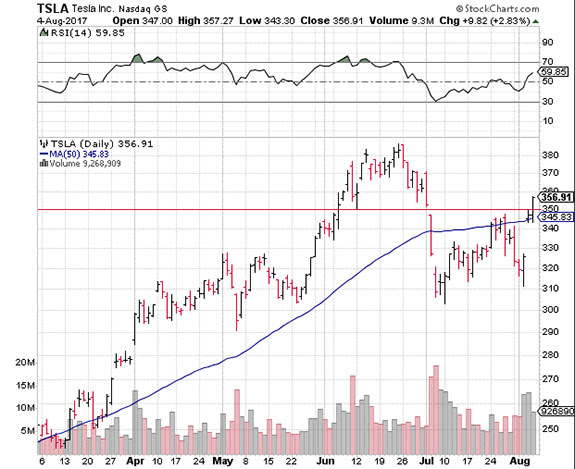 See larger image
For those traders with the appropriate risk tolerance, TSLA stock is a buy right now, or on any pullback to the $350 region. With Model 3 production ramping up, and sales beginning to improve once again for both the Model S and Model X, TSLA stock has plenty of upside down the road. There is a reason that Volkswagen recently called Tesla its biggest competitor, stating that: "In the old world it is Toyota, Hyundai, and the French carmakers. In the new world it is Tesla."
Paul Mampilly was right. As automakers race toward an all-electric future, Tesla holds a commanding lead.
Until next time, good trading!