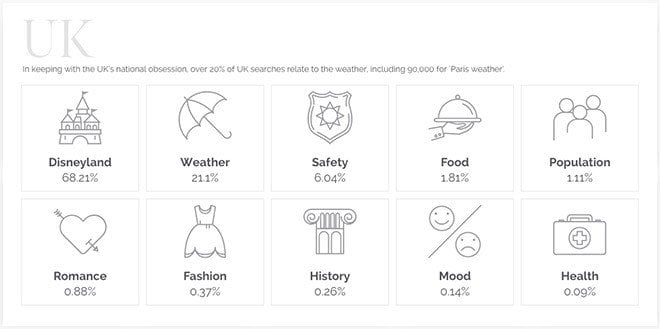 Whether its luxury fashion or a spontaneous sojourn to a charming local café, Paris continues to spark the hearts of not only it's fellow Europeans, but the wider global population. We're not only keen to know about the weather and food, but, if our Google searches are anything to go by, we're keen to find out just what makes Paris one of the most magical, romantic and artistic capitals in the world. Paris broke a record figure for hotel arrivals (23.6 million) and tourists (40 million) in 2017, but before packing their bags and heading for the City of Light, what exactly did tourists search for? Luxury hotel Le Royal Monceau by Raffles Paris analysed search data from 10 different countries to reveal what exactly people want from their trip to Paris and the The Eiffel Tower is not the only attraction in the city.
The data, which has been split out by country and topic, shows a huge variety of searches and we've outlined some of the key findings.
[REITs]
Short-Seller Spruce Point Highlights Its Latest Canadian Consumer Short: Saputo
Reputed short-seller Spruce Point Capital Management released its latest short report this week. The firm is shorting Canadian dairy and grocery manufacturer Saputo. Spruce Point chief Ben Axler believes the company is entering a phase of declining growth and highlights the financial stress and growing challenges he sees it facing, not only in Canada but Read More
Q3 hedge fund letters, conference, scoops etc
Typically weather obsessed Brits search for 'Paris weather' over 90,000 times per month. While some Brits upkept the traditional rivalry with over 10 searches per month asking, 'Why is Paris better than London?'. Other UK residents were less geographically blessed searching 'what is the capital of Paris?' 110 times per month, 'capital city of France' 40 times and 'is Paris the capital of Italy?' 10 times. It appears that some residents of the US also struggle with locating Paris on the map with 90 searches per month asking, 'What country is Paris?'
Paris is well known for being a city of romance with the Eiffel Tower often being cited as one of the top places to get on one knee. Spanish tourists seem to recognize this and are searching for love, with over 1900 searches related to romance.
Italian's wants to know if the their fashion status can be rivalled with an average of 1000 searches for 'Paris fashion week', this twice yearly event is one of the stand out calendar moments for Paris and its fashionable residents, drawing in journalists from 50 countries. If fashion is your priority and you're looking to invest in a designer piece, then head to Faubourg Saint-Honoré where you will find some of the most iconic French luxury brands including Chanel, Saint-Laurent and Christian Louboutin.
Alongside fashion, Paris is well known for its cuisine, namely wine and cheese, it seems that the Dutch are intrigued with how the stylish Parisians manage this diet whilst staying healthy as there are 10 searches per month in the Netherlands asking, 'How do Parisians stay thin?'. Food is also hot topic for visitors from the US, with most looking for tips on eating like a local.
Canada was the country with the highest percentage of searches related to Parisian history – with the Eiffel Tower, Notre Dame and Arc de Triomphe, there are plenty of places to submerge yourself in some Parisian history.
Disneyland Paris is a huge draw for people travelling to the French capital, Germans in particular are a huge fan of Disney, with 87% of all Paris searches focused around it.
Paris offers endless possibilities, our research has shown that the main attractions of Paris vary from food, fashion, art and Disneyland. To view all the results and explore Raffles Paris, visit them here.