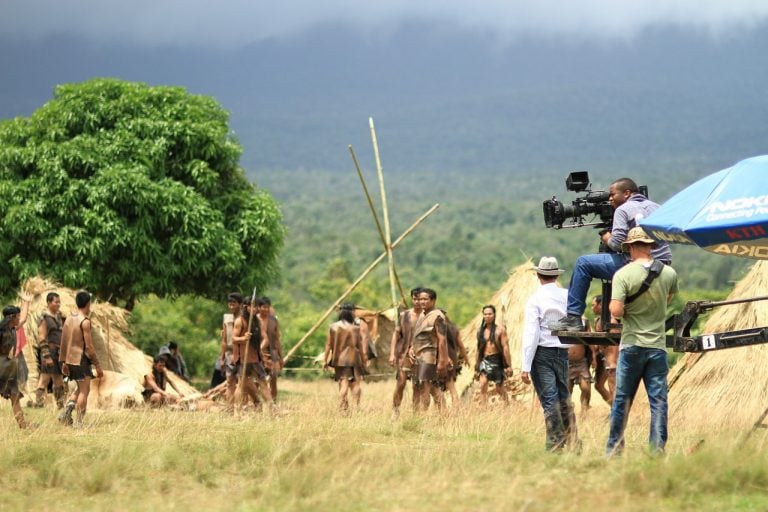 There are nearly 500 film programs in the United States. If you are thinking of making a career in the film and TV industry, you'd want to go to one of the finest film schools in the country. You'll not only be learning the art and craft of filmmaking, but also be surrounded with like-minded people who support you, inspire you, and help build your future. Here we take a look at the top 10 best film schools in the US. As expected, California is home to many of the best schools.
The Hollywood Reporter publishes an annual list of the best film schools in the country after extensive research and interviewing. The ranking below is based on The Hollywood Reporter's 2019 list. Getting into one of these schools could be incredibly difficult. For instance, fewer than 5% applicants are admitted to the University of Southern California's School of Cinematic Arts.
10- Emerson College, Boston
Emerson College's Department of Visual & Media Arts is one of the finest schools for aspiring filmmakers. It offers BFA and MFA courses in stage & screen design, film art, media studies, and media arts production. Emerson has set up a satellite campus in Los Angeles. It also hosts an annual film festival. Some of its notable alumni are Adele Lim, Andrea Giannetti, Norman Lear, Henry Winkler, and Holly Bario.
ValueWalk's October 2022 Hedge Fund Update: Haidar Capital Surges 225%
Welcome to our latest issue of ValueWalk's hedge fund update. Below subscribers can find an excerpt in text and the full issue in PDF format. Please send us your feedback! Featuring investors exit long-short hedge funds, the oil market is now "broken", and Haidar Capital surges 225%. Q2 2022 hedge fund letters, conferences and more
9- CalArts, Valencia, California
California Institute of the Arts is a great place to study dance, music, theater, film, and of course animation. This film school was founded by Walt Disney. CalArts has produced some of the greatest animators of Hollywood. Geniuses like John Lasseter, Pete Docter, Tim Burton, Alex Hirsch, and Brenda Chapman are all graduates of CalArts. The school is just 45 minutes of drive from Los Angeles.
8- Loyola Marymount University, Los Angeles
LMU's School of Film and Television offers students degrees in screenwriting, animation, recording arts, production, and film studies. The school has partnerships with Hollywood heavyweights such as Sony, Paramount, Disney, and NBCUniversal to provide internships to its students. Some of its notable alumni are Barbara Broccoli, James Wong, Francis Lawrence, Emily Spivey, and Patricia Whitcher.
7- Chapman University, Orange, California
The Dodge College of Film and Arts at Chapman actively helps its students find jobs in the film industry. It offers graduate and undergraduate courses in animation, visual effects, film production, documentary filmmaking, broadcast journalism, and television production. Matt and Ross Duffer, creators of the blockbuster Netflix series Stranger Things graduated from Chapman. Other notable alumni include Justin Simien, Rebekah Parmer, Darren Bunkley, and Carlos Lopez Estrada.
6- Wesleyan University, Middletown, Connecticut
Wesleyan University's Center for Film Studies counts Michael Bay, DB Weiss, Akiva Goldsman, Joss Whedon, Rick Nicita, and Jenno Topping among its alumni. Jeanine Basinger founded Wesleyan's film program in the 1960s and nurtured it for more than half a century. Wesleyan has become one of the finest film schools in the country.
5- Columbia University, New York
Columbia University's School of the Arts offers MFA programs in screenwriting/directing and creative producing. It doesn't have an undergraduate degree. With educators like James Schamus, Barbara De Fina and Mira Nair, Columbia's intellectual credentials are among the best. Its notable alumni include Jennifer Lee, Kathryn Bigelow, Moira Demos, James Mangold, and Kahane Cooperman.
4- American Film Institute, Los Angeles
The American Film Institute's Center for Advanced Film Studies offers a two-year conservatory program in film production, cinematography, direction, and screenwriting. The school takes a hands-on approach to learning filmmaking. The AFI's alumni include David Lynch, Patty Jenkins, Mimi Leder, Darren Aronofsky, and Sam Esmail.
3- University of California Los Angeles
The UCLA's School of Theater, Film and Television is often compared to its rival USC. Legends like Francis Ford Coppola and Alexander Payne graduated from the UCLA. Other notable alumni include Fran Marshall, Ava DuVernay, Alex Gibney, and David Koepp. It's pretty difficult to get into the UCLA's film school, which admits only about 30 students a year.
2- New York University, New York
The NYU's Tisch School of the Arts has been named the second-best film school in the US by the Hollywood Reporter. It has also set up a satellite campus in Singapore and Los Angeles. It offers undergraduate degrees in cinema studies, dramatic writing, and film & television. Its alumni include Martin Scorsese, Spike Lee, Alec Baldwin, Elizabeth Olsen, Rachel Bloom, and Miles Teller.
1- University of Southern California, Los Angeles
The USC's School of Cinematic Arts is the best film school in the country. Several of its graduates including Ryan Coogler have gone on to win the Oscars. The school is well-connected in the entertainment industry, giving its students the opportunity to intern at NBCUniversal, Lionsgate, Pixar, and other companies. Its alumni include George Lucas, Judd Apatow, Shonda Rhimes, Doug Liman, John Singleton, and many others.