The Super Bowl indicator suggests that stocks rise for the full year when the Super Bowl winner comes from the original National Football League (now the NFC), but when an original American Football League (now the AFC) team wins, stocks fall. We would be the first to admit that this indicator has no connection to the stock market, but the data doesn't lie—the S&P 500 Index has performed better, and posted positive gains with greater frequency, over the past 51 Super Bowl games when NFC teams have won.
A simpler way to look at the Super Bowl indicator is to look at the average gain for the S&P 500 when the NFC has won versus the AFC—and ignore the history of the franchises. This similar set of criteria has produced an average price return of 10.8% when an NFC team has won, compared with a return of 5.8% with an AFC winner. An NFC winner has produced a positive year 82% of the time, while the S&P 500 has been up only 63% of the time when the winner came from the AFC.
Would you believe the numbers actually get worse when the Patriots are involved? That's right; the S&P 500 has only gained 3.1% on average in years when the Patriots play in the big game, but things get even worse if they win. "Pats fans might be ecstatic that Tom Brady is starting in a record-breaking eighth Super Bowl, but market bulls don't want to see them win, as stocks are up only 1.5% for the year on average after a victory versus up 5.1% if they lose," said Ryan Detrick, Senior Market Strategist. "Tom might be terrific, but maybe not in all cases."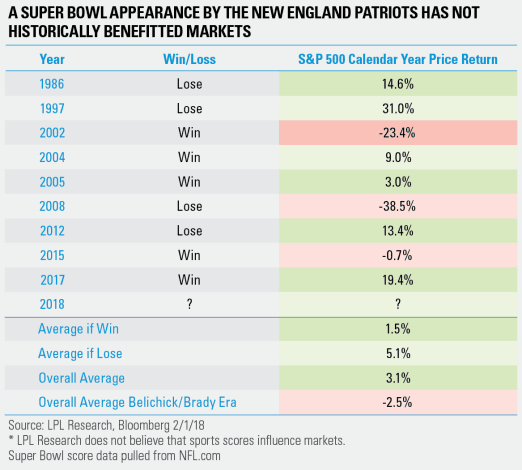 We would like to reiterate that this is in no way relevant to investors, but it sure is more fun to talk about the Super Bowl and stock market returns than politics this Sunday evening. We hope everyone has a great Super Sunday and wish both the Eagles and Pats luck!
FULL DISCLOSURE – LPL Research has an office in Boston and we have many Patriots fans, but the author of this piece sure isn't one.
Article by LPL Financial