Whitney Tilson's email to investors discussing that Enrique Abeyta thinks the market could double; three short reports on Nano-X Imaging Ltd (NASDAQ:NNOX).
Q3 2020 hedge fund letters, conferences and more
The Market Could Double
1) Following up on yesterday's e-mail, I asked my colleague Enrique Abeyta to elaborate on why he's so bullish on stocks despite this table that has been circulating in the investment community showing how expensive the S&P 500 Index appears to be: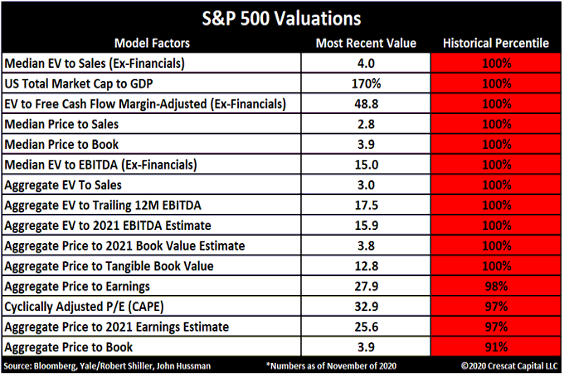 Enrique replied:
It's important to look at this in the context of a cyclical. Cyclicals always trade at crazy valuations at the bottom. They also always rally at least 30% before they bottom. (Think of the S&P 500 Index as a steel company and it makes sense.)
Anyway, it doesn't matter because of...
1) Big fiscal stimulus coming
2) Six quarters of the greatest global synchronized GDP growth since World War II
3) Infinite monetary liquidity
In short, I think the market could double from here!
Thank you for sharing your perspective, Enrique!
Three Short Reports On Nano-X Imaging
2) Speaking of stocks to avoid, in one of my e-mails last week, I mentioned two of the best-known activist short-sellers – Carson Block of Muddy Waters Research and Andrew Left of Citron Research – and stocks they've recently targeted: Chinese online-education provider GSX Techedu (GSX) and electric-vehicle maker Electrameccanica Vehicles (SOLO), respectively.
It's rare when Block and Left both end up focusing on the same company, so I wanted to highlight it: medical imaging company Nano-X Imaging Ltd (NNOX), whose stock has been ripping. It closed at $59.20 yesterday, giving it a $2.7 billion market cap despite no revenue and accelerating losses.
Here's Block's report: MW Is Short Nano-X Imaging, and here's Left's: A Complete Farce on the Market – Theranos 2.0. Another report was also posted on ValueInvestorsClub two weeks ago here (NNOX shares are up 57% since then). It's available to members only for the first 30 days, so here's an excerpt:
Nano-X Imaging is a fraud. My research suggests it is worth approximately $50M versus the current $1.75bn market cap. It is a well-researched fraud. The Citron and Muddy Waters short reports focus on: 1) likely fake customers/distributors. The future order book showing that customers believe in the product is bogus. 2) That strategic partners are mostly bribed by receiving significant stock options. 3) The company was bought for $6.1M at the end of 2018, suggesting there is no value to the IP and the order book. 4) The company is possibly faking the images it claims their machine produces.
I felt that these short reports were missing a detailed critique of the scientific claims and did not do enough to address why a couple reputable scientists are involved. I think Nano-X Imaging true technology is misunderstood. It is not bogus. I believe they have a working machine. It is just that their current machine is mundane and the one they claim to have on the way will be a dud in my view.
I hope my analysis adds more evidence and conviction to the short case.
How did the company achieve a $1.725bn valuation?
1 - A 15k unit order book – there is significant evidence the order book is fraudulent.
2 - Reputable partners.
Some have some skin in the game. The SK Telecom collaboration is preliminary. It is an agreement to explore a definitive agreement by year end 2020, whereby SK would help make the chips for the machine. There is no definitive collaboration yet. That said, SK Telecom did invest $20M into Nano-X Imaging and Foxconn invested $26M. so they are taking on real financial risk. However, as detailed by MW, the SK Telecom deal was brokered by one of their employees who was given a big grant of Nano-X Imaging stock.
Hadassah and USARAD have call options and take zero risk. The partnerships with Hadassah and USARAD are really call options to the partner. Hadassah gets $250k cash up front, $500k stock upfront and gets a royalty of any revenue if the tech works. It is riskless to Hadassah. Worst case, they get $250k. USARAD will act as a sales lead, recommending the machine to U.S. federal government hospitals in the hopes of selling 3,000 machines. USARAD will receive a royalty on any revenue generated. Nano-X Imaging will pay for all development costs. Again, this is a riskless call option to USARAD.
3 - Reputable advisors.
This worried me the most. I wanted to understand why a credible scientist would get involved with this company. I conclude that their presence is not an endorsement. I spoke to colleagues of theirs to understand why they joined. I believe that some advisors are happy to collect a check for little to no work. A couple are interested in working on new ways to commercialize tomosynthesis technology (a cross between X-ray and CT, this is what Nano-X Imaging is actually working on). I believe the involvement of these advisors began with a genuine curiosity about the commercial use of Sony's technology in medical imaging. I believe the credible advisors have minimal interaction with the company, barely know the promotional management and do not support the promotional claims.
One key advisor is John Nosta. He was involved since 2012 and owns stock in the company. I feel he is important because he is a well followed tech/healthcare marketer and promotes their stock on Twitter. He has a reputable background but seems like nothing more than a marketer for companies introducing novel technology into healthcare. After reading his public comments my conclusion is that he is well intentioned but has absolutely no understanding of what the company actually does and instead believes in their promotional claims.