Mayday call to investors – those who sell to avoid June losses might regret it
Q1 2021 hedge fund letters, conferences and more
June has historically been the worst month for the stock market
Data shows the UK stock market rises most often in December
Investors who sold in May and opted out for the summer have missed out on £86,000 since 1986
The Covid economic rebound is expected to accelerate this summer
Investors Might End Up With A Loing Streak With A June Sell Off
"While it might be tempting to ditch stocks to avoid a June sell off, if investors get into the habit of selling in the bloom of spring, with the hope of catching an autumn windfall, they might end up on a losing streak. That's even without calculating the costs they are likely to rack up by trading their portfolio so often.
Statistically it's June which has the worst performance record of any month in the calendar year, while historically the UK stock market rises most often in December. But planning an investment strategy which waxes and wanes with the seasons is far from advisable. Many decades ago, there may have been some raw truth in the impression that suited and booted city types didn't dabble in the stock market during the holidays, but times have changed dramatically in an era of continuous trading and investment apps. This means that ignoring stock market movements during the summer could be bad for the wealth of a professional investor.
Major world events and crises, as we have witnessed over the past year, have a tendency to turn any long term historical trend on its head. Although investor confidence in the UK is rising fast, it's been a case of two steps forward one step back for the FTSE 100 as the twists and turns of Covid still weigh on sentiment. With hospitality and retail reopening and a flight path for the resumption of international travel set to be mapped out, there is hope the UK market can take further strides in the months to come.
Diversifying a portfolio and taking a long term view rather than switching or ditching stocks for short term gain is likely to reduce risks of any month by month turbulence. Those who wish to hedge against a market fall immediately after investing should drip feed their money into stocks, to provide a smoother ride, with the hope that the coronavirus storm will retreat into the rear view mirror, as vaccine roll outs continue across the world.''
The Cost Of "Selling For The Summer"
''Over a long period of time selling for the summer can seriously dent your finances. Investors who routinely sold in May, and jumped back in by St Ledgers day would have missed out on £86,000 since 1986.  £10,000 invested in the FTSE All Share in 1986 would now be worth £206,000, unless you'd opted out for the summer, in which case you'd only have £120,000.''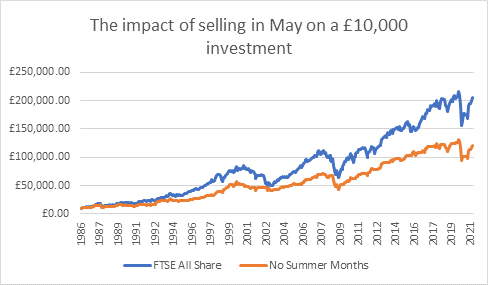 FTSE All Share Total Return Index since 1986
Source: Thomson Reuters, HL.
'No Summer months' refers to selling on 1st May and returning to the market on the 1st September.
The Best And Worst Months For The Stock Market
"June holds the rotten tomato prize of being the worst month for the stock market. It's the only month in which investors have lost money on average, and even at its best has only mustered 7.5% total return. However, the single worst month on record was October 1987 when the market fell 26.5%, outstripping March 2020 which saw a drop of 19%. On the other hand, Decembers have been great for investors, providing positive returns 86% of the time. But remember, past performance is no guarantee of future returns.''
FTSE All Share Total Return Index since 1986
Source: Thomson Reuters, HL
*Hit rate refers to positive returns
Article by Susannah Streeter, senior investment and markets analyst, Hargreaves Lansdown
---
About Hargreaves Lansdown
1.5 million investors trust us with £120.6 billion (as at 31 December 2020), making us the UK's largest direct-to-investor service.
Our purpose is to empower people to save and invest with confidence. We want to provide a lifelong, secure home for people's savings and investments that offers great value and an incredible service, and makes their financial life easy.
Clients rate our service highly, 90% say we are good, very good or excellent.
Our expert research has been helping investors for almost 40 years through thick and thin – we've seen many market downturns.
We make things easy – it takes just five minutes to open or top up an ISA. More clients log into their accounts via our mobile app than through a desktop PC.
In 2018 we also launched Active Savings, an online savings marketplace that lets savers move money easily between banks, to help their money work harder without the hassle.
Our helpdesk is based in our HQ in Bristol. We have a tech hub in Warsaw Poland and around 100 financial advisers based across the UK. We are a financially secure, FTSE 100 company.
For more information: www.hl.co.uk/about-us
Press centre: https://www.hl.co.uk/about-us/press
Investor relations: www.hl.co.uk/investor-relations