Whitney Tilson's email to investors discussing the mother of all economic booms; bullish indicators; beware of market forecasts; Charlie Munger defends his design for the UCSB dorm bashed by architect.
Q3 2021 hedge fund letters, conferences and more
The Mother Of All Economic Booms
1) My friend David Berman of Durban Capital organized a birthday lunch for me yesterday. My colleague Berna Barshay and four other friends from the investment world joined us, so naturally, we talked about stocks.
Leon Cooperman Likes These Real Estate, Credit And Private Equity Funds
Many famous hedge fund managers engage in philanthropy, often through their own foundations. Leon Cooperman of Omega Advisors founded his foundation with his wife Toby, and he invested the foundation's funds into many hedge funds and other assets. Q3 2021 hedge fund letters, conferences and more Here are Leon Cooperman's favorite hedge funds based on Read More
My main takeaway from the conversation is that what I've been calling "the mother of all economic booms" is still underway.
For 25 years in his DeeBee Quarterly Retail Report, David has been tracking every U.S. retailer, plus over the past decade Amazon (NASDAQ:AMZN), Apple (NASDAQ:AAPL), and Samsung, and he says he's never seen consumer spending like this:
Traditional retail alone is up 18% over two years compared to 2% usually. Including Amazon, Apple, and Samsung, it's up 29% over two years. It's unprecedented – insanity – and it's accelerating! The ports and supply chain can't keep up.
Berna, who also specializes in the consumer space, agreed and noted that spending patterns are shifting due to supply chain disruptions. She anticipates that the holiday rush will likely begin before the traditional post-Thanksgiving "Black Friday" because inventories are so tight and shoppers are afraid of empty shelves. (Berna wrote more about this in her always-outstanding free Empire Financial Daily yesterday: "Christmas Creep and Holiday YOLO Spending." You can sign up for it here.)
Needless to say, this is a very bullish indicator for stocks heading into the end of the year...
Bullish Indicators
2) Here's another bullish signal that my other colleague Enrique Abeyta tweeted yesterday: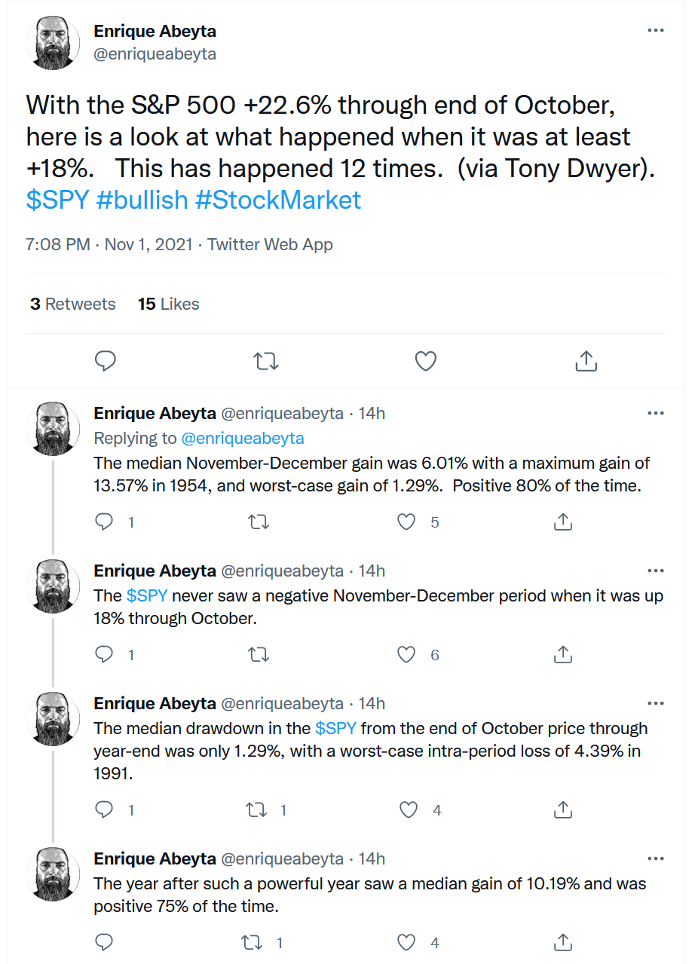 It makes sense that when the market is up strong going into the last two months of the year, stocks will continue to rise for two reasons: First, when investors are feeling good and making money, they're likely to continue bidding stocks up. And second, even if they're thinking of selling, they're likely to wait until January, so they can defer paying realized capital gains for another year.
3) It's not just consumer spending that's on fire – productivity is soaring as well, as this tweet from CNBC's Carl Quintanilla shows (he also posts additional interesting data in the thread about the labor shortage and corporate cash):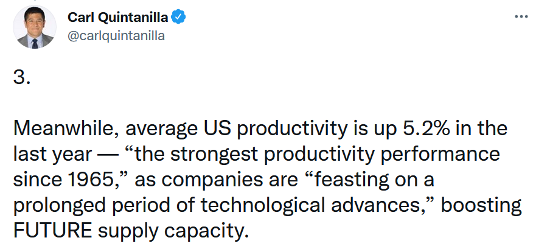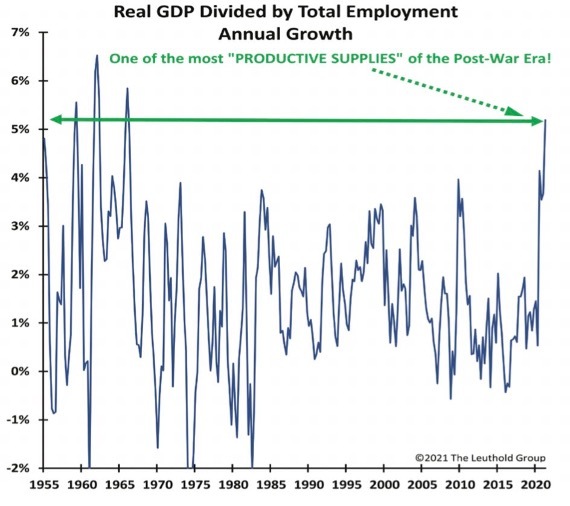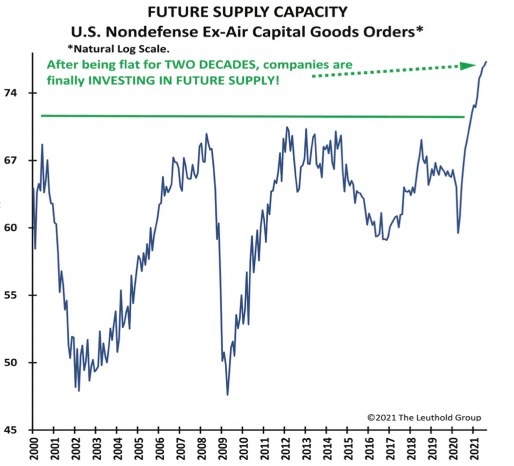 Beware Of Market Forecasts
4) In summary, while I tend to avoid making market forecasts, I think the odds are good that stocks will be up between now and the end of the year.But before you rush out to buy, I urge you to read this story in today's Wall Street Journal about the dismal track record of market forecasters: Dow Crosses 36000—Making a Book's Prediction Just Two Decades Late. Excerpt:
This week, the book Dow 36,000 by James Glassman and Kevin Hassett turned out to be prophetic.
The Dow Jones Industrial Average should hit that mark "very quickly," "immediately," even "today," the book had proclaimed. "The rational time frame is this afternoon," wrote Messrs. Glassman and Hassett, although they conceded it might take "three to five years."
The book was published Oct. 1, 1999, when the Dow closed at 10,273. More than 22 years later, the index very briefly crossed the mark at 9:42 a.m. on Monday, in a moment barely noticed by investors. The book's prediction finally came true.
Dow 36,000 is a reminder of a Wall Street maxim about market predictions: Forecast a number or a date, never both. Yet many have done just that anyway, and the index's long march to 36,000 has made nearly all of those projections look ridiculous.
Charlie Munger Defends His Design For The UCSB Dorm Bashed By Architect
I remember the book well, as I had just launched my tiny hedge fund at the beginning of 1999, and stocks, especially tech and Internet ones, were ripping upward. I saw the insanity building, and Dow 36,000 was one more warning flag.But here's the crazy thing...Had you read the book and leaned into the bubble, buying the tech-heavy Nasdaq Composite Index on the day the book was published on October 1, 1999, you would have earned an 84% return in just over five months until the bubble peaked on March 10, 2000! Of course, somewhere around that point, you would have needed to sell, as the Nasdaq then plunged a sickening 80% until it bottomed in October 2002.But the point remains (and is equally true today... I think): Just because things are getting foolish in the markets (or particular sectors) doesn't mean they can't get a lot more foolish...5) I'm surprised by how much traction this story is getting about the dormitory at the University of California at Santa Barbara that was designed by Berkshire Hathaway (BRK-B) vice chairman Charlie Munger. Here are stories in Bloomberg (Charlie Munger Defends His Design for the UCSB Dorm Bashed by Architect), the Washington PostTwo doors, few windows, and 4,500 students: Architect quits over billionaire's mega dorm), and the New York Times (After a Billionaire Designed a Dorm, an Architect Resigned in Protest). Excerpt:
"Absolutely stunning" is how the University of California, Santa Barbara, described plans for Munger Hall, a towering residence hall for more than 4,500 students that was designed by Charles T. Munger, a billionaire, and an executive of Berkshire Hathaway.
But Dennis McFadden, an architect who served as a consultant on the university's design review committee, did not agree. On Oct. 24, in a scathing letter to the chairwomen of the committee, he announced that he was resigning over the university's decision to approve a design he likened to "a social and psychological experiment."
He said he was "disturbed" by a design that would cram the students into a 1.7-million-square-foot, 11-story building and make the vast majority of them live in small rooms without windows, "wholly dependent on artificial light and mechanical ventilation."
"In the nearly 15 years I served as a consulting architect to the DRC, no project was brought before the committee that is larger, more transformational, and potentially more destructive to the campus as a place than Munger Hall," he wrote in the letter. "The basic concept of Munger Hall as a place for students to live is unsupportable from my perspective as an architect, a parent, and a human being."
I'm torn on this one – but, forced to choose, I'd bet that Munger is right (as he almost always is)!Best regards,WhitneyP.S. I welcome your feedback at [email protected].
Updated on