New S&P Report: Technology M&A goes from locked-down to free-spending as Q3 soars to historic heights
Q2 2020 hedge fund letters, conferences and more
The M&A backlog that built up in the early days of the COVID-19 lockdown flooded into the market in Q3, pushing acquisition spending to the second-highest quarterly level in nearly two decades, according to a new report from 451 Research, the emerging technology research unit of S&P Global Market Intelligence. 
Technology M&A Activity In Q3
Key highlights from the 451 Research's Q3'20 Technology M&A report include:
Despite the late-Q3 weakness on Wall Street, technology M&A activity picked up throughout the quarter, as both of the main buying groups steadily increased their pace of shopping after Q2's slowdown. The acceleration was particularly notable among financial acquirers, who announced twice as many deals in September as they did in April or May. Our data shows that private equity (PE) transaction volume hit an all-time monthly high in the final month of Q3.
Buyers announced a stunning $205bn worth of tech and telecom transactions in the July-September period. That marked an almost unbelievable comeback from the decade-low performance in Q2's 'corona-quarter'.
The value of announced deals in Q3 came in almost six times higher than Q2, our data shows. In fact, a single transaction announced in September (NVIDIA-Arm) almost matched the entire value of all tech deals announced around the world from April through June.
After not announcing a single deal valued in the billions of dollars in May, tech acquirers averaged 10 blockbusters each month in Q3. The number of $1bn+ transactions ticked higher every month in the just-completed quarter, with September's total of 13 big-ticket deals setting a new high-water mark for monthly billion-dollar deals in our 451 Reserach M&A KnowledgeBase.
A single quarter is all it took for corporate and financial acquirers to reaccelerate their spending from virtually nothing back into the hundreds of billions of dollars. For comparison, in the previous recession, our data shows it took a half-decade following the end of the Credit Crisis to record a similar breakout quarter for M&A spending.
The steady pace of deals from well-established buyers (Microsoft, Apple, VMware) combined with new entrants into the tech M&A market (Pure Storage, Fastly) to push Q3 spending by publicly traded tech companies to roughly twice the level we see in a typical quarter, according to our M&A KnowledgeBase.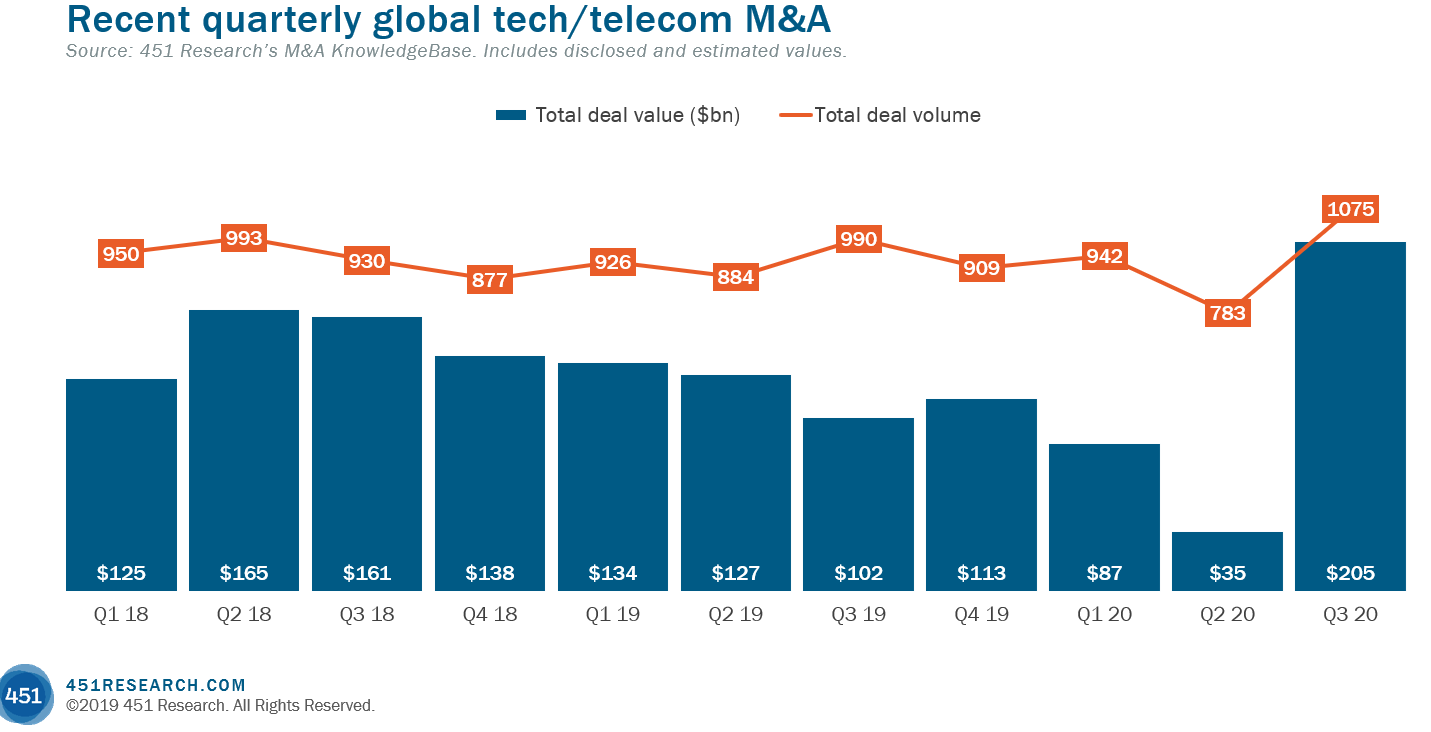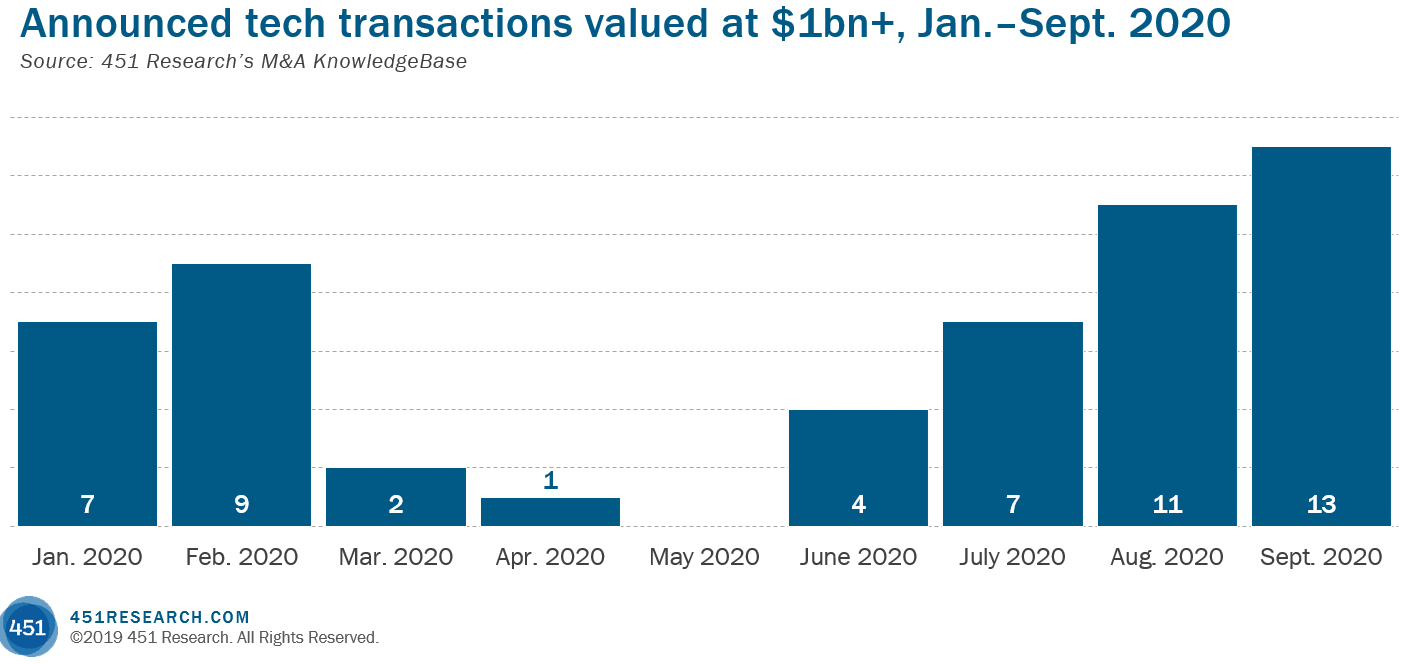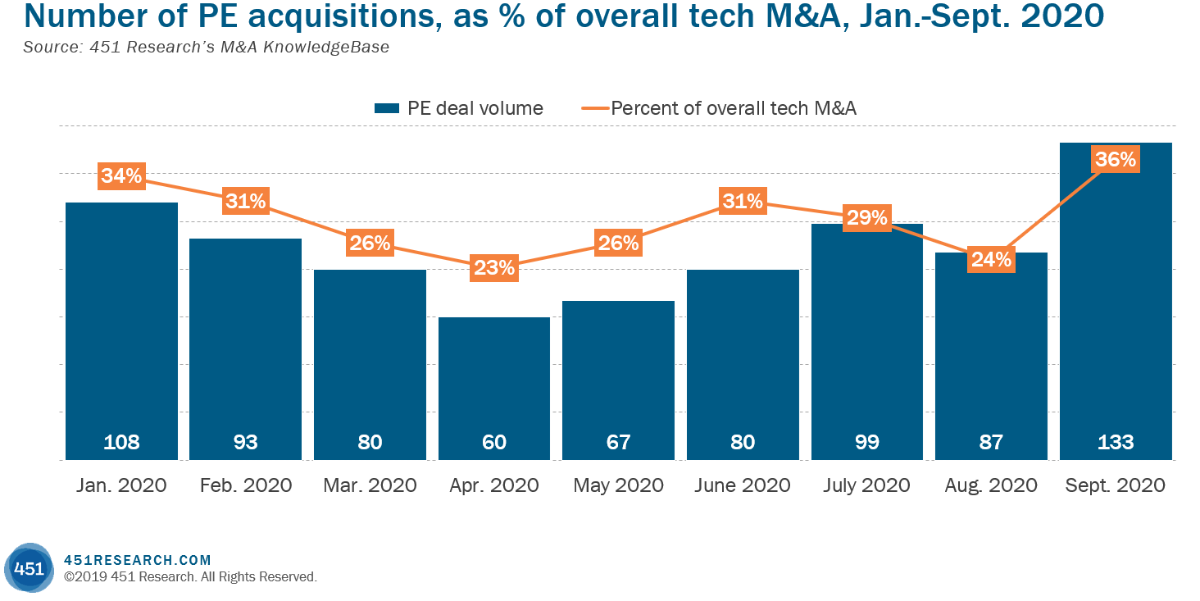 ---
451 Reserach is the emerging technology research group of S&P Global Market Intelligence and was acquired by the division in December 2019.