The second quarter saw 45 cybersecurity deal announcements totaling $12.94 billion in transaction value, according to a new data analysis from S&P Global Market Intelligence's 451 Research. While the deal volume was slightly lower than the 52 announcements reported in the same period a year earlier, it remained well above the second-quarter volume seen in 2020, 2019 and 2018.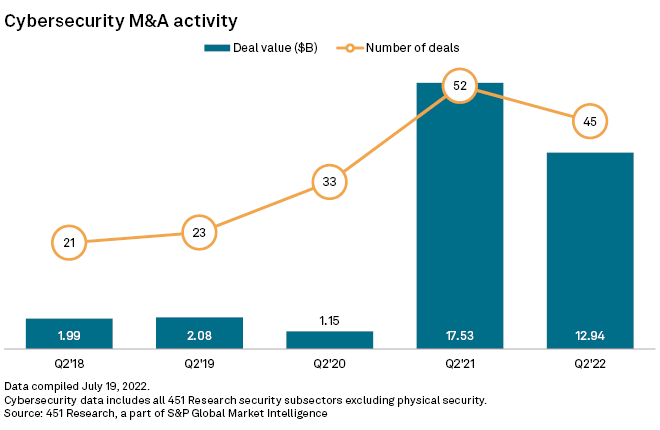 Q2 2022 hedge fund letters, conferences and more
Cybersecurity M&A Still Hot In Q2
Key highlights from the new analysis include:
Cybersecurity acquirers valued their targets at 7.3x trailing 12-month revenue on average in the second quarter of 2022, up from 5.5x in the same period of 2021.
The wider tech sector reported deal values at 3.2x trailing 12-month revenue on average in the second quarter of this year.
A growing number of companies plan to invest in cybersecurity in the near term, according to 451 Research's latest quarterly Voice of the Customer: Macroeconomic Outlook, SME Tech Trends survey. A third of surveyed IT decision-makers representing small- and medium-sized enterprises said they will focus IT spending on security in the next 12 months, up from 26% a year prior. The survey was fielded in February 2022.
"With more operations moving online, security is expected to surpass all other IT categories," wrote 451 analyst Malav Parekh in a report on the survey's findings. "Security is also the top spending focus of organizations across all stages of digital transformation.".