Merger uncertainty can be a negative, especially in regulated industries. Local broadcasting giant Sinclair Broadcast Group Inc's (Nasdaq: SBGI) proposed acquisition of Tribune Media is becoming mired in regulatory, legal, and congressional mud.
Sinclair is a good buy on its own with all covering Wall Street analysts rating it a Buy or Strong Buy. Its margins and efficiency ratios show a well-performing C-suite, but it already has the second most leverage in its peer group. The merger will increase its gearing, and dilute shareholders in return for some cost efficiencies and negotiating power with cable operators.
As is, Sinclair is undervalued based on price and cash flow metrics. Quant-based valuation models indicate the stock should be trading nearly 42% higher, and Wall Street's average target price is an astounding 79.8% above where the stock is trading. Buy now, or buy on more negative news out of the FCC, DOJ, or Court of Appeals. Sinclair looks good with or without the merger.
Q1 hedge fund letters, conference, scoops etc
---
Uncertainty Pays
The merger process can be hard enough on its own, but in today's regulatory environment, every transaction becomes a political pawn. One area where this is truly playing out is in the broadcasting industry, which has always had limitations on consolidation.
Traditionally, companies could not merge if their combined stations would cover over 39% of the national audience. However, TV stations were allowed to deflate their reach because of the limited broadcasting distance of some channel wavelengths, resulting in around half of their potential audience being counted against the threshold. In 2016, a Democrat-led FCC revised the rule to count the full potential audience, making it tougher for local broadcasting conglomerates, which are generally regarded as more conservative than liberal, to grow. The deflator is seen as antiquated due to the switch to digital broadcasting in 2009. The Trump administration's FCC chairman, Ajit Pai, reinstated the defaltor in April 2017, and the largest owner of TV stations, Sinclair Broadcast Group Inc (Nasdaq: SBGI) announced the acquisition of Tribune Company (NYSE: TRCO) the next month. Combined, they would cover 72% of the U.S. or 45% deflated.
Then in November, the FCC further aided broadcasters by easing restrictions on ownership of more than one TV station in a market and cross-ownership to TV, radio, and newspapers. This would mean that Sinclair would potentially have to divest fewer stations to gain approval.
Lawsuits and investigations ensued, and Sinclair's stock price has been on a roller coaster ride, falling 8.1% over the last month. On April 20, U.S. Court of Appeals arguments on why the FCC began using the audience, deflator again appeared to go poorly for the FCC. This ruling would most likely not stop Sinclair's merger plans but adds haste to close the deal quickly. Noting that the court case will not be able to stop the Sinclair consolidation, on April 26, 22 Democrat Senators demanded that the FCC stop reviewing and approving all deals until litigation has completed.
Sinclair has been in negotiations with the FCC to determine how much of its portfolio is must sell, currently proposing 23 stations. Part of the issue is that Sinclair wants to spin-off some of these stations in "sidecar" agreements in which they sell to friends and family, but manage the stations as if they owned them. This would allow Sinclair to easily repurchase the stations if ownership rules are further relaxed.
Is Tribune Media Worth the Hassle?
The real question is whether this all matters. Sinclair is a goliath already - reaching more households and owning more stations than any competitor. Management claims the purchase will be highly accretive, but it is dilutive, and will raise Total Debt/EBITDA from 3.6x to near 5x. The forecasted leverage is probably aggressive as it includes "synergies".
Tribune Media is currently trading at $37.72, 11.2% below the deal price of $42.50, indicating the market expects the merger to fail. Finbox.io's Fair Value, a quant-based valuation composite price, shows Sinclair overpaying by $3.22.
Do you know which under-the-radar stocks the top hedge funds and institutional investors are investing in right now? Click here to find out.
However, Tribune as an ongoing concern is really nothing better than a Hold. Its Net Profit Margin, which is better than its peers and the sector, is a bright spot. Efficiency ratios like ROIC and ROE, typically an indication of how management is doing, compare poorly to its peers.
Source: finbox.io
Price wise, the stock appears slightly overvalued compared to its peers. Its P/E and Price/Sales are the second highest among five competitors.
Source: finbox.io
Tribune has had strong cash flow. Free Cash Flow Yield (FCF/Price) is average for the group. Enterprise Value/FCF is the second best of the group. EV factors in market capitalization, debt, cash, preferred shares, etc. for a more holistic view of the company's worth.
Source: finbox.io
It is obvious that Sinclair is not buying Tribune for blockbuster growth. As noted in the slide below from Sinclair's May 8, 2017, Investor Presentation, it will increase its audience reach. It provides more resources for upcoming broadcasting standard ATSC 3.0, which is voluntary, unlike the ATSC 1.0 digital TV conversion. ATSC 3.0 will provide better sound, picture quality, reception, and mobile delivery by combining over-the-air broadcasting and broadband connections. However, that is just noise. The two most important bullets in the slide are synergies, i.e. cutting overlapping costs, and high value to MVPDs, which is a nuanced way of saying that the combined firm will have more leverage over cable companies, aka Multichannel Video Programming Distributors, that redistribute Sinclair's local news and original programming.
Source: Sinclair Broadcast Group Investor Presentation, May 2017
WIN-win Investment in an Undervalued Stock
Bottom line, the merger should provide improved margins at the cost of dilution and leverage, and help bully higher fees from cable companies. A successfully completed merger between Sinclair and Tribune Media is a lowercase "win" for investors.
The uppercase win is possible if the deal falls through. First off, Sinclair's stock has been beaten down, offering a bargain price.
Source: finbox.io
Sinclair boasts the best Price/Sales multiple of its competitors. Its P/E is second best, behind Gray Television (NYSE: GTN.A).
Source: finbox.io
Cash flow is generally a better indicator of relative valuation than earnings, and Sinclair has the top Free Cash Flow Yield and EV/FCF metrics of its peer group.
Source: finbox.io
Further supporting the belief that Sinclair is oversold are price targets from Wall Street and Finbox.io. The firm is covered by seven analysts with an average target of $50.71, or 79.8% appreciation. Finbox.io's composite of 10 valuation models yields a 41.9% upside at a fair value price of $40.
Source: finbox.io
Despite the market's reaction to the uncertainty, analysts continue to recommend that investors accumulate Sinclair. However, expectations for Q1 earnings, which will be announced on May 9, show less confidence. EPS Estimates range from $0.08 to $1.05, indicating that the company is not managing expectations. As Sinclair missed estimates over the last two quarters, the stock could react poorly to the earnings release.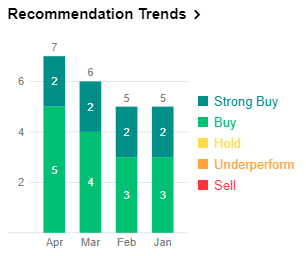 Source: finance.yahoo.com
One thing to keep in mind for earnings over the next three quarters is the midterm election. Spending on congressional races continues to trend higher, and records are expected to be broken in 2018. The Cook Political Report expects television advertising spend of $3.25 billion ($2.4 billion for local broadcast and $850 million for local cable), up from $2.8 billion in 2014's midterms.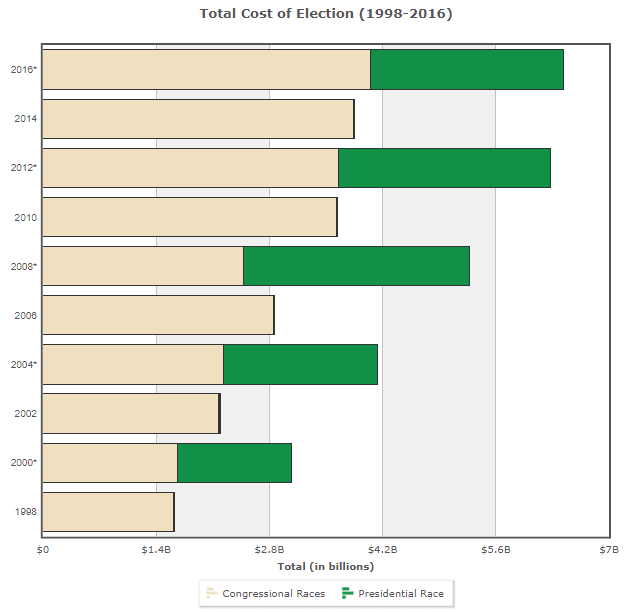 Source: opensecrets.org
A Well-Oiled Machine
It is hard not to love a management team that can sweep the profit benchmarks. Most notable are superior Net Profit Margin, and the ROIC (Return on Invested Cash) and ROE efficiency ratios. Sinclair's management will run the combined entity, a move which is supported by these stats.
Source: finbox.io
Another signal of management's discipline is Net Profit Margin trending up more quickly than EBITDA Margin.
Source: finbox.io
As noted earlier, the company will hike its leverage to buy Tribune Media. Sinclair is already the second most levered company in its group based on Debt/Equity. Based on Cash Flow/Total Debt, the company has average leverage across its peers.
Source: finbox.io
Sinclair's current debt load is affordable. Its Interest Coverage ratio indicates it can pay its debt cost 3.5x over, second best in its group.
Source: finbox.io
Sinclair Broadcast Group: A WIN-win with 40%+ Upside
Sinclair is probably a better investment if the merger unravels. While providing a cherry on top of a quality investment, the purchase of Tribune Media dilutes investors and further gears up a company that is already the second most leveraged in its group. The true benefits will be cost-cutting and more negotiating power with cable companies.
Without the merger, Sinclair is a cheaper, more fiscally-responsible company. It has strong margins, and its efficiency ratios prove that management is executing well. It is relatively undervalued compared to its peers based on price and cash flow metrics. Wall Street expects nearly 80% appreciation in the company, and all seven analysts have a Buy or Strong Buy on it. Finbox.io's agnostic, quant-based valuation composite is optimistic too, but more conservative with a 41.9% upside.
Sinclair looks like a good investment at this price, but buying on more negative news out of the FCC, DOJ, or Court of Appeals should add a little boost. Don't be afraid of the merger uncertainty with this WIN-win stock.
Article by Matt Hogan, Finbox.io