Apple has officially unveiled the (PRODUCT) RED iPhone 8 and 8 Plus in a "stunning" red finish. Both the RED iPhone 8 and 8 Plus have a red-colored glass body with a matching aluminum band. The tech giant said it would start taking pre-orders in select countries on April 10th. In-store sales will start on April 13.
Surprisingly, the company didn't introduce a RED iPhone X. Instead, it announced a (PRODUCT) RED iPhone X leather folio that will be available from April 10th. The leather folio is crafted from European leather for "a luxurious look and feel." It has been priced at $99 in the US. Apple's VP for Product Marketing Greg Joswiak said in a statement that the RED iPhone 8 and 8 Plus have a stunning red and black color combination. The new products will give customers an opportunity to "make an impact in fighting the spread of HIV and AIDS."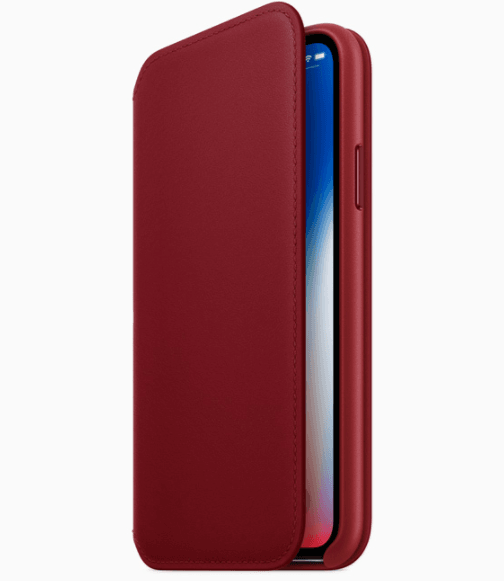 The RED iPhone 8 and 8 Plus have the same technical specifications as the regular models. The phones have a Retina HD display, and are powered by the A11 Bionic chipset. The iPhone 8 Plus has two 12-megapixel lenses on the back. The RED iPhone 8 and 8 Plus will join the Gold, Silver, and Space Gray colors available currently. The RED iPhones will be available in 64GB and 256GB storage options with a starting price of $699.
The RED iPhone 8 and 8 Plus pre-orders will go live on April 10 in Australia, Canada, France, China, Germany, Hong Kong, Japan, New Zealand, South Korea, the US, the UK, and Singapore. Countries such as Brazil, Ireland, Denmark, Italy, Malaysia, the Netherlands, Mexico, Russia, Saudi Arabia, Norway, Spain, Sweden, UAE, Thailand, Taiwan, and Switzerland will get the handsets "later in April." India, Israel, Chile, Colombia, Turkey, and a few other countries will see the new models arriving there in May.
The announcement comes just hours after folks at MacRumors revealed that Apple was planning to release the RED iPhone 8 and 8 Plus on Monday. MacRumors had obtained a memo sent by Virgin Mobile to its employees. The carrier had informed its employees that it would add the new models to its inventory on April 9th following the announcement from Apple. The memo did not mention a RED iPhone X. The memo also suggested that there would be pre-orders.
Rosenblatt Securities analyst Jun Zhang had recently told clients that Apple was planning to launch the RED iPhone 8 and 8 Plus. Bloomberg contributor Mark Gurman had further confirmed the report. Apple traditionally launches the (PRODUCT) RED iPhones in March. But it might have decided to launch the RED iPhone 8 and 8 Plus in April to ensure that the sales of new models are fully reflected in its April-June quarter, which is a slow period for iPhone sales.
In the past, Apple has launched (PRODUCT) RED version of many of its products including the Apple Watch, iPhone, iPad, and Beats accessories. Part of the profits generated from RED product sales goes towards testing, counseling, and treatment for millions of people living with HIV/AIDS, mostly in developing countries. According to (RED)'s CEO Deborah Dugan, Apple has donated more than $160 million in the last 11 years for the cause.
(PRODUCT) RED was founded more than a decade ago by Bono of U2 and ONE Campaign activist Bobby Shriver. The brand licenses its name to private companies to highlight their effort to fight HIV/AIDS in African countries.
Apple's current flagship iPhone X has received a lukewarm response from consumers. Most analysts estimate that the iPhone X sales fell dramatically in the January-March quarter, and could decline further in the current quarter. Consumers and analysts have criticized the phone for its ridiculously high price tag of $1,000, which goes up to $1,500 in countries like India and Russia, and the controversial notch that looks weird.
Apple is in no mood to ditch the notch, though. According to Ming-Chi Kuo of KGI Securities, the tech giant will release three iPhones this year, and all of them will have the iPhone X-like bezel-less design with a top cutout. One of them will have the same 5.8-inch OLED display as the iPhone X while the second one would sport a larger 6.5-inch OLED screen. The third smartphone would feature a 6.1-inch LCD panel to keep costs down. The LCD iPhone would be priced in the same range as the iPhone 8. All three of them will boast of Face ID and Animoji features.