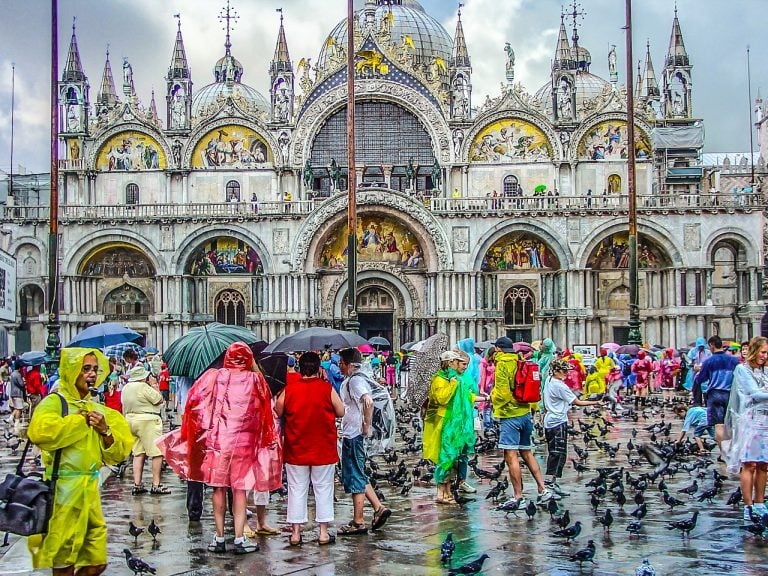 Venice is undoubtedly among the most beautiful cities in the world, and thus, it is always overcrowded with tourists. In an effort to preserve the city's beauty and keep undesirable tourist behavior in check, city authorities are considering levying a fine on tourists for sitting in undesignated spots.
Venice sitting ban and other notes for tourists
Venice Mayor Luigi Brugnaro forwarded the proposal of the Venice sitting ban, which will be put to a vote next month. If passed, tourists who violate the sitting ban be fined €50 to €500. Venice gets more than 60,000 visitors each day.
Tourists are already not allowed to sit in certain areas of the city, like on the steps of the Rialto Bridge and in St. Mark's Square. These rules are part of the city council's #EnjoyRespectVenezia campaign, which was introduced last year. The rules also restrict littering, feeding the pigeons, riding bicycles anywhere in the city, jumping into the canals, climbing trees, making too much noise, public picnics, and wearing inappropriate clothing or swimwear. Additionally, tourists are not allowed to camp in the city, buy fake goods from illegal street vendors, deface public property with graffiti, or place padlocks on bridges or monuments.
Gates Capital Management Reduces Risk After Rare Down Year [Exclusive]
Gates Capital Management's ECF Value Funds have a fantastic track record. The funds (full-name Excess Cash Flow Value Funds), which invest in an event-driven equity and credit strategy, have produced a 12.6% annualised return over the past 26 years. The funds added 7.7% overall in the second half of 2022, outperforming the 3.4% return for Read More
"Illegal traders operate on the streets of all major Italian cities, particularly tourist cities like Florence, Venice and Rome. Don't buy from illegal street traders. You could be stopped by the local police and fined," reads a notice on Italy from the U.K. Foreign Office.
To ensure that visitors follow these rules, the city council formed a team of 22 "decorum angels" last year. The team patrols popular tourist destination in the city to enforce the rules. Explaining the rationale behind the campaign and the rules, Paolo Mar, Venice's councilor for tourism, told Telegraph Travel that Venice is a unique city and people go there to have fun.
"But they need to understand that Venice is not a beach. It is an important, fragile city. So when people come to Venice, they need to know the rules," Mar said.
Locals unhappy with the rules
Despite the intentions of making Venice an even better tourist hub, the Venice sitting ban and the rest of the #EnjoyRespectVenezia campaign have received backlash from local groups. These groups believe EnjoyRespectVenezia is only a propaganda campaign and that authorities must focus more on restricting apartments and flats on the tourist market.
A few months ago, officials were criticized for differentiating between tourists and locals over May Day weekend, which is one of the busiest times of the year. Agitated by the action, locals even tore down the crowd-control barriers that were segregating tourists and locals.
Authorities are even considering banning music on boats, which are the primary mode of transport for city residents. Motor vehicle traffic has long been prohibited in the city. In addition to the Venice sitting ban and other rules, mayor Brugnaro announced in May that no new takeaway outlets would be allowed to open in the next three years. Large cruise ships over 55,000 tons are also banned from docking by 2021.
"There is such a long list of things that are forbidden in Venice there is nothing left that you can do," said Marco Gasparinetti, who leads the residents' group Gruppo Aprile 25, according to The Guardian. "They would need to hire an extra 5,000 officers to properly enforce everything."
Other cities with similar rules
Venice gets about 30 million visitors each year, compared to its 55,000 permanent residents. Such an influx of tourists leads to congested waterways, long queues and overcrowded walkways. This not only alienates locals, but also degrades the tourist experience.
However, Venice is not the only Italian city to come down hard on tourists. In some parts of Florence, visitors are banned from eating food on the pavement and in shop doorways. Local business owners have been asked to put signboards up to inform the visitors about the ban.
Rome also has measures in place for unruly tourists. Authorities have even considered fencing off the famous Spanish Steps. Last year, officials also considered warning visitors against stopping near the Trevi Fountain to curb illegal swimming there. Earlier this year, Milan banned tourists from taking pictures using selfie sticks.