The Destiny Mastercard is an unsecured credit card designed for those who have bad to fair credit, which reports to the three major credit bureaus. With an annual fee of $59-$99 and a 24.90% APR, the Destiny Mastercard has several benefits such as identity theft protection and zero liability protection.
The Destiny Mastercard is issued by First Electronic Bank and operated by Genesis FS Card Services, Inc.
In this article, you will learn how to pay your Destiny Mastercard credit card via the Destiny credit card login, how to manage your account, how to request assistance from customer service, and more!
Benefits Of The Destiny Mastercard
Some of the main benefits of the Destiny Mastercard credit card include:
· An opportunity to build and access credit
· No security deposit needed
· Reports your payments to all three major credit bureaus
· Worry-free fraud protection if your card is lost or stolen
· EMV chip included
· Pre-qualifying will not affect your credit score
· Mastercard is accepted virtually everywhere
Online Account Access
To get the best out of your Destiny Mastercard, you must create an account. From there, you can keep track of all your transactions and manage every feature.
Destiny Card Login
To register your account, just access the Destiny credit card login by clicking here and going to the "Register Your Account" option. There, you'll have to enter your card number, your date of birth, and your social security number.
Use the Destiny credit card login to enter your account via your username and password. You can also check the credit card agreements in the option below.
First Electronic Bank Destiny Credit Card Services
First Electronic Bank issues the Destiny credit card, offering you the chance to pay in-store, online, via mobile apps, and withdraw money at any ATM.
Destiny Mastercard Bill Pay Phone Number
To make payments by phone, you must dial (1)-844-222-5695. There, you can also get support from customer services.
Destiny Mastercard Credit Card Payment Address
Destiny Card/ Genesis FS Card Services
PO Box 23030
Columbus, GA 31902 – 3030
Customer Service Hours
You can get assistance Monday to Friday from 6:00 am to 6:00 pm, Pacific Time. You can also send a fax to 503-268-4711.
How to Make a Destiny Credit Card Payment
The Destiny Mastercard gives you the chance to make payments via several methods. You just have to choose the one you feel is most convenient.
Online
To make an online payment, just use the Destiny credit card login and access your account. Look for the payments option on your dashboard, and make sure you enter the right information.
You can also schedule automatic payments so you never miss the due date and incur in any late fee —which at the time of writing is $40!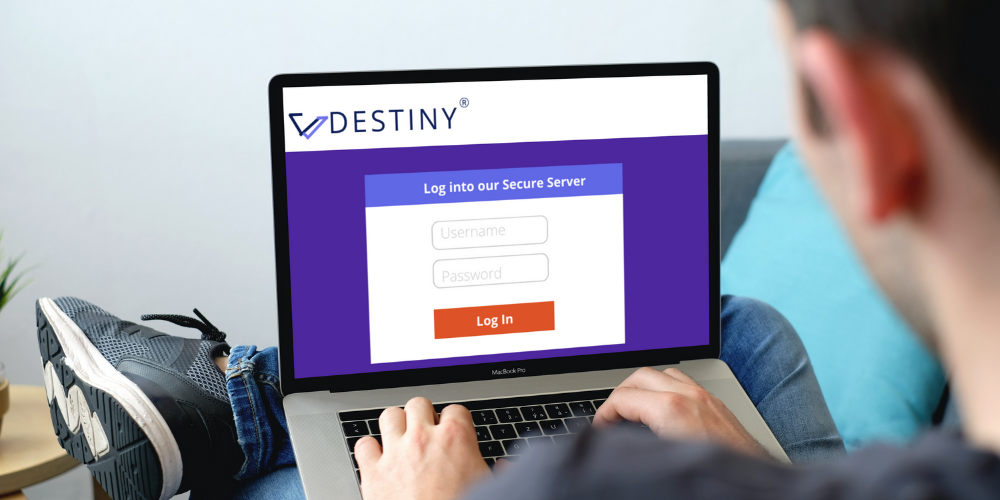 By Phone
To make a Destiny Mastercard payment by phone, just dial (1)-844-222-5695 and select the "payments" option. Make sure you have your credit card number within reach and follow the prompts to finalize payment.
If you need further assistance —or help regarding any issue— you can contact customer service on the same line.
By Mail
Destiny Mastercard allows you to pay by mail. This is most convenient when you don't have internet access or if you're having problems accessing your account.
Just send your money order to:
Destiny Card/ Genesis FS Card Services
PO Box 23030
Columbus, GA 31902 – 3030
FAQs
What Bank Issues Destiny Mastercard?
Destiny Mastercard is issued by First Electronic Bank and operated by Genesis FS Card Services, Inc.
How Do I Contact Destiny Mastercard?
You can use the customer service phone and fax number we provided above, as well as by dialing (1)-844-222-5695.
Is Destiny a Genesis Card?
Genesis FS Card Services supports the Destiny credit card, as well as the Milestone Gold Mastercard, and Indigo Platinum credit cards.
How Often Does Destiny Credit Card Give Increases?
In general, you must meet specific requirements to be able to boost your chances of augmenting a credit card limit.
Every issuer wants to check how good a payer you are before allowing an increase. This means they are going to review your profile and account to make sure you can deal with more debt. Here are some of the things that an issuer will look for.
However, Destiny MasterCard does not allow for any credit limit increase for now —Electronic Bank does not accept requests for any credit limit increases and does not issue any automatic increases.
It only offers cardholders an initial credit limit on which they will have the chance to improve their credit scores.
Can Destiny Mastercard Be Used Anywhere?
If that means "anywhere any Mastercard credit card is accepted," yes. Feel free to use your Destiny credit card anywhere you like!
Final Thoughts
The Destiny credit card issued by First Electronic Bank allows you to make purchases online, in-store, and via any e-commerce app. Managing your account via the Destiny credit card login will help you improve your credit score.