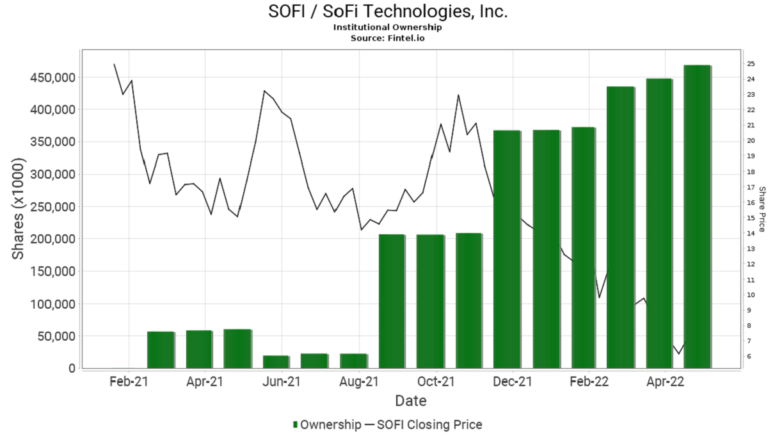 SoFi Technologies (NASDAQ:SOFI) shares fell 12% on Tuesday after an accidentally released earnings report, and disappointing results spurred active trading.

SoFi earnings hit the wire just after 11 AM when the stock traded off more than 15%. The early release triggered a three-hour halt before the shares reopened. The company planned to report after the close.
Q1 2022 hedge fund letters, conferences and more
How Value Investors Can Win With Tech And "Fallen" Growth Stocks
Many value investors have given up on their strategy over the last 15 years amid concerns that value investing no longer worked. However, some made small adjustments to their strategy but remained value investors to the core. Now all of the value investors who held fast to their investment philosophy are being rewarded as value Read More
When shares reopened, they rallied as high as +18.8% from the 11 AM low and closed +8% above the pre-result price.
Fintel's retail ownership data shows SOFI in ninth place on our Most Bought Security ranking over the past seven days. The shares rose 24 spots to rank 16th on our Most Widely Held Stock leaderboard.
SoFi lost 14 cents a share in the first quarter, beating analysts' 15 cents a share deficit by a penny. The firm topped revenue estimates with $321.7 million in sales, $36.5 million ahead of Wall Street analyst projections.
Adjusted EBITDA also outperformed forecasts, totaling $8.7 million vs. the expected $4.7 million.
Management's second-quarter guidance proved weaker than Wall Street expectations while they upgraded fiscal 2022 estimates.
For the full year, SOFI expects to generate revenue of $1.50-1.51 billion, compared to the prior guidance of $1.47 billion, a slightly better-adjusted EBITDA forecast of $100-105 million that is still below market forecasts of around $119 million.
Our Institutional Ownership data show SoFi's institutional ownership steadily rising in the last year and moving inversely to its price.
SoFi has 577 institutional owners and shareholders that have filed 13D/G or 13F forms with the Securities Exchange Commission (SEC). The chart below illustrates this: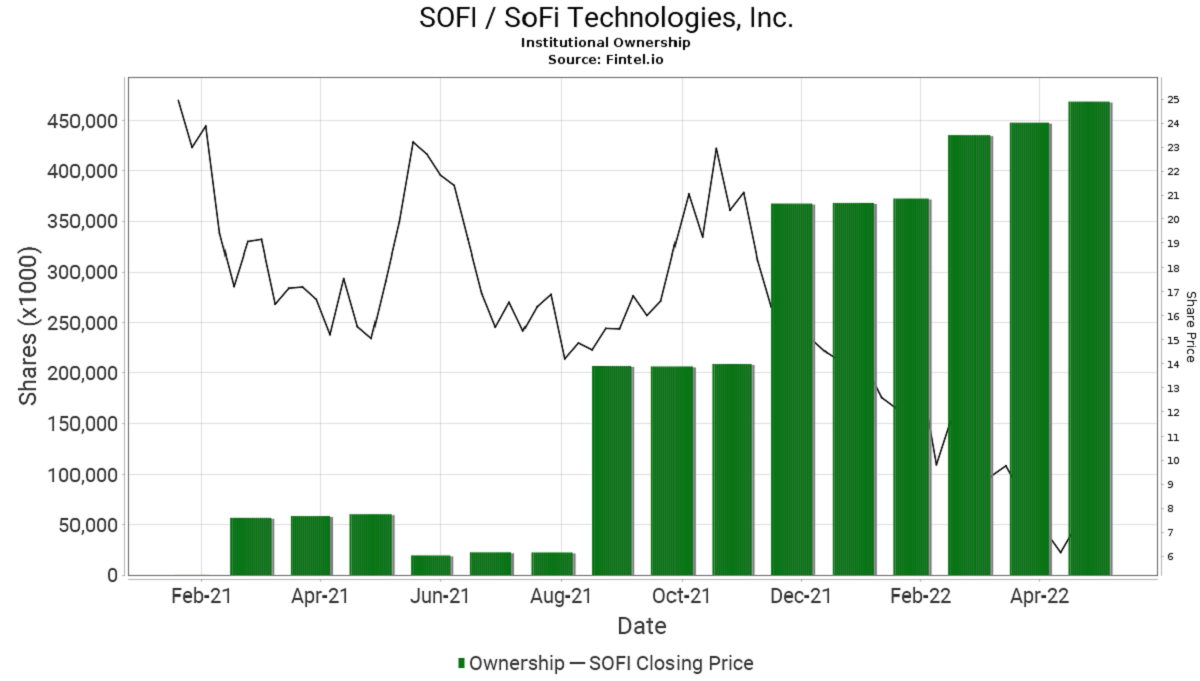 Tuesday's trading drove SOFI's Short Squeeze Score to 87.24 and placed the stock in the top 3% of the list's 5,500 companies. According to the NYSE and Capital IQ, investors are short just under 20% of their float.
Our Short Squeeze Score results from a sophisticated, multi-factor quantitative model that identifies companies with the highest risk of a short squeeze. The scoring model uses a combination of short interest, float, short borrow fee rates, and other metrics. The number ranges from 0 to 100, with higher numbers indicating a higher risk of a short squeeze relative to its peers and 50 being the average.
Also, note SOFI's Put/Call Ratio of 0.56, indicating positive sentiment for the shares.
The Put/Call Ratio shows the open put and call positions ratio. Since puts are generally a bearish bet and calls are a bullish bet, put/call ratios greater than 1 indicate a bearish sentiment, and ratios less than one indicate a bullish sentiment. We included a chart that illustrates the ratio over the past three months.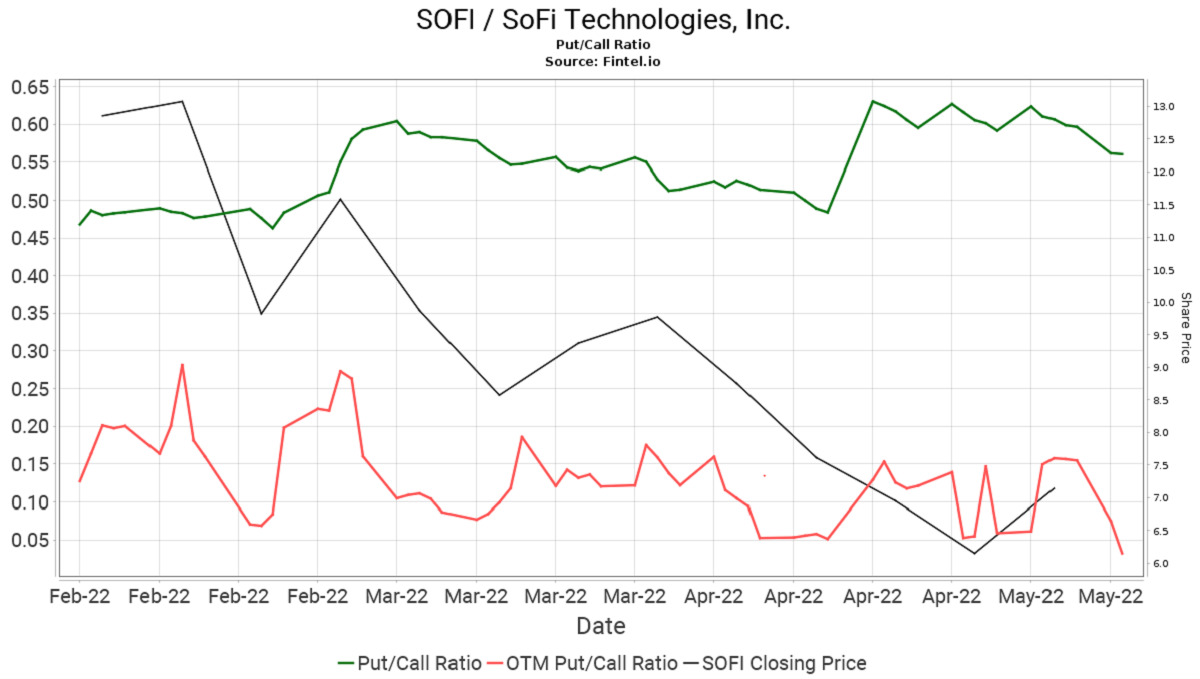 Some interesting analyst commentary on the result:
John Hecht from Jefferies believes strong new member and product growth reflect momentum, noting credit metrics remain strong compared to other neobank peers. The firm maintains a buy rating on the stock with a $20 price target.
Goldman Sachs' Michael Ng said the results were mixed-to-positive. Non-interest income rose, but mortgage originations declined, which the bank blames on capacity limitations. He added that the growing deposit base should relive that issue to some degree and help provide a more stable funding base.
Dominick Gabriele from Oppenheimer said the Tuesday low off 18% looked like a double reaction to the result but noted significant risks remain in the student loan business. The firm retains an 'outperform' rating on the stock with a $13 target.
SOFI has a consensus 'overweight' rating with an average target price of $13.60, implying +160% capital upside to the current share price. We note that consensus targets have been steadily declining since the beginning of 2022, following the share price trend.
SOFI shares are down 66.5% since the beginning of the year, and the stock is now trading on a ~3x EV/Sales multiple based on FY22 forecasts.
Article by Ben Ward, Fintel
Updated on