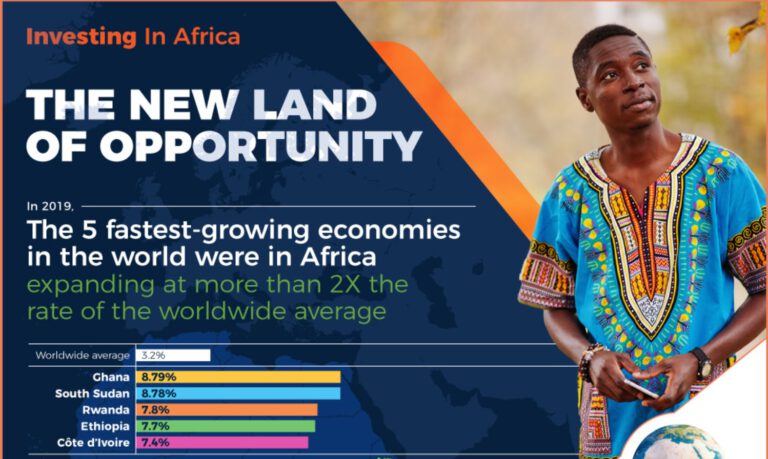 Thinking of Africa may bring to mind a war-torn, impoverished land; a place with nothing but savannahs and wildlife and all the people live in mud huts. These thoughts have some true elements for some parts of the continent, but Africa is so much more than what the average American knows about it. What we see in movies about African culture tends to be focused on violence and machine guns and angry men, or there's always Eddie Murphy "Coming to America", but surely we know by now not to let Hollywood define our thoughts on reality.

Q1 2021 hedge fund letters, conferences and more
A Thriving Economy
In reality, Africa has a thriving economy; a population where the majority live in large cities, 80% have access to mobile phones, and in the coming years, 65% of the continental population will be considered middle class. In fact, in 2019 the top 5 fastest growing economies in the world were on the continent of Africa. Not only that, but they were growing at 2x the rate of the global average. It's time for the business world to put the spotlight on Africa as it is wide open with potential for investment and growth opportunities.
Fund Manager Profile: Zhang Hui Of China's Southern Asset Management
Historically, the Chinese market has been relatively isolated from international investors, but much is changing there now, making China virtually impossible for the diversified investor to ignore. Earlier this year, CNBC pointed to signs that Chinese regulators may start easing up on their scrutiny of companies after months of clamping down on tech firms. That Read More
Even big tech has taken note of this up and coming economy. Microsoft, Google, and Facebook are all expanding in Africa and have big plans to do much more. Accra, Ghana is now home to a Google AI Lab. Google's focus there is to use AI to face local challenges; to expand and improve AI datasets, and to improve Google translate's ability to understand African languages. (No, African is not a language. There are actually at least 2000 languages spoken on the continent of Africa and yes, English is one of the most common.)
Investing Opportunities In Africa
Facebook has taken up residence in Lagos, Nigeria with new tech hubs for startup development. They also have plans to run 37,000 km of underwater internet cable encircling the continent.
Microsoft has built the Microsoft African Development Center (ADC) and the Microsoft African Research Institute (MARI) in Nairobi, Kenya. MARI is focused on improving productivity through AI and cloud tech and Microsoft ADC plans to invest $100 million in new tech within the first 5 years.
Big tech companies may be eager to invest in Africa's growing economy, but they certainly aren't the only ones who should. Africa has massive opportunities for growth in virtually any business sector. Both the needs of the population and the growing able-bodied and educated workforce make the African business and financial landscape ripe with potential.
It's time to invest in Africa; the new land of opportunity.

Infographic Via: EmpowerAfrica.com
Updated on