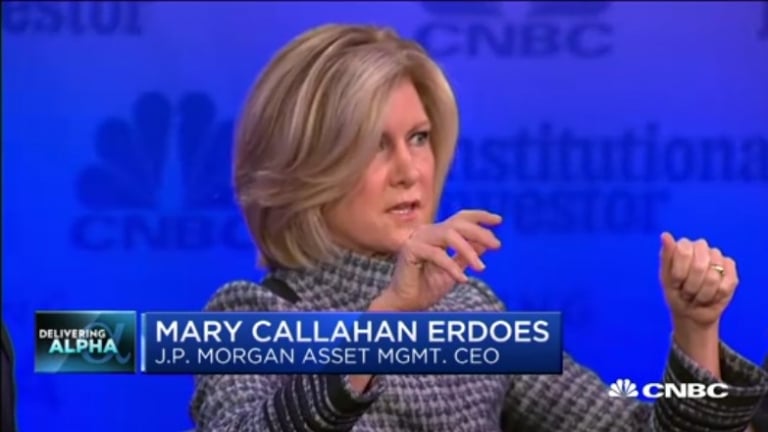 Following are excerpts from the unofficial transcript of a CNBC EXCLUSIVE interview with Mary Callahan Erdoes, J.P Morgan Asset & Wealth Management Chief Executive Officer; Ashbel Williams, Florida State Board of Administration Executive Director and CIO; Jason Klein, Memorial Sloan Kettering Cancer Center CIO, from the CNBC Delivering Alpha Conference, which took place on Wednesday, September 29th.
Q2 2021 hedge fund letters, conferences and more
Gates Capital Management Reduces Risk After Rare Down Year [Exclusive]
Gates Capital Management's ECF Value Funds have a fantastic track record. The funds (full-name Excess Cash Flow Value Funds), which invest in an event-driven equity and credit strategy, have produced a 12.6% annualised return over the past 26 years. The funds added 7.7% overall in the second half of 2022, outperforming the 3.4% return for Read More
Mary Callahan Erdoes On Negative Rates
Negative real rates are here to stay, 74% of the global AG has negative real rates, every single US Treasury maturity has a negative real rate and the time value of money is really nothing. And so those are all tailwinds to go into nearly every asset class around the world. Governments have no fear of debt and they're hoping that investors follow and also don't have fear of debt. And investors should have fear of debt, but maybe just not at this moment.
Mary Callahan Erdoes On Market Froth
The froth has continued, and the question is only time will tell how long that will go. You know, markets, as we know, they move well in advance of where the world is going. And so, it's just really a question of how patient investors are and with the time value of money being nearly zero, people should be quite patient with what they're investing in.
Mary Callahan Erdoes On This Time Period Not Being Normal
Since last year's Delivering Alpha, markets up 30 to 50% is not normal. Alpha in those numbers of 500 to 1,000 basis points is not normal. So, we're enjoying it, but this is not a normal time period.
Ashbel Williams On Still Being Able To Make Money
I still believe there is a chance that companies with the right balance sheets, the right strategies, the right management teams and the right moats around their franchises will excel and do well when their peers and competitors will not. So, I think this is a time that active management makes sense. It's also a time that who you choose as your investment partners make sense. And if you have the winning combination of extraordinary capital depth, global reach, deep expertise in a range of asset classes, and an ability to think through the short term turmoil and look for long term appreciation of assets and leadership, I think you can make money through the toughest of times.
Jason Klein On Fed Chair Powell
When it comes to the uncertainty around who the next Fed chair will be, there's so much turnover in the last couple of days we've had surprise announcements of openings that will be on the Fed. We think that does introduce more uncertainty because rates and stability are key to the valuations that we've had. So yes, for us, in terms of our process, how we map current events and recent events into our longer-term plan is introducing more uncertainty. Our key thesis going forward is that returns from capital markets are likely to be much more muted than they've been historically, and yet volatility is going to be the same. We summarized that as five is the new 10.
Mary Callahan Erdoes On Evergrande
Everyone's talking about Evergrande as if it's a country. It's just a company – it's not a small company, but it's not the largest thing that's happening in China. It's only 2% of the real estate debt market in China, it's only 1% of the China U.S. dollar bond market, and it is less than half of a percent of the China local bond market. And so, you know, is it a Lehman Brothers? No. Is it a Bear Stearns moment that leads to something that we don't know about? Maybe. But it's not as interconnected as what you're talking about when you think about the banking system in different countries around the world.
Mary Callahan Erdoes On Europe And ESG
I think if you really want to lean in to where things that are going to take a leadership position and climate and the like, we should talk about Europe. I mean, Europe is well in advance of the rest of the world. Has been for many years. They have a first mover advantage on thinking about all things climate. You know, if you think about things that we're excited about here in the United States like Tesla, it's only going to be a couple of months before Volkswagen takes over as the largest EV manufacturer in the world, out of Europe, and will continue to lead the charge there. So, I think that Europe has a ton of opportunities.