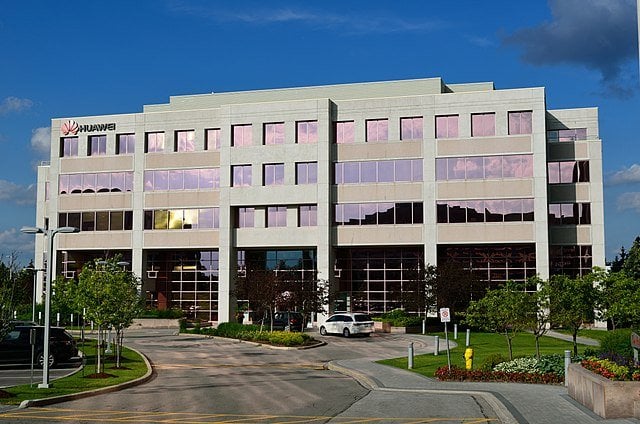 After the United States announced charges against the Huawei CFO some experts predicted a potential backlash from China. Some even compared the situation to the CFO of Apple or Amazon being arrested by Bejing. Below is a round up of what big bank analysts believe will be the fall out from the big news at Huawei.

By Open Grid Scheduler / Grid Engine – Own work, CC0, Link
Stifel Nicholas
What Value Investors Can Learn From Walter Schloss And Ben Graham Today
Walter Schloss isn't a name many investors will have heard today. Schloss was one of the great value investors who trained under Benjamin Graham and specialized in finding cheap stocks. His track record was outstanding. In Warren Buffett's 1984 essay, the Super Investors of Graham-and-Doddsville, he noted that between 1956 and 1984, Schloss's firm returned Read More
According to multiple sources, Huawei CFO Meng Wanzhou, daughter of the company founder Ren Zhengfei, has been arrested by Canadian officials. The arrest is said to have come about by request of the US government, which is currently looking into extradition for Ms. Meng, who faces charges stemming from potential violations of US-imposed sanctions against Iran. As confirmed by several sources, the arrest was made in Vancouver on December 1st, with an official extradition hearing set for Friday. While it is still too early to determine if a ban on sales of components to Huawei is likely – similar to what occurred with ZTE – we do expect weakness in shares within the optical component group as many have direct exposure to the vendor and believe the group is likely to remain under pressure until there is clarity on the potential for an equipment ban.
Nomura
Huwei's CFO is reported to have been detained by the Canadian authorities owing to potential violations of US sanctions against Iran, leading to overall trade war concerns escalating again. Huawei has become the world's third largest smartphone vendor this year, based on our estimates and we estimate it could be the second largest in 2019F.
Credit Suisse
The impact from a potential ban on Huawei from revenue disruption for foundries (TSMC, SMIC, Win Semi and VPEC) and equipment suppliers (CHPT) with high HiSilicon exposure. and also extends to back-end (ASE and KYEC) and IC Design through direct sales to the networking division (Mediatek, Realtek), with about 5-10% impact for most suppliers.
KeyBanc
According to media reports, a spokesman for Canada's justice department confirmed that Huawei's CFO Meng Wanzhou was arrested in Vancouver on Dec. 1. A bail hearing has been tentatively scheduled for Friday, according to the spokesman, and the U.S. is seeking Ms. Meng's extradition so that she will appear in federal court in the Eastern District of New York, according to the Wall Street Journal, citing its source. Note that Ms. Meng is the daughter of Ren Zhengfei, founder of Huawei. We believe this could have a similar, if not more severe, impact than the ZTE embargo earlier this year if the situation were to escalate into a ban. We see risks to companies with meaningful Communications exposure (%), including ADI (20%), CY (5%), MCHP (15%), MXIM (20%), QCOM (~5% Huawei), QRVO (~10% Huawei), SLAB (20%), SWKS (~8% Huawei), and XLNX (30%).
Credit Suisse Asia
HK/China tech sector stocks experienced significant pressure on 6 Dec in response to the news report on Huawei's CFO, Ms. Wanzhou Meng, reportedly arrested in Canada for Huawei's alleged violation of US sanctions on Iran. Huawei has stated it has very little information regarding the charges and believes the Canadian and US legal systems will reach a just conclusion. Huawei CFO was reportedly arrested on 1 Dec with bail hearing scheduled for 7 Dec.
FBR
We are revisiting InterDigital (IDCC-Buy, $90 PT) to address any investor concerns that may arise from the arrest of the Huawei CFO on Saturday in Canada—reportedly linked to Huawei's potential violation of sanctions against Iran. Given that IDCC is not currently generating revenues from Huawei (due to ASC 606) and Huawei is not included in our forward estimates (until a renewal is secured), we do not see any impact from results/projections from this arrest or any potential sanctions against Huawei (which would also not have an impact on a licensing company such as IDCC).
More from Stifel
We are downgrading NeoPhotonics Corp. (NPTN) from Buy to Neutral based on near-term Huawei uncertainty. Yesterday, various news outlets reported that Huawei's CFO was arrested in Canada and faces extradition to the US. The Canadian Justice Department didn't disclose details and the US Justice Department declined to comment on the matter. Could Huawei be sanctioned much like ZTE (763-HKG) earlier this year—we believe it's a possibility; perhaps this could be another bargaining chip for the Trump Administration. With Huawei representing a 40%+ customer to NPTN (47% in 3Q18), we are moving to the sidelines and will monitor the situation.
UBS
 Huawei has been very successful in practically all service provider technologies outside the US. The final outcome with respect to the US investigation is uncertain; but if it plays out similar to ZTE we believe the impact on the overall optical component industry is neutral. The China systems vendors are dependent on US component suppliers especially for >100gbps speeds (although Huawei does more internally than ZTE). Huawei competitors like Nokia, Ericsson, Cisco, Juniper, and Ciena could benefit in the event of share loss – but it would likely take time to play out.
Goldman Sachs
According to a Reuters news report, Huawei's CFO was arrested in Canada on December 1st and could face potential extradition to the US for a possible violation of Iran sanctions.
We compiled a list of Huawei's key suppliers in the below table and their respective revenue exposure to Huawei.
Editor's note: Foxconn was number one on Goldman's list of 70 companies.