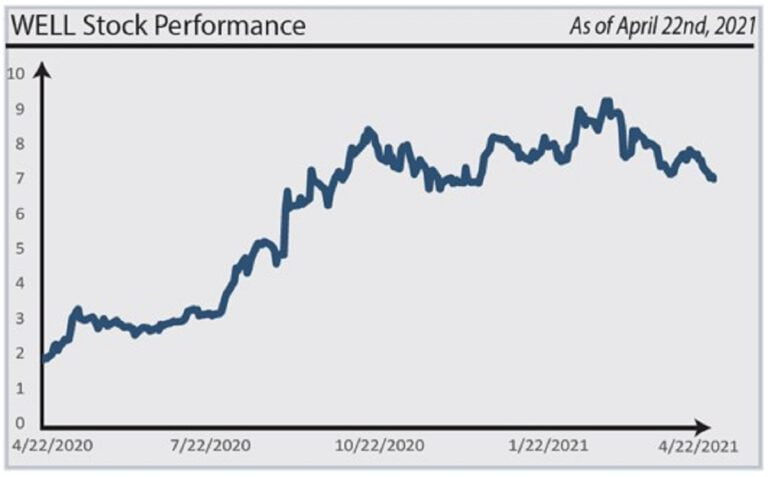 Grizzly Researc's short report on WELL Health Technologies Corp (TSE:WELL).

Q1 2021 hedge fund letters, conferences and more
Who we are
Grizzly Research LLC
Activist Short Seller
Check our website, twitter
Today's presenter: Siegfried Eggert
CEO & Owner Grizzly Research LLC
ValueWalk's July 2022 Hedge Fund Update: Tiger Cub Hedge Fund Shuts Down
Welcome to our latest issue of issue of ValueWalk's hedge fund update. Below subscribers can find an excerpt in text and the full issue in PDF format. Please send us your feedback! Featuring Andurand's oil trading profits surge, Bridgewater profits from credit, and Tiger Cub Hedge Fund shuts down. Q1 2022 hedge fund letters, conferences Read More
We believe Well Health Technologies is a Toxic Roll-Up
WELL Health Technologies Corp (TSE:WELL) is a ~$1.5B company listed in Canada. The company draws similarities between them and Warren Buffett, and obtains growth via aggressive acquisitions.
We believe investors were aggressively mislead; We identified many issues with the recent acquisitions.
We expect many acquisitions will not meet management and shareholder expectations, not be able to justify purchase price and lead to ultimate write-down.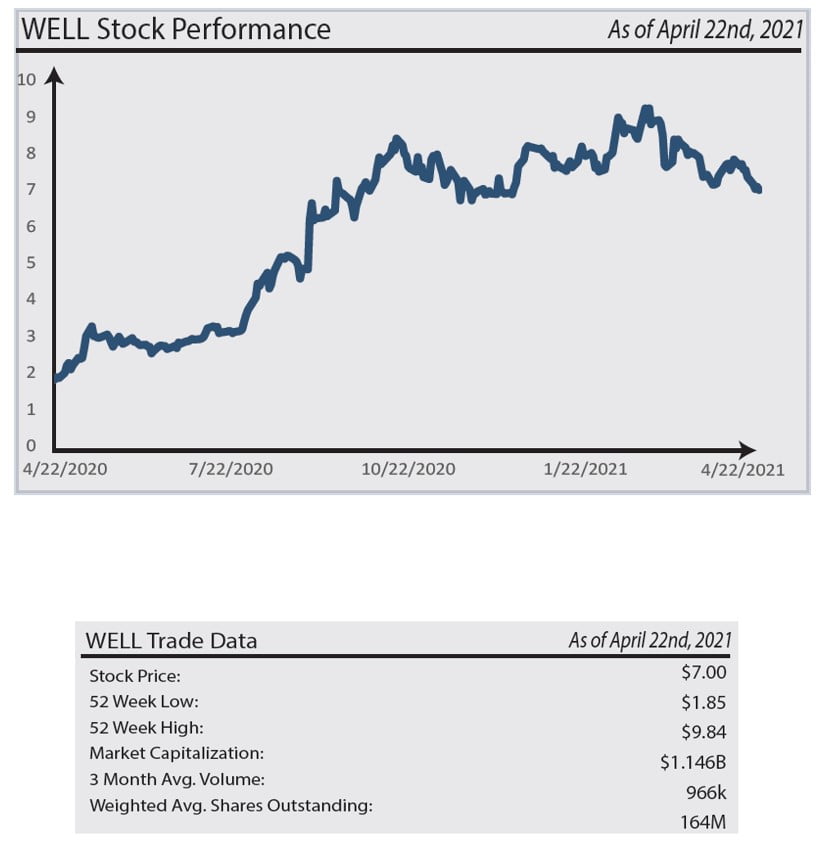 WELL - The Broken M&A Machine

IN REALITY

Talk about what the company wants you to see:
1.Great M&A Company.
Similar to BRK
However, upon closer examination, we found many red flags in many of their acquisitions including their largest acquisition to date.
Few interested parties, zero actual buyers. Yet, WELL rushed to acquire it.
First Serious Buyer Terminated the Deal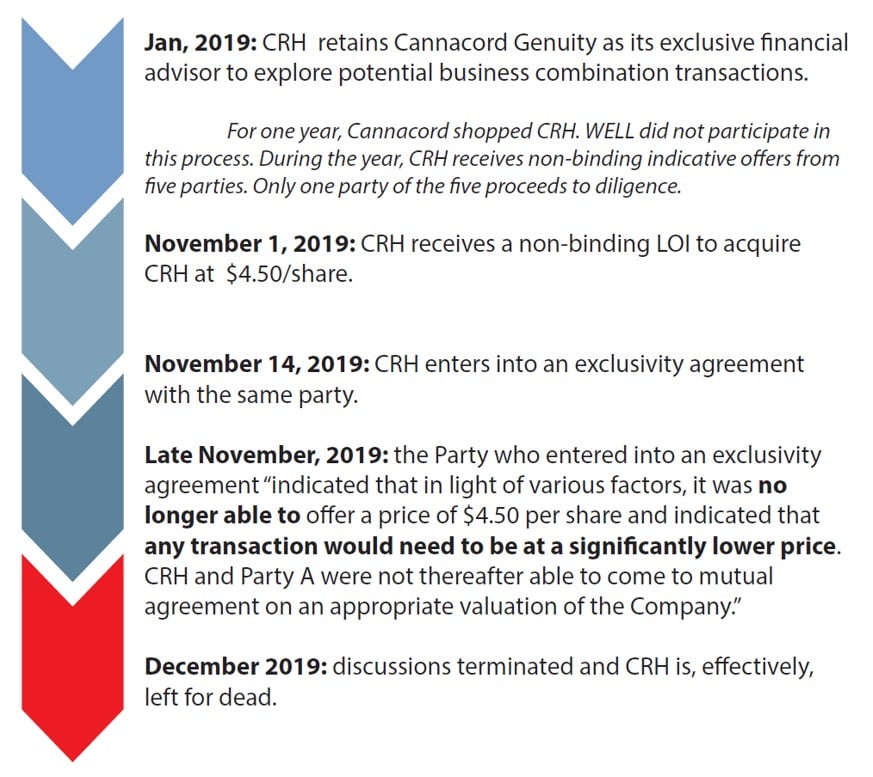 On February 8th, 2020 WELL announced the acquisition of CRH for CAD ~$470M. That is about 1/3 of WELL's total market cap even at its highest price.
According to WELL this should be highly accretive. However, we believe WELL never conducted proper dd and rushed into the acquisition.
In reality, CRH has been for sale for a long time, during which time there were a few interested parties. However, only one submitted a LOI only to shortly amend and ultimately terminate the acquisition talk. This whole process lasted close to a year.
CRH: An Expensive Acquisition that Nobody Wants
WELL's Interest in CRH Appears Abrupt and Ingenuine
Note:
On Dec 22nd, CRH disclosed that it lost its key customer who contributes 20% of their revenue.
On Dec 23rd, WELL submits a non-binding offer despite the latest development.
Between Dec 28 , 2020 - Jan 5, 2021, Citi contacted 10 potential buyers, including the party who was interested in 2019. None of them submitted any bids.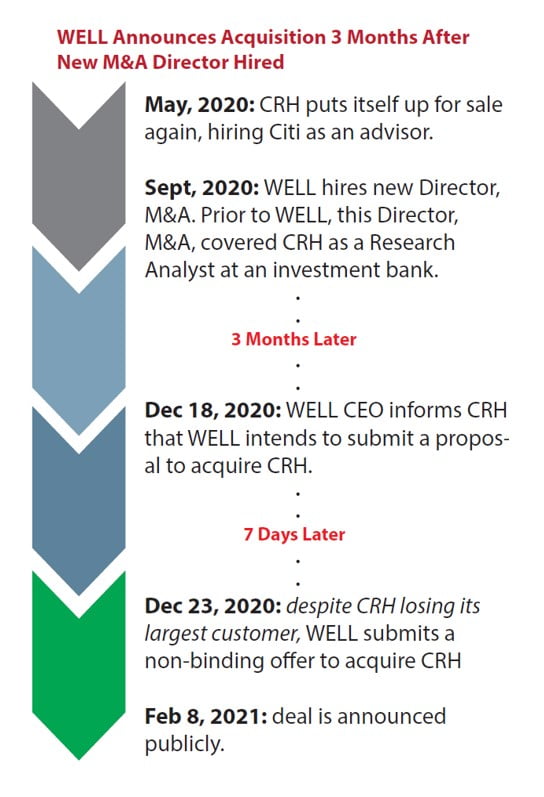 However, WELL's interest in comparison appears to be very abrupt and ingenuine.
On May 2020, CRH put itself for sale again, 5 months after the previous buyer walked away. In September, WELL hired a new M&A director who covered CRH as a research analyst. Merely 3 months later, WELL intenged to purchase CRH.
CRH: Side By Side Comparison
Previous buyer conducted thorough DD and chose to not buy CRH.
Previous buyer was contacted again in the 2020 CRH sale, but again said no
It took all but 7 days from intending to purchase CRH to putting in a proposal.
Despite in between CRH loosing its largest customer (later regained on much worse terms)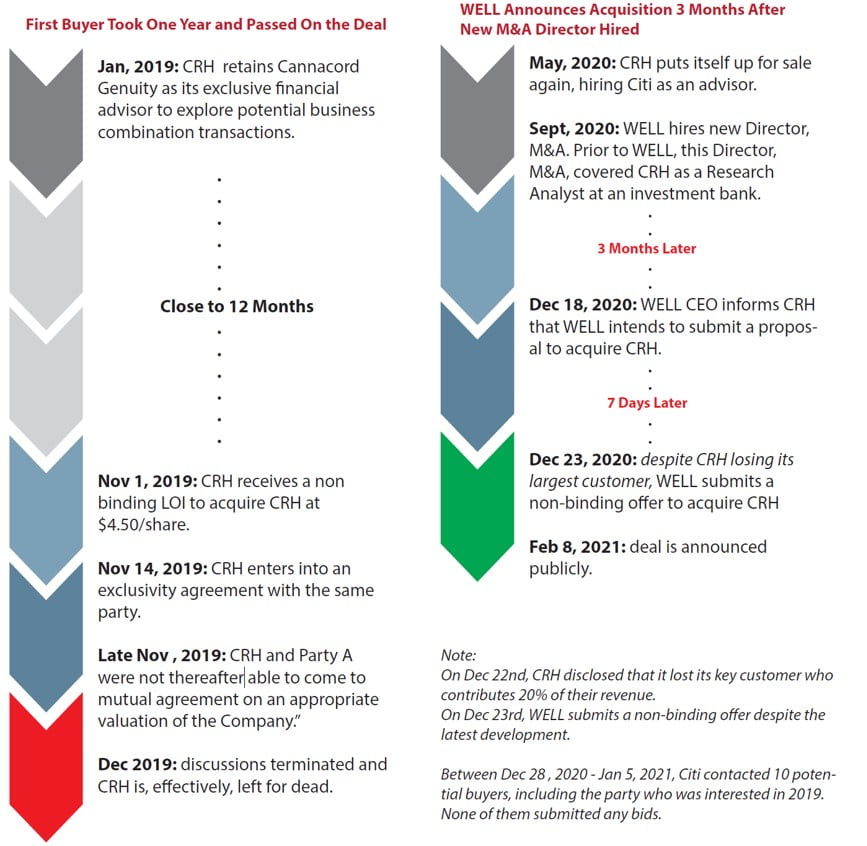 The previous buyer not only took close to a year to arrive at an informed decision to pass on the deal, but walked away a second time during the 2020 sale. However, WELL with its Berkshire like prudent investment method, apparently started modeling a potential acquisition within merely 7 days. Despite the loss of a key customer, WELL still submitted an offer in less than three months. In our view, this was highly irregular, imprudent and rushed.
CRH: Loss of Largest Customer Exposed Weak Internal Control

KPMG recognized a weakness in internal controls. CRH had been using unrealistic assumptions in the impairment evaluation.
Like previously mentioned, CRH lost its largest customer who accounted for 20% of EIBTDA and revenue. This happened during WELL's evaluation of acquiring CRH. If that wasn't problematic enough, we quickly realized that CRH had used much too optimistic assumptions in evaluating these contracts. KPMG in their audit opinion stated that "The Company did not involve personnel with sucient knowledge and practical experience in performing the discounted cash flow modelling utilized in the impairment evaluation of intangible assets."
CRH: Loss of Largest Customer Exposed Weak Internal Control
CRH estimated 12 year of useful life for a contract, when it only lasts for 6 years. Essentially, doubling undiscounted cashflow.
As a result of impairment, CRH undertook an impairment charge of $27M.
Similarly, two out of six contract were identified for impairment likely due to similar reasons in 2019. Note that the largest customer that was lost WAS NOT ONE OF THEM.
How many more are overvalued? What is  the company really worth?

CRH had estimated a useful life of 12 years for a contract that typically requires renewal after 6 years and has no guarantee of being renewed. In fact, it indeed was not renewed. As a result, CRH undertook an impairment charge of $27M.
Moreover, in 2019, CRH had identified 6 agreements that were subject to the same problems. Apparently, the largest contract CRH lost was not identified as problematic by CRH. This leads us to question the result of the original test and how far CRH has manipulated the evaluation of their customer agreements.
CRH Face Depressed Earnings and Dim Business Prospect
In 2020, Centers for Medicare and Medicaid Services (CMS) released guidance for price reduction. We expect CRH to lose at least 3% EBITDA and 10% in 2024.
This also happened in 2018, where CRH expected their revenue to be reduced by ~12.5% - 17.5%.
We believe this is why previous buyers walked away. (Unstable contracts + depressed margins).
In fact, without aggressive M&A, CRH's organic growth is non-existent.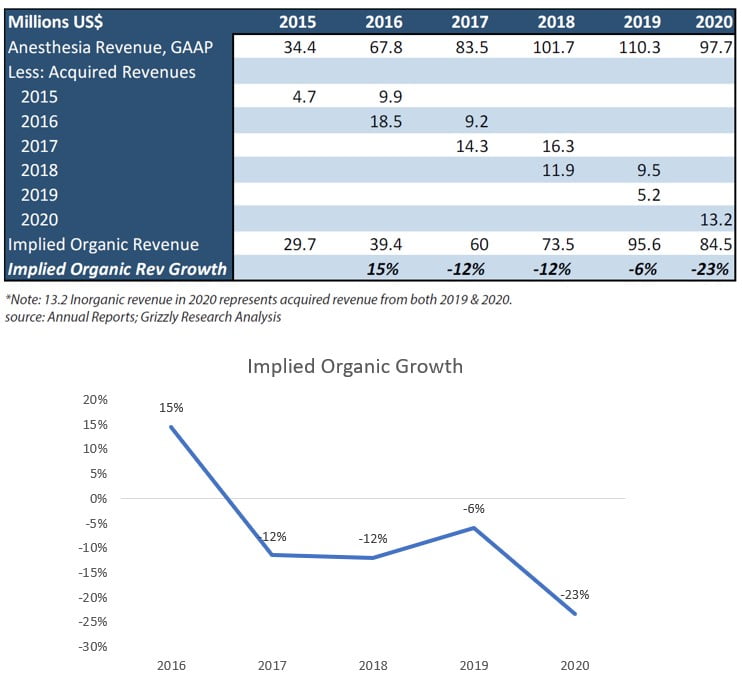 See above bullet points.
Basically, CRH also has to grow via M&A, otherwise, loss of major customer (although later regained on much worse terms) and depressed margins hardly signal any synergy. The large benefits WELL is touting about is highly contingent on their ability to continue executing M&As for CRH.
CRH: Patented/FDA-Approved O'Regan System is Lackluster and Underwhelming

CRH also touts about another thing, their patented/FDA-Approved O'Regan System, which is a single-use disposable product for the treatment and removal of hemorrhoids. However, we discovered that it might not be "the best of class" management claims.
We found reviews stating "CRH disposable bands are actually LESS effective, BAD for environment and more EXPENSIVE for patients. Reviews also questioned the medical data supporting the product. Moreover, revenue from O'Regan is simply underwhelming/disappointing. CRH has managed to grow the product into stead decline.
Adracare: 300% Premium for Previous Bankrupt Company with Cooked Financials
The Untold Background
Dec 17th, 2020. WELL purchased Adracare.
Just another bail-out.
In 2019, Adracare (aka. Orbcare) received CAD $2M from iGan Partners.
However, iGan partners discovered Adracare had cooked its books, inflated revenue by 100% and owed ~1M to Canada Revenue Agency(CRA).
Adracare quickly filed for bankruptcy and struggled to find a potential buyer.
iGan finally bought the company for $1.2M, assets were rolled into new entity Adracare.
Talk about how the Adracare acquisition was also highly problematic. Introduce the background management failed to mention.
One Year Later, WELL Pays CAD $5M
Per previous disclosures, Adracare annual revenue was close to CAD $1.8M. WELL disclosed that Adracare's revenue contribution would be ~CAD $2M. Revenue increase merely 10% per year.
However, iGan paid $1.2M as the only bidder, whereas WELL paid CAD $4.75M.
Again, no other interested parties.
At the time of bankruptcy, Adracare wanted to achieve two things.

Streamline operations by cutting headcount FAILED
Scale up revenue. ~10% per annum while headcount increased 25% per annum. FAILED
Talk about how this too is an overpayment for a company that no one wants. Moreover, there were only two targets Adracare needed to meet. They failed both.
LinkedIn employee count grew from 16 to 25, whereas revenue only increased by 10%. We believe that is also a fail compared to how much expenses will grow.
Even if we give them credit for 10% growth in revenue, still doesn't justify 300% growth in valuation.
Circle Medical: Not the Technology Co. WELL Touted
According to WELL, Circle Medical is a pioneer in delivering a tech-forward, patient-centric healthcare approach
In reality, Circle is a collection of low margin clinics that drive traffic to its mobile app. It is not the telemedicine acquisition investor were hoping for.
In fact VCs were not even willing to finance it, and CEO publicly acknowledged that his company isn't a technology business VC wants.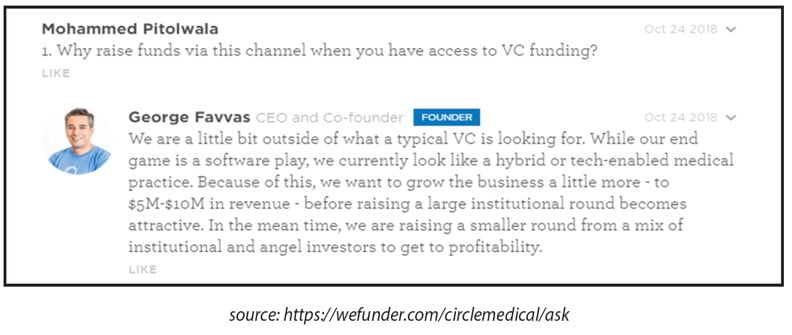 WELL perhaps is attempting lead its investors into believing that it is tapping into the US market, and that they are buying a tech-forward, patient-centric healthcare company. However, this is hardly the case. Circle medical is hardly the telemedicine company investors were hoping for. In fact, the CEO George Favvas publicly acknowledged that his company is not a technology business centure capitalists were willing to fund. Note that back in 2015, Tencent participated in a financing round for Circle, so capital awareness should be relatively high for the company. However, Circle resorted to raising fund through crowdfunding website wefunder.com.
Circle Medical: Had No Real Financing Channels. Insiders Were Happy to Sell Off
Circle resorted to raising capital via wefunder.com, where equities are raised typically $100-$500 at a time.
WELL also invested $200K in 2018. Together, these investments somehow justified the $15M pre-money and $19.5 post-money valuation of Circle.
However, only $5M goes into Circle's Treasury where the rest goes to shareholders in form of stock swap. Looks like early investors were more than happy to cash out.
Moreover, WELL touts $5M run rate. However, back in 2018, Co-founder of Circle anticipated $10M in annual revenue by 2019.
Without COVID, Circle would have been 2 years behind 50% of their original target.
With all the technology and revolutionary healthcare delivery in San Francisco, Circle managed to raise a mere $520K from 526 investors, or $1,000 per investor.
Insig: ~240% Premium For A Start-up with No TAM
Valuation Grew Exponentially Following WELL's initial investment 8 months ago

Following WELL's initial investment, valuation of Insig exploded, and leaned more towards equity issued at WELL's historical high prices. It seems like someone was taking advantage of their stock price. But what is Insig really worth?
Insig: What is it Really Worth?
Funding: Before WELL, Insig only raised $450,000 in equity capital. Company lacked interest.
Management: Previously founded Protractr, which attempted but likely failed to raise $100k. Protractr started off as a cloud-based management tool for the construction industry. Today the website appears to be an e-book website.
TAM: Article published in April 2020 suggests there are only ~150 doctors (out of 75,000 physicians in Canada) using their software.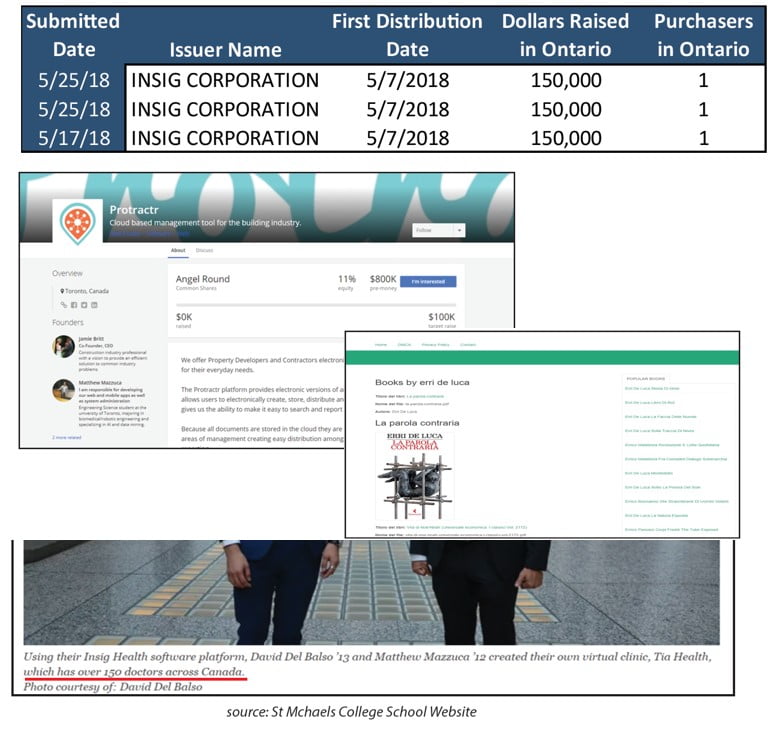 Insig is very much a young venture capital like firm. Typically, a few key check box have to be checked for its to be a successful company.
Funding: No previous interest before WELL, only $450K
Management: Two young grads. One of them previously found a company Protractr that appears to be defunct and couldn't raise 100K
TAM: Apparently in April 2020, the company only had 150 doctors. Note that in April WELL had already invested and Insig had already partnered with Appletree Medical. So we really doubt the level of activity Insig has right now and believe the TAM is simply not there.
Technology: Moreover, the technology is open-souced and based off of a platform called OSCAR. We believe the technology is simply not unique or differentiated.
Overall, it appears that EWLL merely paid a high price using its overvalued stock to buy an early stage undifferentiated tech company.
Source 44: Falling Short 50% on Target
December 2nd, 2020, WELL purchased a cybersecurity company Source 44.
However, we immediately saw underperformance by close to 50%.
WELL attempted to explain away the start difference by stating delay in delivery of large order
However, we called the company and discovered that it doesn't even have a call center, nor even a proper business voice mailbox.
Furthermore, twitter indicates the company is likely to be dormant. Only 3 tweets. Latest one in 2017.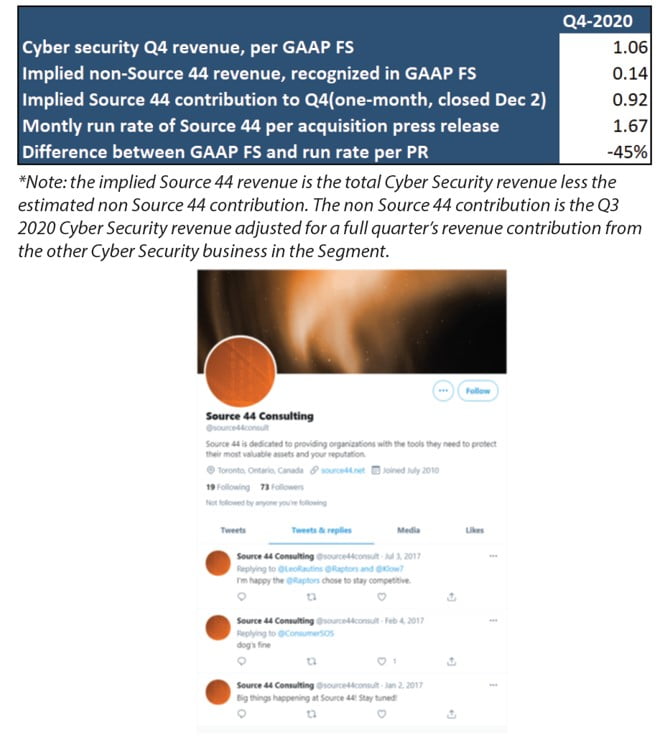 WELL CEO Disgenuine About His Own Experience Too
Shahbazi loves touting TIO Network Sale. But the story is missing a key point.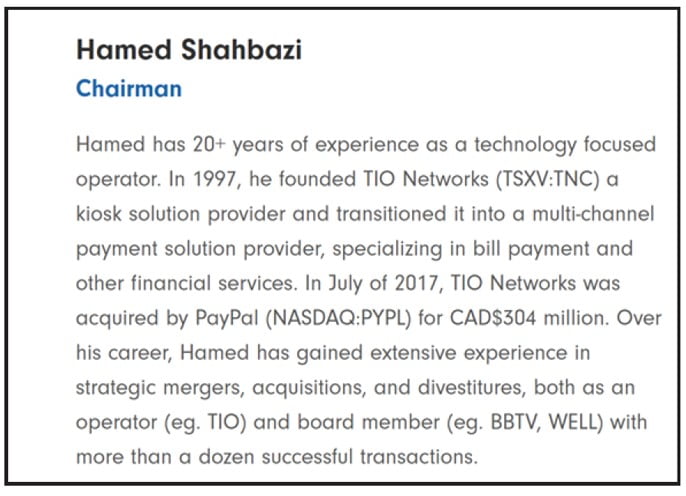 Less than one year later, Paypal dissolved TIO after a data breach that affected a material portion of the customer base.

We were hardly surprised to see that the CEO Hamed Shahbazi was promotional about his own experience following the numerous red flags we identified in the acquisitions.
Shahbazi loves to tout about his sale of TIO Networds to Paypal in 2017.
However, Investors are not told that Paypal dissolved TIO after a data breach which affected a material portion of the customer base within a year of closing the deal. SEC further questioned the carrying value of TIO following the dissolvement. We believe that's an indication that TIO was not worth what Shahbazi had portrayed.
Cookie Jar Accounting Portrays Fake Financial Strength
WELL's adj.EBITDA not what it seems.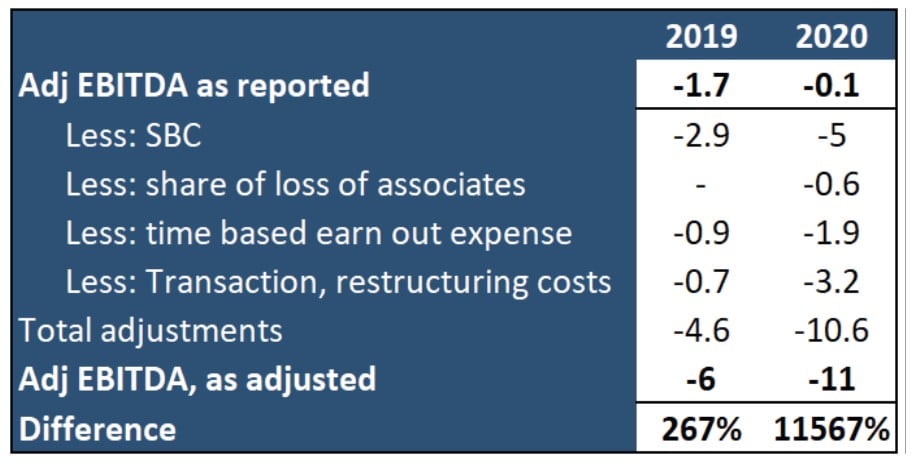 Financial wise, apart from many unrealistic projections WELL allocated to many of its acquisitions, we also found that WELL got creative and portrayed EBITDA numbers that were different from the industry norm.
WELL conveniently included a lot of non-regular adjustments and reported Adj.EBITDA numbers that were still not great. In reality, it is 100x worse.
Valuation
What is WELL worth even if we take all their acquisitions at face value?

Finally, to drive the point home that WELL is simply an overvalued roll-up of sub-par companies with major red flags, we take everything they say at face value, allocate optimistic assumptions to all of their deals. Bottom line is, the company should only worth $3 in a bull scenario, indicating over 60% downside.
Updated on