Data from the Fintel platform provides useful insights into insider trading activity on GameStop Corp. (NYSE:GME) and other companies.
GameStop has had two net insiders (number of buyers minus sellers) that have purchased 0.165% of the GME float in the last 90 days. These purchases have contributed to the Fintel insider accumulation score of 87.84 given to GME. The score places GameStop in the 408th rank out of 14,491 screened companies.
Q1 2022 hedge fund letters, conferences and more
Institutions own 28% of the total. Insiders own about 17%, and retail investors own the balance.
Some highlights from GameStops insider's trading activity have been included below from the platform.
Ryan Cohen - GME Chairman 
Cohen is an entrepreneur and activist investor who founded pet food products and supplier Chewy.com (NYSE:CHWY).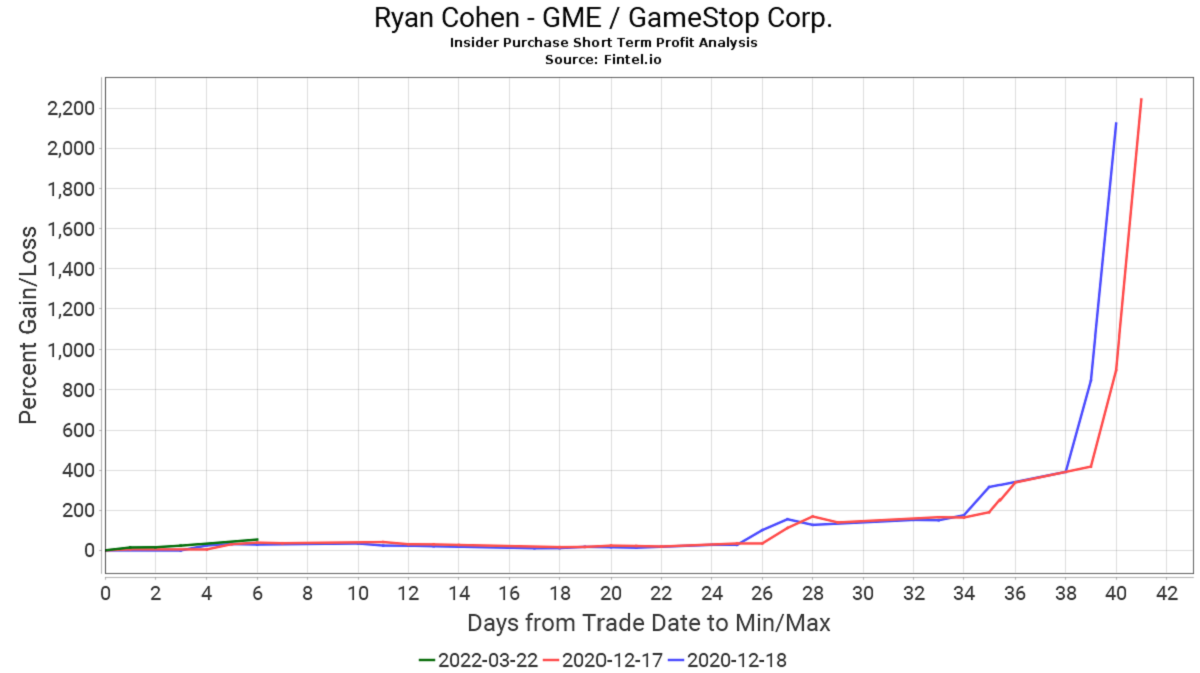 Cohen purchased 100K of GME shares worth a whopping $10.2 million through RC Ventures LLC on the 22nd of March.
The average price paid was $101.76 for this parce.
Cohen currently owns about 12% of the total float.
A summary of transactions is provided in the table below, and the chart on the right shows Cohen's short term trade profits from 2020 and 2022 Cohen.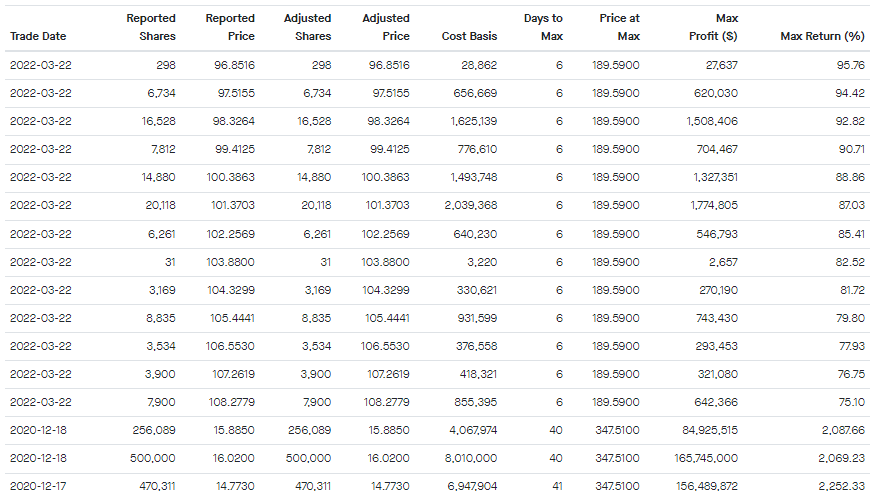 Matthew Furlong - GME Chief Executive Officer (CEO)
Furlong was appointed as GameStop's CEO and began his tenure on the 21st of June in 2021. Since joining, Fintel's insider trading report for Furlong received 72.678 restricted shares on the 1st of July 2021.
These shares, if granted, would have a current estimated value of about $9.8 million.
Michael Recupero - GME Chief Financial Officer (CFO)
Recupero joined GameStop as CFO last July.
Since joining, GameStop granted Recupero 55,596 restricted shares, according to Fintel's insider trading report.
These shares, if granted, would have a current estimated value of about $7.5 million.
Lawrence Cheng - Current GME board member
Lawrence Cheng is a GME board member, Co-Founder and Managing Partner of Volition Capital. Volition Capital was an early Chewy investor and maintains close ties with Cohen.
Cheng purchased stock last March, paying $94 and $95.50 per share in different purchases.
The table included below shows Cheng's trade history since being appointed at the firm:

Alain Attal - Current GME board member.
E-commerce executive and experienced entrepreneur Alan Attal bought GameStop shares at $129.91 per share last March. His profits have faded in recent times, with shares retreating lower.
The table provided below shows Attal's trade history since being appointed at the firm:

Article by Ben Ward, Fintel