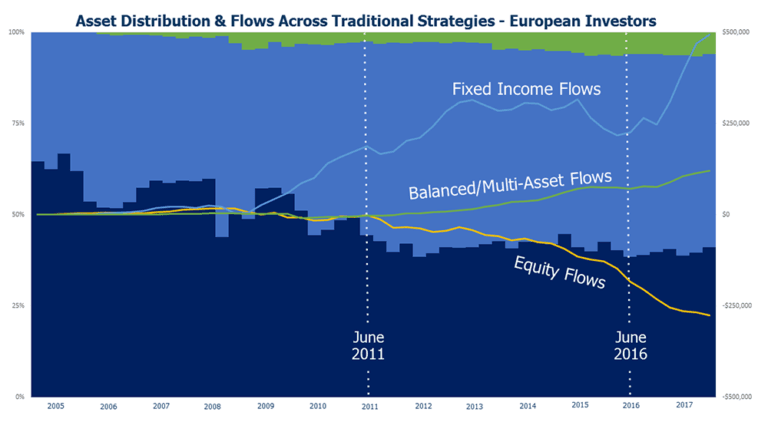 Fund managers should disrupt their sales and marketing efforts or risk losing business to nimbler, data-driven firms, said industry leaders during eVestment's 2018 European Manager Conference in London last week.
Q1 hedge fund letters, conference, scoops etc
eVestment has seen steady growth in adoption by the institutional investing community. Today, asset owners and consultants with a combined $38.4 trillion of assets owned or advised rely on the platform putting eVestment in a unique position to connect asset owners, intermediaries and fund managers.
ValueWalk's October 2022 Hedge Fund Update: Haidar Capital Surges 225%
Welcome to our latest issue of ValueWalk's hedge fund update. Below subscribers can find an excerpt in text and the full issue in PDF format. Please send us your feedback! Featuring investors exit long-short hedge funds, the oil market is now "broken", and Haidar Capital surges 225%. Q2 2022 hedge fund letters, conferences and more
"Disrupt or be disrupted," Jerrod Stoller, Chief Revenue Officer at eVestment, told conference attendees. "With more and more reliance on investment databases, fund managers need to re-think what this means for their distribution efforts."
New dynamics for distribution
Distribution leaders in the most forward-thinking firms are taking a fundamental approach to their sales and marketing efforts, and systematically applying data in what they do, according to eVestment.
Fund managers adopting the latest digital risk and analytics tools for their sales and marketing teams can reap similar benefits as those enjoyed by their portfolio management teams using big data and alternative intelligence.
"Being data-driven means you can reach the right people at the right time with the right story," says Michele Shauf, eVestment's Head of Strategic Alignment, and co-author of eVestment's Distribution Excellence Framework.
The Distribution Excellence Framework
Learn how to achieve greater results through better alignment, communication, goal setting and more realistic self-awareness.
Institutions rebalancing portfolios
eVestment data shows European institutions made significant portfolio changes in 2017, and there is potential for further money in motion in 2018.
Fixed income strategies attracted $242 billion from European investors in 2017 with a significant move away from equities strategies, although there were significant differences by country. Figure 1 below shows the asset flows across traditional strategies over the last decade with noticeable changes around the European Sovereign Debt Crisis (2010-11) and the Brexit vote (2016).
Figure 1 – Asset Flows Across Traditional Strategies, 2005-2017
Source: eVestment
These trends matter to sales managers targeting new business, as well as product strategy professionals developing new products, as asset flows can determine where opportunities lie in the market.
"You need to be aware of the larger undercurrents driving trends," says John Molesphini, eVestment's Head of Strategic Engagement. "You need to be vigilant about tracking them, and you must stay educated about global themes impacting portfolios to stay relevant to investors."
Investors and consultants want to understand the 'secret sauce'
Manager selection and research professionals from Willis Towers Watson, Church Commissioners for England and SandbergCPH highlighted the need for managers to populate investment databases with more than just performance data.
"We use eVestment both as an information source and for screening," explained Richard Saunders, Head of Equities at Church Commissioners for England. "Some of the qualitative aspects of the data are quite important. We look at things like internal ownership – where's the alignment and where is this business going? The fast facts and full profiles are helpful. I want to understand: What is a manager's secret sauce?"
Birgitte Sandberg, Founder at SandbergCPH, agreed. "I screen on other things than short-term performance to see what a manager is really about. I want to understand what environments we can expect this manager to do well in, so it's really important to put in information about your team, investment philosophy and things like that."
Article by Stephen White, eVestment