Social messaging apps have become an essential part of our lives. Apps like WhatsApp are used by users across the world to stay in touch with friends and family and also to conduct their business. Though using the app is easier, the problem arises when you switch from Android to iOS or vice versa. One of the biggest concerns when switching between the two OS is transferring your WhatsApp messages and chats to your new phone on another OS.
If you faced this situation before, then you will know the gravity of this problem. However now, it has become very easy to transfer, backup or export iOS/Android WhatsApp messages with the help of Restore Social App from dr.fone.
fone is an all-around software for managing data on Android and iOS devices. The software can help you to backup saved data, export data to another device, recover deleted files, and more. It also offers several useful tools such as for removing lock screen, screen recording and more.
Talking of the Restore Social App, it performs several useful functions, such as:
Backup or export iOS/Android WhatsApp messages to computers.
Restore iOS/Android WhatsApp backup to iPhone, iPad, iPod touch & Android.
Transfer WhatsApp chats between iOS & Android.
Backup your LINE/Viber/Kik/Wechat chat history with just one click.
Moreover, the app is pretty easy to use, as well. For instance, you can quickly (in just 5-6 steps) transfer your WhatsApp chats from Android to iPhone or vice versa using Restore Social App.
In terms of price, the app is worth every penny; considering the trouble it saves you from had you chose any other way to transfer your WhatsApp messages. One year license for the app costs $21.95. If you feel this is too much, then you can benefit from dr. fone's ongoing Christmas sale, where you can get the app for as low as $ 13.17.
As said above, dr. fone offers other useful tools as well, but one tool that needs a special mention is Repair. This tool could solve almost any system-related problems of your smartphone such as white Apple logo, boot loop, stuck in DFU mode and many more. For more information on this life-saving app, visit this page. The Christmas sale price of the app is $23.97 (down from $39.95).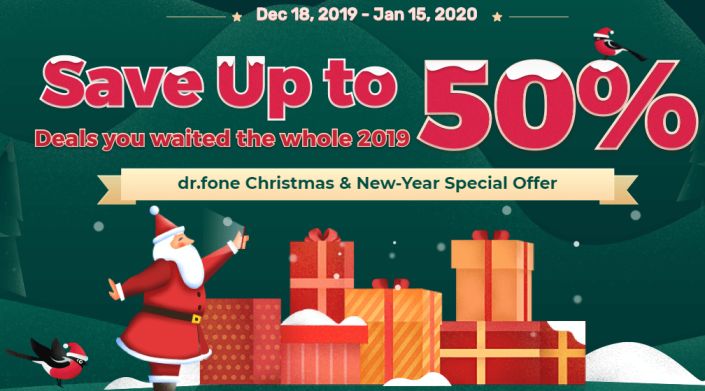 In fact, dr. fone is offering Christmas and New Year deals on all the items. The deals include 40% off on all toolkits and 50% off on bundles. The deals are for a limited time (till Jan 15, 2020), so you need to hurry up if you want to get these useful tools at a throwaway price. Also, do note that to avail these deals you need to enter through the site's Christmas event page.