FORECASTS & TRENDS E-LETTER
by Gary D. Halbert
February 6, 2018
Demographic Trends Suggest Slower US Economic Growth
1. US "Prime-Age" Working Population Peaked in 2007
2. Demographics: New Report – "Aging in the United States"
3. US Life Expectancy Declines For Second Straight Year
4. Another Problem: Too Many Jobs, Not Enough Workers
Stock Market Correction: Before I get to our main topic today, here my thoughts on the stock markets. In my Blog on January 11 and in this E-Letter on January 16, I warned that stocks were extremely overvalued and that the next correction would likely be very "serious." Stocks had soared by over 40% since Donald Trump was elected in November.
Most analysts point to the stronger economy and higher interest rates just ahead as the main reasons for this stock market implosion, but those facts have been widely known for weeks. I continue to believe that the threat of another government shutdown – the next one could happen on Thursday – as one of the main drivers of this meltdown. Stocks don't like it!
Stocks have now declined by nearly 10% at the lows this morning in only three trading days, with the Dow Jones plunging over 1,100 points yesterday alone. If you are on the sidelines, I would view this selloff as a buying opportunity, once we see what happens after Thursday's looming government shutdown. If you are still in the market at this point, I would stay put.
Feel free to call us at 800-348-3601 if we can be of assistance.
Overview
The US economy continues to improve despite the disappointing advance report on 4Q GDP which showed growth of only 2.6%. Yet with the tax cuts kicking in this month, there is a good chance the US economy could deliver GDP growth of 3% this year for the first time since 2005.
If we do get 3% or better growth this year, the question is, how long should we expect it to last? Worsening demographic trends in the US suggest the answer is not very long. Our workforce is shrinking and absent significant increases in productivity, GDP growth is likely to diminish in the years ahead.
Today we'll look at some troubling demographic trends in America and what they mean for the economy, the markets, jobs, etc. beyond this year.
US "Prime-Age" Working Population Peaked in 2007
When you look at what the US has gone through over the last decade, in terms of the job market, what stands out is the total decimation of jobs during the Great Recession and the financial crisis. From early 2008 until early 2010, we went through the worst job loss in 60 years. Not since the 1940s had the proportion of people who lost their jobs been so large over a similar period of time.
But something else stands out too -- and that's demographics. Here's one troubling statistic: the prime working-age population peaked in 2007 when the last strong business cycle ended. We're talking about the number of people in the 25-54 year age range -- the people likely to be both out of school and still working before retirement.
When the unemployment report came out last Friday, it again showed that we had fewer prime-age working people today than we did at the 2007 peak. Not a lot lower, arguably, but most demographers believe the prime-age workforce will continue to shrink in coming years.
That's because the US birth rate has fallen below the so-called "replacement rate." In early 2017, the national birth rate fell to a new record low of only 61.5 births per 1000 women aged 15 to 44. The national fertility rate fell below 1.9 births among the same age group.
Civilian Non-Institutional Working Population – 25 to 54 Years Old
Source: Federal Reserve Bank
Obviously, more and more Baby Boomers are leaving the workforce and retiring each year – estimated to be about 10,000 per day. Generation X, those born generally from the early 1960s to the late 1970s (roughly ages 38 to 55), is a uniquely small generation because of the advent of the birth control pill and the uptick in the age of first-time mothers. This is another reason the workforce is expected to shrink.
If so, that has to be a drag on growth. If the prime-age population is stagnant or even declining, it's a lot harder for the economy to grow than if the population is rising. So that explains some of the growth problems we have had this past decade and will have in coming years.
Yet another demographic challenge is the fact that the civilian labor force participation rate for women maxed out in 2000. It has declined several percentage points since then.
Civilian Labor Force Participation Rate For Women

Source: Federal Reserve Bank
For the population as a whole, as of December 2017, even after eight years of recovery, the labor force participation rate was still only 79.1%, whereas it was as high as 80.5% at the beginning of 2007. If we go all the way back to when the female participation rate began declining in 2000, we can see overall participation at 81.9%.
Employment-Population Ratio 25 – 54 Years

Source: Federal Reserve Bank
The bottom line: While the US is less demographically challenged than Japan or Europe, the demographics of the US are still pointing to slower potential growth in the coming years.
Demographics: New Report – "Aging in the United States"
The Population Reference Bureau, which studies demographics around the world, recently released a new report entitled Aging in the United States based on data as of the end of 2016. It examines recent trends and disparities among adults ages 65 and older, and how Baby Boomers born between 1946 and 1964 will reshape America's older population. In 2016, Baby Boomers were between ages 52 and 70. Below are some key findings from the report.
Demographic Shifts
The number of Americans ages 65 and older is projected to more than double from 46 million today to over 98 million by 2060, and the 65-and-older age group's share of the total population will rise to nearly 24% from 15%.
Older adults are working longer. By 2014, 23% of men and about 15% of women ages 65 and older were in the labor force, and these levels are projected to rise further by 2022, to 27% for men and 20% for women.
Positive Developments
Education levels are increasing. Among people ages 65 and older in 1965, only 5% had completed a bachelor's degree or more. By 2014, this share had risen to 25%.
Average U.S. life expectancy increased from 68 years in 1950 to 79 years in 2013, in large part due to the reduction in mortality at older ages.
The gender gap in life expectancy is narrowing. In 1990, there was a seven-year gap in life expectancy between men and women. By 2013, this gap had narrowed to less than five years (76.4 years versus 81.2 years).
The poverty rate dropped sharply for Americans ages 65 and older during the past 50 years, from nearly 30% in 1966 to 10% today.
Challenges
Obesity rates have increased among older adults, standing at about 40% of 65 to 74-year-olds in recent years.
There are wide economic disparities across different population subgroups. Among adults ages 65 and older, 18% of Latinos and 19% of African Americans lived in poverty in 2014 -- more than twice the rate among older non-Hispanic whites (8%).
More older adults are divorced compared with previous generations. The share of divorced women ages 65 and older increased from 3% in 1980 to 13% in 2015, and for men from 4% to 11% during the same period.
The aging of the Baby Boom generation could fuel a 75% increase in the number of Americans ages 65 and older requiring nursing home care, to about 2.3 million in 2030 from 1.3 million in 2010.
US Life Expectancy Declines For Second Straight Year
Life expectancy in the United States dropped for the second year in a row in 2016, which marked the first back-to-back downturn in more than two decades. The last time the agency recorded a multi-year drop was in 1962 and 1963.
On average, Americans can now expect to live 78.6 years, a drop of 0.1 year, according to a report on 2016 data published recently by the National Center for Health Statistics (NCHS). Women can now expect to live a full five years longer than men.
US Life Expectancy at Birth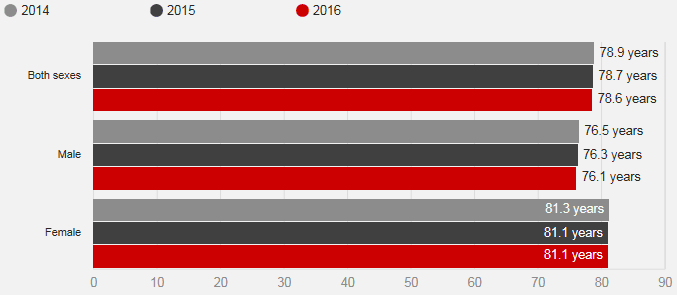 Source: National Center for Health Statistics
Researchers at the NCHS have data for the first half of 2017 and it suggests that US life expectancy probably declined for a third year in a row last year. If so, that will be the first three-year decline since the Spanish Flu 100 years ago.
The researchers cite the main driver of lowered life expectancy as drug overdose deaths, most of which are opioid-related. The leading causes of death in the US in the latest report for 2016 were: heart disease, cancer, unintentional injuries (including drug overdose), lower respiratory disease, stroke and diabetes.
Another Problem: Too Many Jobs, Not Enough Workers
The fact that the prime-age workforce is in decline presents challenges for employers nationwide: labor shortages. Unfilled job openings in the US have topped six million for the last six months in a row, a new record, according to the Bureau of Labor Statistics.
Business executives have long complained about a "skills gap," or the difficulty of finding highly trained workers to fill specialized roles. That's especially true in advanced manufacturing jobs, which increasingly require some computer training.
As the country tilts toward what economists call "full employment," though, practically every kind of business can hit hiring barriers. Even jobs with more basic requirements, such as a driver's license, have become harder to fill.
As an example, the American Trucking Association recently announced the industry needs at least one million new drivers over the next six years to replace retiring drivers. Raising wages, adding more generous retirement packages and recruiting more women to the male-dominated field still hasn't attracted the necessary numbers of workers
Conclusions: The US economy appears on-track for a strong year in 2018, and some forecasters believe the tax cuts will spur another year of strength in 2019 as well. However, our shrinking prime-age workforce will limit growth over time. Unless there are significant advances in productivity, economic growth of 3% may become impossible in the long-term.
All the best,
Gary D. Halbert
SPECIAL ARTICLES
Why Men of Prime-Age Aren't in the Labor Force
American Life Expectancy Falls Second Year in a Row
Labor Force Participation Rate Explained