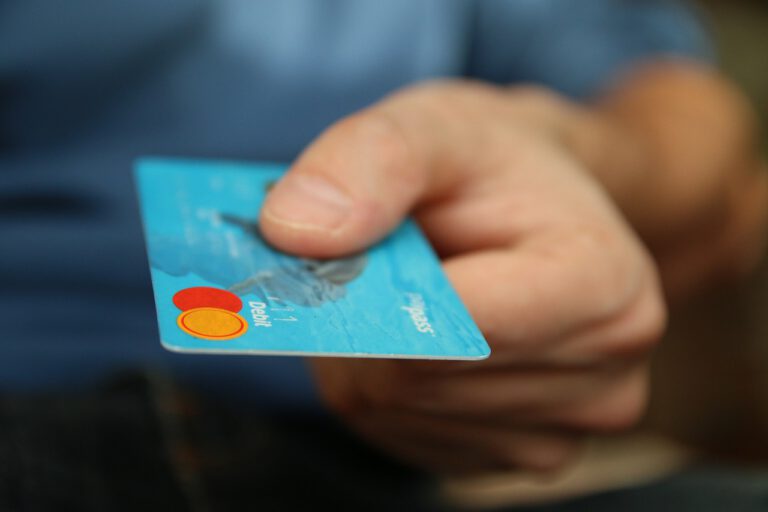 Credit card usage is alive and well. Here's how it breaks down by age.
Q1 2021 hedge fund letters, conferences and more
Credit cards make shopping more convenient, and using them can be financially sound. After all, some credit cards reward you for making purchases, and that cash back can come in handy for a host of purposes. Some credit cards offer purchase protection, and they can be a useful tool in establishing a credit history.
Qualivian Investment Partners July 2022 Performance Update
Qualivian Investment Partners performance update for the month ended July 31, 2022. Q2 2022 hedge fund letters, conferences and more Dear Friends of the Fund, Please find our July 2022 performance report below for your review. Qualivian reached its four year track record in December 2021.  We are actively weighing investment proposals. Starting in November Read More
It may not be surprising that different generations see credit cards differently. The Ascent recently conducted a survey of credit card usage, in which it asked Generation Zers (ages 18-24 in 2021), millennials (ages 25-40), Gen Xers (ages 41-56), and baby boomers (ages 57-75) to weigh in on their credit card habits. The results were rather eye-opening.
Credit cards vs. cash
Older generations may be more used to purchasing with cash, but overall, 45% of U.S. consumers say credit cards are the best way to pay. That represents an increase from the nearly 36% of consumers who felt similarly in 2019.
Most Americans don't carry a balance
Of course, there's a downside to using credit cards -- racking up interest charges on balances that aren't paid in full. Most consumers aren't doing that. In fact, almost 61% pay their full statement balances every month. That's a key improvement over 2019, when 66% of consumers carried a balance month to month. That said, a little over 17% of consumers only pay their minimum credit card balances -- which means they incur interest charges while putting their credit scores at risk, since utilizing too much credit can drop scores.
The most popular types of credit cards
Credit cards aren't all created equal. Consumers agreed that cash back credit cards are worth having. About 52% of millennials have a cash back card, while only about 38% of Gen Zers have one. Cards with no annual fee are also popular, and baby boomers are the most likely to have this type of card, at about 52%. By contrast, just 25% of Gen Zers have them.
Store cards are a bit less popular, which is largely a good thing, since they tend to have high interest rates. Only about 31% of consumers have one. And surprisingly, only about 25% of consumers have a low interest credit card.

The least popular credit cards among consumers are travel reward cards and balance transfer cards. Interestingly, travel cards became more popular during the pandemic, despite restrictions. And balance transfers have increased among consumers in 2021. Balance transfers can be a good way to consolidate debt, and in some cases, make it more affordable to pay off.
The most important credit card features
A low interest rate is the most common feature consumers look for in a credit card. Second to that is a good rewards program, followed by no annual fee.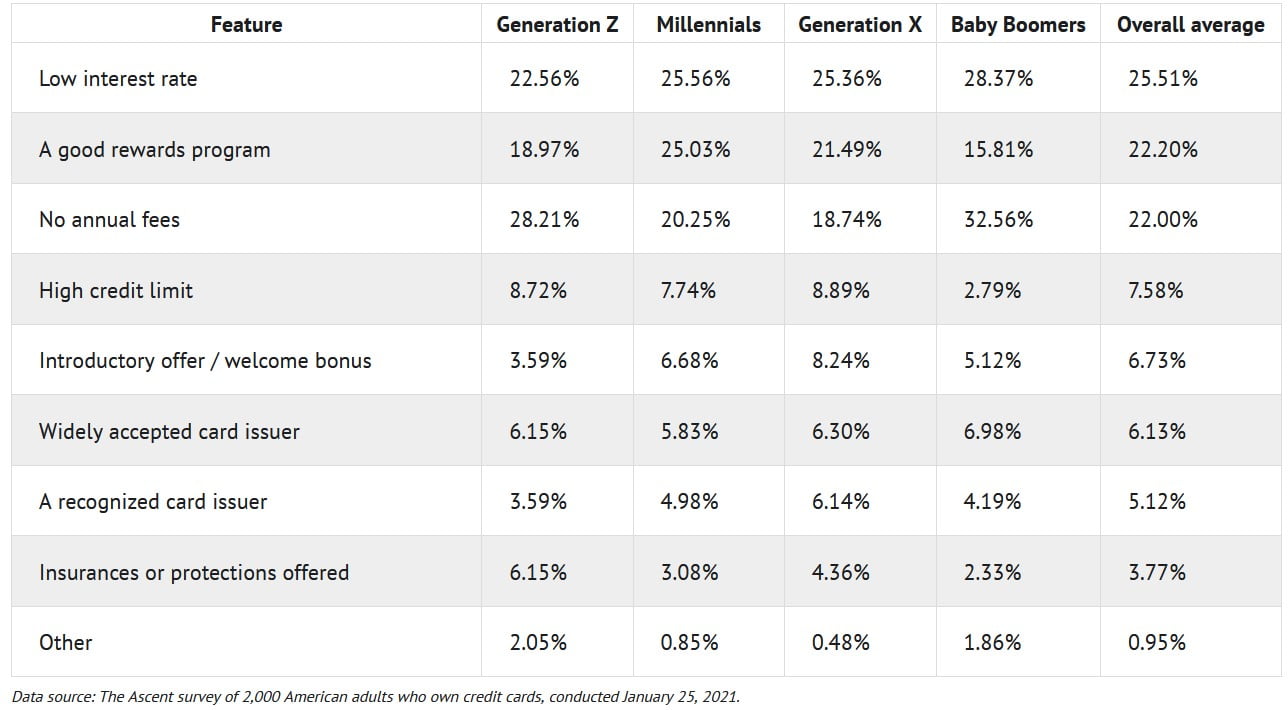 Meanwhile, fraud protection and credit monitoring are the most popular credit card benefits, followed by purchase protection and retail store discounts. The least popular perks? Mobile phone insurance and concierge services.
Why people open credit cards
Credit cards tend to get a bad rap, but they can be instrumental in helping consumers build credit -- which is why Gen Zers in particular open them. Consumers of all ages are also interested in earning cash back and boosting the amount of credit available to them.
Choosing the best credit card offer is something about 25% of consumers struggle with. And 22% worry about credit card applications impacting their credit scores. Every credit card application does result in a hard inquiry on your credit record -- but for most consumers, that only knocks a score down a handful of points.

Some consumers max out their cards
Maxing out a credit card is usually bad news. It can drop a credit score, and it can also limit buying power and limit options in a financial emergency. Unfortunately, almost 55% of American credit card users have maxed out at least one of their cards. Gen Xers were the most likely to have maxed out a card, while Gen Zers were the least likely.
Consumers are getting savvier about credit cards
It seems that consumers are getting smarter about the most effective ways to use their credit cards, and seeking out the most worthwhile features. As the pandemic slows and the U.S. economy hopefully stages a comeback, it will be interesting to see how credit card usage evolves, and whether Americans continue these credit card habits or celebrate post-pandemic freedom by racking up charges to the max.
Updated on