The number of active jobs, defined as jobs that are available for application on an employer's career page, continued on a downtrend in June 2022, according to research by GlobalData. The leading data and analytics company notes that active job figures fell across the US, China, Brazil, Canada, Germany, and India in June verses May 2022, and this slump in hiring activity comes as firms across geographies continue to face high inflation.
Q2 2022 hedge fund letters, conferences and more
Decline In Active Jobs
GlobalData's Jobs Analytics database, reveals that active jobs marginally declined by 1% month-on-month in June 2022, whereas job closures—where a job advert is removed from the career page of the employer—rose by 3%, compared to new job postings.
Sherla Sriprada, Business Fundamentals Analyst at GlobalData, comments: "It makes sense that companies are exercising caution by posting fewer new jobs than they close amid inflationary pressures. According to GlobalData's Company Filings Analytics database, discussions around recession in annual reports increased by nine times in Q2 2022 over Q1 2022."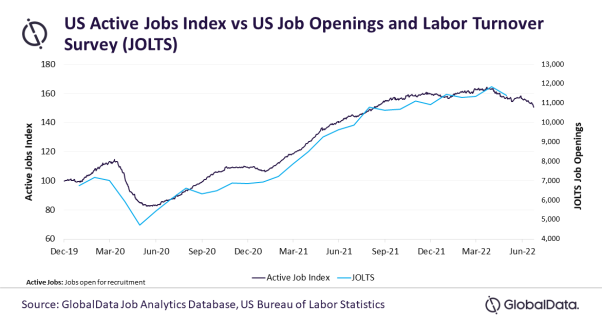 On a company level, Western tech companies Meta Platforms Inc (NASDAQ:META), Salesforce Inc (NYSE:CRM), and Netflix Inc (NASDAQ:NFLX) have been under cost-cutting pressures amid rising inflation, and have initiated hiring freezes and layoffs. Meanwhile, Ford Motor Company (NYSE:F) warned of staffing cuts in Spain, with a risk of closure of its German factory in Saarlouis. Further, crypto companies such as Coinbase, BlockFi, Bitso SAPI de CV, Gemini, and Crypto.com also began laying off staff.
Crypto Markets Cutting Staff
Sriprada adds: "Crypto markets have been on a downtrend amid inflation issues, with investors taking a step back from the market. This is also likely having an impact on hiring activity, as companies may be forced to lay off employees and reduce their workforce. For example, Coinbase Global's total number of job postings decreased by 73% from 730 jobs in January 2022 to 197 jobs in May 2022."
Following Western peers, Chinese companies Tencent (HKG:0700) and ByteDance announced layoffs in the latter part of June 2022, while Great Wall Motor (GWM) exited India. In June 2022, Tesla's APAC hiring activity fell 87% YoY in June 2022 amid layoff concerns. The company's job postings dropped by 58% in June 2022 over May 2022.
Meanwhile, in June 2022, Indian EdTech company Byju's laid off 500 employees. Other firms such as Unacademy, Vedantu, Lido, and Frontrow have cumulatively laid off thousands of people this year. However, there were other companies that looked at hiring. One example is EdTech firm Utkarsh, which plans to hire 500 employees. Cybersecurity company Sequretek also plans to increase its headcount from 400 to 500 people across Asia, Europe, and the US.
---
About GlobalData
4,000 of the world's largest companies, including over 70% of FTSE 100 and 60% of Fortune 100 companies, make more timely and better business decisions thanks to GlobalData's unique data, expert analysis and innovative solutions, all in one platform. GlobalData's mission is to help our clients decode the future to be more successful and innovative across a range of industries, including the healthcare, consumer, retail, financial, technology and professional services sectors.