Whitney Tilson's email to investors discussing Buffett's odd answer on Berkshire's share repurchases.
1) Picking up where I left off in yesterday's e-mail, in which I covered the question my friend and former partner Glenn Tongue asked Warren Buffett and Charlie Munger about share repurchases at the Berkshire Hathaway (NYSE:BRK.B) annual meeting on Saturday, I recorded Glenn's question and their eight-minute reply here.
Q1 2022 hedge fund letters, conferences and more
Glenn and I thought he was asking a softball question and expected a reply along the lines that I outlined in yesterday's e-mail, affirming that Buffett is highly price-sensitive when deciding whether and how aggressively to repurchase Berkshire's shares, but instead he replied:
After you were so nice in your introduction [chuckles] I have to say that you're actually wrong. If somebody offered us $50 billion worth of stock in the past three or four or five months, we'd have taken it. It's that simple.
And, as I mentioned earlier, we haven't bought any stock in April.
It's something that when we can do it and... when we think the probabilities are very high, but certainly we believe it in terms of our own valuation and our own business, [when] we think we're improving things for the remaining shareholder, we'll buy it back. And if we don't, we don't buy it back... [But] we'd rather buy businesses.
We don't stay awake at night working out formulas or anything of the sort.
Glenn and I were very surprised by his answer given how often Buffett has said that it only makes sense for any company to buy back stock when it's trading at a meaningful discount to its intrinsic value:
As far back as the 2004 annual meeting, well before he initiated Berkshire's first buyback program in 2011, Buffett said: "The best use of cash, if there is not another good use for it in business, if the stock is underpriced, is a repurchase."
On the first page of the 2015 annual letter, he wrote: "Berkshire's intrinsic value far exceeds its book value. That's why we would be delighted to repurchase our shares should they sell as low as 120% of book value. At that level, purchases would instantly and meaningfully increase per-share intrinsic value for Berkshire's continuing shareholders."
Later in 2015, in an interview with CNBC, Buffett said, "Many managements are just deciding they're gonna buy X billions over X months. That's no way to buy things. You buy things when they're selling for less than they're worth... It's not a complicated equation to figure out whether it is beneficial or not to repurchase shares."
At the next year's annual meeting, in 2016, he added, "Anytime you can buy stock for less than it's worth, it's advantageous to the continuing shareholders... but it should be by a demonstrable margin."
At the same time, he critiqued what most other companies do: "It's gotten quite common to buy back stock at very high prices that really don't do the shareholders any good at all... But buybacks can develop a life of their own... It's fashionable and they get sold on it by advisors."
"Can you imagine somebody going out and saying, we're going to buy a business and we don't care what the price is? You know, we're going to spend $5 billion this year buying a business, we don't care what the price is. But that's what companies do when they don't attach some kind of a metric to what they're doing on their buybacks. You will not find a lot of press releases about buybacks that say a word about valuation..."
During last year's annual meeting, Buffett dismissed the arguments that it is immoral to repurchase shares: "I find it almost impossible to believe some of the arguments that are made that it's terrible to repurchase shares from a partner if they want to get something, and you're able to do it at prices advantageous to the people who are staying."
Note that every time Buffett talked about repurchases in the past, he emphasized the importance of price – that it should only be done when shares are undervalued "by a demonstrable margin."
Indeed, this is exactly what Buffett appears to have done over the past two years, as you can see in this slide I created (part of my updated Berkshire Hathaway presentation, which I'll be sharing in upcoming e-mails):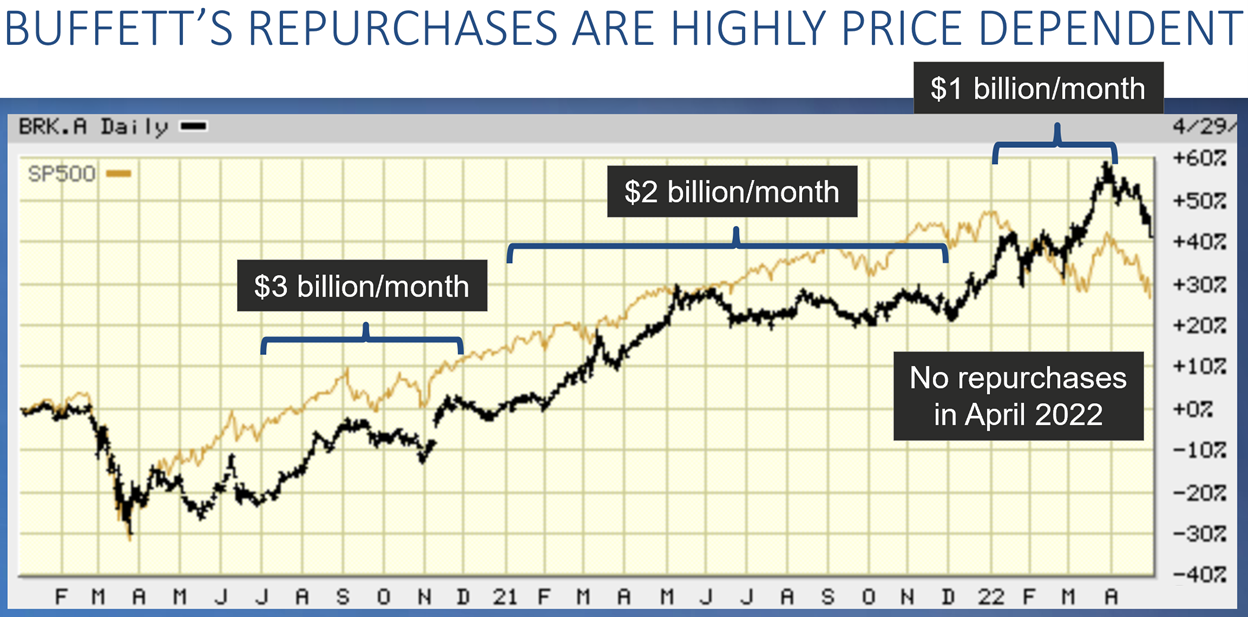 Berkshire tracked the market down during the COVID-19 crash, but then trailed badly in the huge rally, leaving it roughly 20% undervalued by my estimation (in Monday's e-mail, I included a chart showing Berkshire's share price relative to my calculation of its intrinsic value going back to 1996). Not surprisingly, Buffett ramped up his share repurchases to $9 billion per quarter ($3 billion per month) in the second half of 2020.
Then, Berkshire had a sharp rally in February, March, and April last year, and then flatlined for the next seven months at this higher level – at a roughly 10% to 15% discount to intrinsic value. Accordingly, Buffett scaled back repurchases to $6 billion to $7 billion per quarter (roughly $2 billion per month) during 2021.
Then, the stock took off in December and the first quarter of this year, surpassing $540,000 per A-share at the end of March, which is almost exactly at my $542,000 estimate of its intrinsic value (I showed my calculations in Monday's e-mail).
Sure enough, Buffett only repurchased $3.2 billion of his stock in the first quarter ($1 billion per month) and none at all in April.
This pattern – buying back a lot of stock when it's significantly undervalued and little or none when it's not – is entirely consistent with what Buffett has said many times in the past... and it's exactly what Berkshire shareholders would want to see.
So why didn't Buffett say so in his answer to Glenn?
I think the main reason is that he objected to the implication in Glenn's question that there's some sort of formula – $3 billion per month when the stock is 20% undervalued, $2 billion when it's 10% to 15% undervalued, etc.
No doubt Buffett doesn't follow a formula, but Glenn and I are certain that he is highly price conscious when determining how much stock to repurchase in any given period – and the proof is in his share repurchase patterns over the past two years.
I also found this part of his answer heartening: "If somebody offered us $50 billion worth of stock in the past three or four or five months, we'd have taken it." It means that Buffett thinks that Berkshire is worth "demonstrably" more than where it was trading over the past few months, and therefore that our valuation methodology is likely conservative.
Best regards,
Whitney
P.S. I welcome your feedback at [email protected].