There are thousands and thousands of companies in the world, but only a few of them actually make for good investments. It can be hard to determine which stocks are the right ones. Stock screeners, however, can significantly help us narrow down the list. The quality of stock screeners varies greatly – that is why we have searched for the best stock screener out there.
What is a stock screener good for?
A stock screener allows you to filter between stocks in order to find the most interesting stock opportunities. You can set specific criteria which the stock has to fulfill in order to be displayed on the result page. Do you want to look for the stocks that have changed today the most? Or perhaps for the stocks that will publish their earnings reports this month? Or stocks with P/E multiples under 10? With a stock screener, you can do all of that and much more…
The following selection of stock screeners is not random. When selecting the best stock screeners, we focused primarily on their usability, functionality, and cost. They also had to offer extensive criteria to filter for both fundamental and technical analysis.
The Best Stock Screener - Winner: Finviz.com – Simple, but very effective – FREE
As the #1 best stock screener out there, I chose Finviz. Their stock screener is very simple, clean and yet it offers almost every important feature we need from a stock screener. Using this tool, we can filter out stocks by market cap., dividend yield, average volume, or by over 50 other aspects. Given the fact it's completely free to use, this is the real deal.
When you visit the Finviz website, head for the "screener" tab to test out the stock screener. Once you find the list of your desired stocks, you can click on the name of any stock and a separate page will open. Here you can find all information about the selected company along with charts and news. The news is from high authority pages such as thestreet.com, marketwatch.com and they update whenever a new article about the stock is published. It's also a great source of news basically about any stock. If you are not certain how to use it, you can check this Finviz guide, which will help you to identify the best stock opportunities. 

Runner-Up #1: StockRover – Stocks and other assets – FREE
The second spot for the best screener belongs to Stockrover. To find the stock screener, click the "markets" tab in the top menu. It has lots of functions and features from which any stock investor can benefit. You can track, for example, which stocks are bought by which hedge funds or you can create your own custom screens. Similarly to Finviz, with StockRover you can also look for stocks either via your fundamental or technical setting. Apart from stocks, investors can also filter in other trading instruments, including: bonds, commodities, and ETFs. Most features are free, but after a while you are required to at least register a free account. This account will allow you to use most of the stock screener's functions.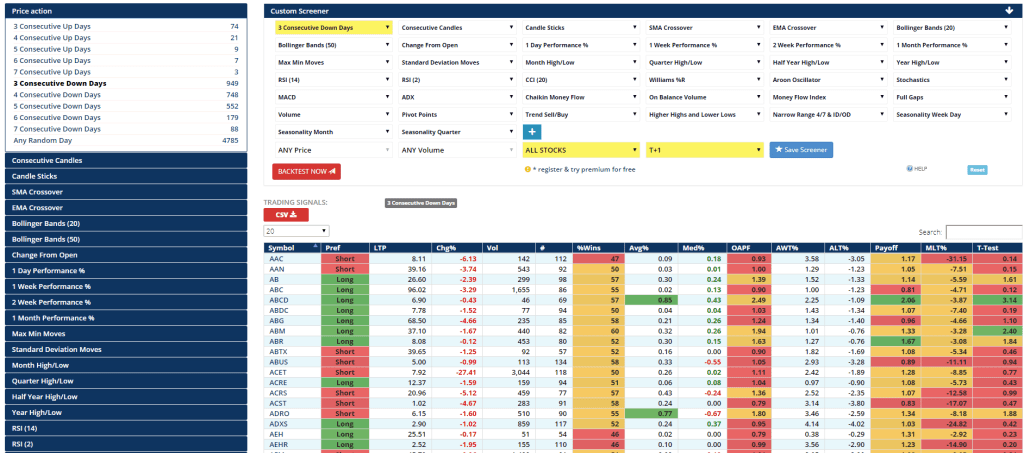 Runner-Up #2: Paststat.com – Extensive setup options – but not for free
This stock screener offers so many options that you probably won't know what to choose first. Do you want to search for every stock that has bearish MACD crossover? Or for stocks that crossed ADX indicator in a downtrend and above 50? With Paststat you can.
Decide which setting is important for you and set up the stock screener exactly how you want it. You can also let yourself be inspired by the left menu, where the performances of stocks are sorted out by a certain time period. Choose, for example, 1 month performance % and see how many and which stocks have changed by +10%, +20%, +30%, +40%, +50% or by -10%, -20%, -30%, -40%, -50%. StockRover is one of the best stock screeners out there, but unfortunately it is paid, so it comes as the third best option when choosing a stock screener. Taking advantage of this stock screener is possible every day for 5 searches without any charge; if you want to use it regularly you have to create an account and pay every $99/month.
Article by Vintage Value Investing