Co-CIO Francis Gannon looks to psychology to explain why investor preferences remain stubbornly at odds with synchronized global economic growth.
Recently increased levels of volatility have done nothing to change small-cap style preferences as the Russell 2000 Growth Index continues to hold serve over its small-cap value counterpart, as it has for the last 15+ months.
Based on historical performance patterns, this is an anomaly because growth stocks tend to do best during periods of flat or contracting economic growth—and not during periods of global economic expansion such as what we currently have.
In fact, because they're more economically sensitive, small-cap value stocks have tended to reap most of the rewards of accelerated growth. (In addition, many growth stocks are more interest-rate sensitive and have therefore often lagged value when rates have been on the rise.)
So with leading economic indicators through much of the developed world showing strength through most of the last year, the stage would appear to have been already set for value stocks—as well as cyclical sectors—to lead.
Yet during the first quarter, both Industrials and Materials, two of the cyclical, value-laden areas that one would expect to do well during an economic expansion, fell within the Russell 2000 Index while the Russell 2000 Value Index was down 2.6% versus a gain of 2.3% for the Russell 2000 Growth.
LEI Index is an index of Leading Economic Indicators including economic variables that tend to move before changes in the overall economy. These indicators give a sense of the future state of an economy.

Strengthening Economy

Trailing Year/Year Change in LEI Index

Cyclical Sectors Declined

1Q18 Russell 2000 Sector Returns
Why, then, do small-cap investor preferences seem so stubbornly at odds with recent economic activity? Psychology may hold the key. The peculiar mental phenomenon known as confirmation bias often prevents us from recognizing when negative effects are reversing and changes are taking place.
Applying this to the market means that investors will likely pay more attention to information that confirms their preconceptions.
Confirmation bias does not make people impervious to contrasting or inconvenient facts (though it sometimes can)—but numerous studies show that it does slow our responses to any new, especially contradictory, information that challenges our existing perceptions or ideas —such as, say, synchronized global economic growth.
This means that most investors will hesitate before shifting their view of an out-of-favor stock, sector, or investment style. This bias (sometimes also called "recency bias") leads many of us to think that whatever worked yesterday will work again today or tomorrow.
This delayed recognition of change explains why it can sometimes take months, or even years, for investor behavior to reflect new information about companies, the markets, and/or the economy. One result of this is to create opportunities for long-term investors.
To be sure, we also see this disconnect playing out in small-cap fund flows. Despite higher-than-average annualized returns for the Russell 2000 Index over the last one-, five-, and 10-year periods ended 3/31/18, both 2016 and 2017 saw relatively modest inflows into small-cap funds while 2018 saw outflows in its first quarter.
Despite New Index High, Investor Enthusiasm Has Been Modest
Annual Small-Cap Cash Flows from 1/31/97 through 3/31/18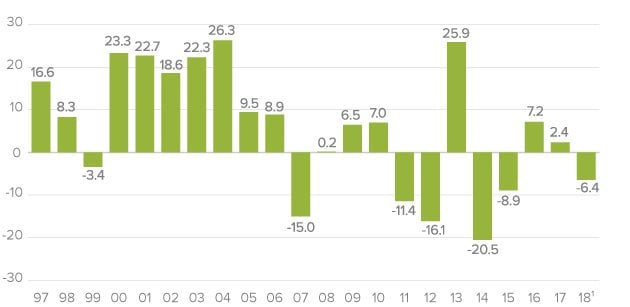 Source: Morningstar
1YTD through 2/28/18
It seems clear to us, then, that investors remain uncertain about the sustainability of the accelerating economy, paying scant attention to the companies and industries where we see some of the strongest prospects for earnings growth.
And even allowing for the possibility that leading economic indicators are at or near their peaks—as some are currently arguing—we expect that a transition to a slower-growth environment would still result in positive, though lower, overall small-cap returns as the economy continues to expand at a more measured pace.
We do not know when the mindset we've described will change. However, while trying to stay aware of our own biases, we believe that the case for continued growth in the economy and better earnings potential for small-cap cyclicals with global exposure remains stronger than holding onto what worked yesterday.
Stay tuned…
Article by Francis Gannon, The Royce Funds