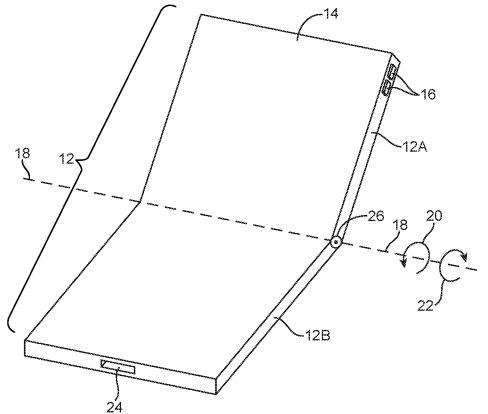 So far it has mainly been Samsung and Huawei in the race to develop a foldable smartphone. Now it appears Apple also wants to participate in the contest. The iPhone maker recently patented a foldable display, suggesting that at some point we may see a folding iPhone.
It's all about hinges
Apple was granted patent number 10,104,787 titled "Flexible display devices" on Tuesday. The patent describe the hinge mechanism, which is the most crucial part of a flexible phone.
"Flexible displays may be mounted to the housing portions overlapping the hinges. When the housing portions in a device are rotated relative to each other, the flexible display may bend," the patent reads.
According To Jim Chanos, This Is The Biggest Story No One Is Talking About
When a liquidity crisis struck China's Evergrande Group in the summer of 2021, it shook the global markets. Debt payments by China's second-largest property developer by sales were estimated in the hundreds of billions of dollars, and the company missed several payments. Those missed payments led to downgrades by international ratings agencies, but the Chinese Read More
Based on the patent, if a folding iPhone ever comes, it could be flexible enough for users to close it both ways.
"The hinge may be configured to allow the flexible display to be placed in a front-to-front configuration in which an active side of the display faces itself or a back-to-back configuration," the description says.
Apple tried to cover all the possibilities when it comes to hinges in its patent. The patent describes hinges based on a three-bar linkage and a four-bar linkage. Apple's patent also covers hinges based on flexible housing structures, hinges formed from flexible support structures, and hinges with slotted members.
When will the folding iPhone arrive?
It must be noted that Apple filed this patent in the fall of 2016, around the same time it filed another flexible device patent. It is believed that Apple is in no hurry to release a folding iPhone. Apple is reportedly waiting to gauge the success of bendable Android devices first. Then if it sees fit, it may launch a folding iPhone.
A patent is no surety of a final product either, and with a company like Apple, the chances are even slimmer. The company continuously files patents, but not all patents are for technology which enters development. Even if the company does work on it, there is no guarantee we will see a final product based on it.
This is Apple's second patent for a folding display. Apple was granted the first patent in November 2016, and it detailed a display that could open and close like a book. There were also reports last year that Apple and LG were working on a special type of display. Apple reportedly chose LG because it did not trust Samsung and wanted to avoid leaks.
Foldable smartphones are the future
Apple and other smartphone makers have so far been using curved OLED displays. Even though many companies are known to have been working on flexible displays for years now, the concept has yet to go mainstream. The displays currently being used in iPhones already bend at the bottom to hide the controllers and cables, but it is nothing close to a foldable display.
As smartphones grow bigger, it would only be logical for phone makers to introduce a foldable smartphone. Such phones appear to be the future, especially considering the arrival of mobile TV on 5G networks. Samsung is expected to announce the world's first folding smartphone next month. Later, Huawei, Xiaomi, and Oppo are also expected to release foldable phones.
Samsung has been open about its ambition to be the first to launch a foldable device. In its earnings statement earlier this year, the company noted that in 2018 it will "reinforce its competencies in new applications such as foldable [displays]." At the time, reports suggested the Korean company would start volume production for its foldable smartphone, which is code-named "Winner," some time this year.
As far as of how Samsung's foldable phone will look, The Wall Street Journal claimed recently that the handset will feature a screen that measures about 7 inches diagonally. The report added that users could fold the device in half, and when folded, the outside half shows a small display bar, while the other side houses cameras.
Samsung Mobile CEO D.J. Koh recently revealed that the foldable phone would work like a tablet and come with multi-tasking abilities but can be folded into a pocket. Further, Koh stressed that it will not be a gimmick and will be launched globally, unlike other Samsung phones that were exclusive to South Korea.