Apple In The Crosshairs — Facebook Next?
The big tech news last weekend was the report by the Wall Street Journal (paywalled here) that two of Apple's institutional investors, activists JANA Partners and one of the world's largest pension funds, CalSTRS, asked Apple to study "research effects on young people of smartphone overuse and addiction". Reuters offered some background on mobile phone addiction in its article on the news:
[T]he issue of phone addiction among young people has become a growing concern in the United States as parents report their children cannot give up their phones. CalSTRS and Jana worry that Apple's reputation and stock could be hurt if it does not address those concerns, according to the Journal.

Half of teenagers in the United States feel like they are addicted to their mobile phones and report feeling pressure to immediately respond to phone messages, according to a 2016 survey of children and their parents by Common Sense Media.

The phone addiction issue got a high-profile boost from the former Disney child star Selena Gomez, 24, who said she canceled a 2016 world tour to go to therapy for depression and low self-esteem, feelings she linked to her addiction to social media and the mobile photo-sharing app Instagram.
As Zero Hedge put it on Twitter, "Apple just became Big Tobacco". I wrote about this on another site, and a commenter responded, "It's not the phone, it's Facebook, stupid".
He had a point, if you think about it. It's also telling that the social media platform mentioned by Reuters in that sad story about Selena Gomez above was Instagram, which is owned by Facebook.
Probably Not An Imminent Problem
To be clear, I don't expect this to be an immediate headwind for Facebook or Apple, and my site, Portfolio Armor, is moderately bullish on both over the next several months. Portfolio Armor estimates that a potential return of about 12% for Facebook over the next six months. Overall, my site has a good track record of generating alpha in its security analysis, as my previous post here showed. But sometimes it gets things wrong too, and it's possible that it's current bullishness on Facebook is misplaced. So let's look at two ways Facebook shareholders can stay long while limiting their downside risk.
Adding Downside Protection To Facebook
For these two examples, I'll assume you have 500 shares of Facebook and are unwilling to risk a decline of more than 15% over the next six months. The screen captures below are from the Portfolio Armor iOS app.
Uncapped Upside, Positive Cost
As of Wednesday's close, these were the optimal, or least expensive, put options to hedge 500 shares of Facebook against a >15% decline by mid-June.
The cost of this protection, as you can see above, was $1,925, or 2.05% of position value, calculated conservatively, using the ask price of the puts. Note that the 15% decline threshold here includes the hedging cost: in a worst case scenario, you'd be down 12.95% with this hedge, not counting the hedging cost.
Capped Upside, Negative Cost
If you were willing to cap your possible upside at 14%, this was optimal collar to hedge Facebook against a >15% decline over the same time frame (I used 14% as a cap here because it was the highest cap that gave a negative cost using these parameters).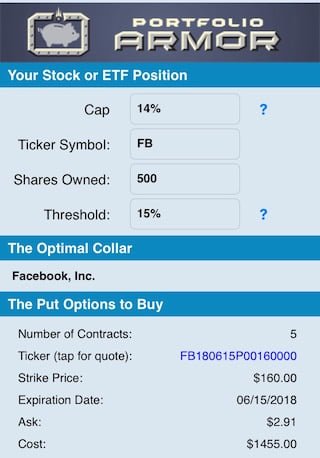 After an iterative process, taking into account the net cost of the collar, the hedging algorithm was able to select a less expensive strike for the put leg of the collar, where the cost was $1,455 or 2.91% of position value. The income generated by selling the call leg was a bit higher though: $1,775, or 1.89% of position value.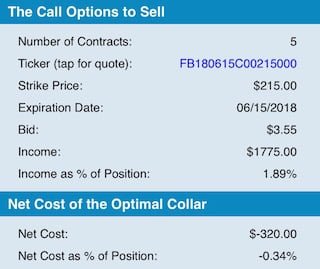 So your net cost was negative, meaning you would have collected a net credit of $320 when opening this hedge, assuming you placed both trades at the worst ends of their respective spreads.