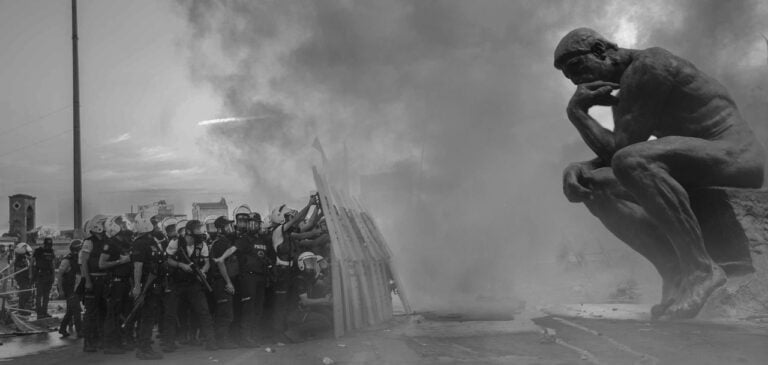 AI predictive model foresees spike in U.S. political violence, country risk in Q3-4 after "brief respite"

Q3 2020 hedge fund letters, conferences and more
GeoQuant's "Year Ahead Report" predicts vaccine success, sweeping tech and Bitcoin regulation, opening of China Cold War, America's deepening polarization and "EM-ification" -- politics looking more and more like a "developing country" 
London Quality Growth Investor Conference: Buy Dassault Systemes
At this year's inaugural London Quality Growth Investor conference, Denis Callioni, analyst and portfolio manager at European investment group Comgest, highlighted one of the top ideas of the Comgest Europe Growth Fund. According to the speaker, the team managing this fund focus on finding companies that have stainable growth trajectories with a proven track record Read More
Firm Boasts 87.5% Correct Predictions since 2017, including "peak political violence" risk on Jan. 5 2021, 24 hours before Capitol riot
New York, NY - GeoQuant, the world's first high-frequency political risk data firm, released its 2021 Year Ahead Report which outlines the company's predictions for major political and economic events over the next 12 months.
Riding an 87.5% correct prediction rate since 2017, GeoQuant successfully called an increased threat of political violence in the first week of January 2021 (June 2020), the outcome of the US presidential election (April 2020), soft Brexit (originally in 2017 and reaffirmed in 2020), and both President Trump's impeachment and subsequent acquittal (September 2019). The firm's PhD-level political scientists utilize  proprietary artificial intelligence driven data to predict major events, and with their latest report, the biggest trends for the coming year. This includes an overall near-term (Q1 and Q2) decline in global political risk as a COVID-19 vaccine is rolled out, as well as significant areas of underestimated market risk, particularly volatile U.S.-China relations and sweeping regulations for the tech sector worldwide.
Among the report's key predictions in 2021:
U.S. political violence risk declines in short term, spikes in Q3 and Q4 2021, solidifying America as a "new emerging market"
The first two quarters of 2021 may provide a false sense of security as the latter quarters see a renewed increase in the risk of political violence, institutional risk and social polarization in the U.S. Six months before an insurrection broke out at the U.S. Capitol, GeoQuant predicted the all-time high spike in violence risk the first week of January 2021. That same risk will decline in the short term, but rise towards the end of the year.
Tech regulation is the biggest corporate risk of 2021
Simply put, while the tech sector has been the global economy's big "winner" from the Covid-19 pandemic, it will be the biggest target of late and post-Covid politics, both in developed and emerging markets. The technology sector should expect a persistent push towards regulation, government intervention, and legislation. Not only is antitrust pressure likely to continue, but regulatory pressures around platform liability and tax rates are set to increase.
Government regulators will come for cryptocurrency
Following the trend of the tech world, the wild west of currency exchange will no longer have the free range it has enjoyed since its creation. Government regulators and lawmakers will advocate for and institute policies that seek to curb the "borderless" nature and anonymity of Bitcoin and other cryptos.
The deepening of a "Tech Cold War" between the U.S. and China
The contentious relationship between the U.S. and China that defined the Trump era will only get worse under President Biden. As issues over the Uighurs, Hong Kong, the South China Sea, and Taiwan persist, the tech sphere will be the primary arena where the two superpowers antagonize one another in the form of bans, regulation, and lawsuits. U.S.-China tensions have always been more about technology than trade and while tariff relief may be on the horizon, any deal with China will be more focused on solving tech and cybersecurity issues, not trade.
While country risks are forecast to decline, geopolitical risks will increase
This year's broader decline in global risks of political violence is driven by a fall in risk within countries. But risks between countries--i.e. Geopolitical risks--are forecast to increase, especially after Q1. This global trend is driven primarily by (i) a growing U.,S.-China great power rivalry and higher tension in East Asia; (ii) a reversion to higher risk in the Middle East; and (iii) renewed tensions in Russia's near-abroad, especially visavis Ukraine.
Global government instability on the decline
Government Instability Risk, a common driver of political and market disruptions, is forecast to decline. Among the G20, the UK remains a notable outlier reflecting GeoQuant's analysis that UK politics will remain lively post-Brexit as Boris Johnson stays in power at the cost of alienating his Hard Brexit allies -- while China is forecast to post the greatest reduction in risk overall. Despite elite jockeying, Xi Jinping's dominance of the CCP and the upper echelons of the Chinese government will remain largely unchallenged internally.
"Our data shows that the incoming Biden administration will break from its predecessor by ushering in a period of declining risk of political violence in the short-term. Whereas President Trump seemed to seek out spikes in political risk and market instability, his successor will chart a new course," said Mark Rosenberg, CEO & Co-Founder of GeoQuant. "That being said, the year ahead will not be without its disruptions, and the violence and polarization we predicted spiking last week will be a fixture of America for a long time, confirming our analysis that the United States is much more akin to an emerging market with massive swings in risk with each electoral outcome much like emerging market governments. Additionally, there will likely be no greater loser than the technology sector as governments around the world are seeking to rein in what they see as the wild west of regulation. Tech will also be the new front lines of warfare with China, leading to more private sector crackdowns and legislation on both sides. While tech was the big winner of the past decade, they will start off the next one firmly on the defensive."
See their full 2020 report and predictions here. In 2017, GeoQuant spearheaded the Mueller Risk Index which measured and predicted developments in the Mueller investigation on the stock market.
---
About GeoQuant
GeoQuant is an AI-driven political risk data firm that measures, analyzes and forecasts country risks at high-frequency.

Updated on