Adagio Therapeutics Inc (NASDAQ:ADGI) said it secured manufacturing capacity with third parties to produce its SARS CoV-2 antibody treatment for clinical trials in anticipation of US Food and Drug Administration and other regulations.
The Waltham, MA-based clinical-stage biopharmaceutical company focuses on discovering, developing and commercializing antibody-based solutions for infectious diseases with pandemic potential. Adagio has a portfolio of SARS-CoV-2 antibodies, including multiple, non-competing, broadly neutralizing antibodies with distinct binding epitopes, led by ADG20.
Q1 2022 hedge fund letters, conferences and more
Adagio Therapeutics' IPO
Adagio has traveled a rough road since its August 2021 $17 initial public offering. The shares debuted with a roughly 25% gain, climbing to $78.82 amid analyst optimism which drove demand.
The bubble burst, though, and the shares began a long decline to their current roughly $3 a share. That's an 86% decline from the shares' high. The shares spiked briefly in November when Adagio said ADG20 showed effectiveness against Omicron.
Retail investors greeted the news by opening their wallets to buy. Adagio shares climbed 629 positions on the Fintel Retail Ownership leaderboard and currently sit at the 119th spot. We included a chart from ADGI's Retail Ownership page below: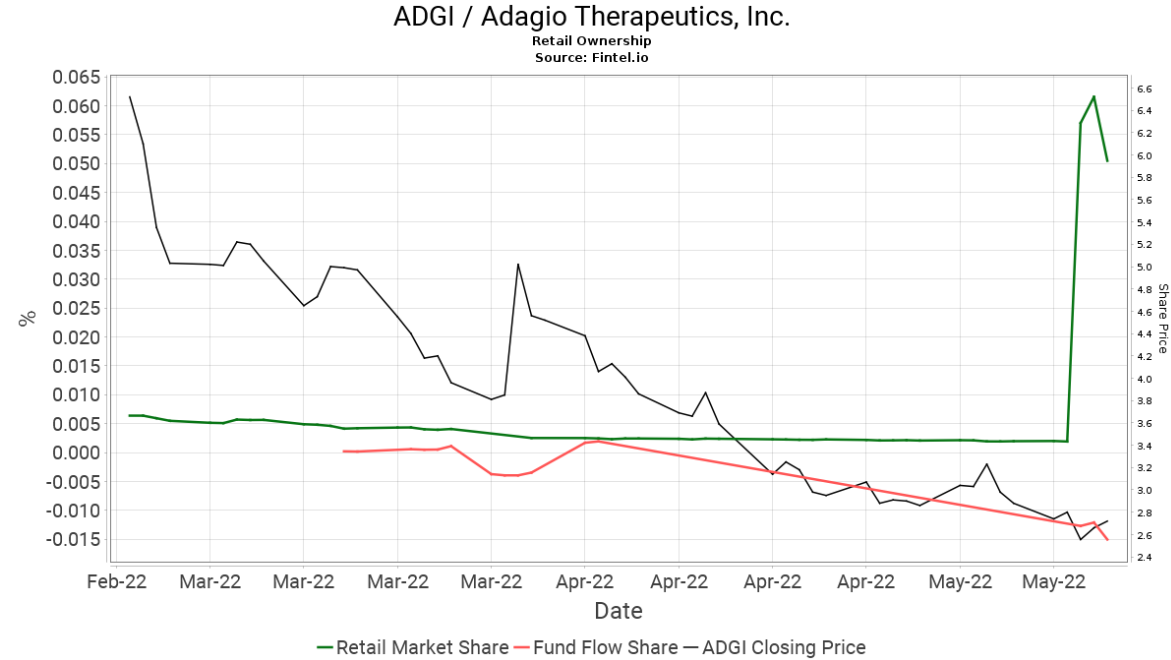 Buyers also digested the company's earnings from Friday when the company reported a 93 cents a share loss first quarter loss, a blistering 30 cents below Wall Street analysts' average estimate.
Research and Development expenses rose to $92 million, compared to $34 million for the prior year. The firm reported cash and cash equivalents of $532 million on the 31st of March and management expects total cash and equivalents will continue to fund the company into the 2024's second half.
The company paused its clinical trials earlier after early results against the Covid 19 omicron variant.
Adagio shares carry the risk of many early-stage biotech firms; running out of money. Investors often balk at funding untested product development. However, its current cash balance exceeds its market capitalization and provides an operating cushion and share price support.
According to Fintel's Put/Call Ratio for ADGI, which indicates market sentiment for the underlying shares, the stock has a score of 0.42
The Put/Call Ratio shows the total number of disclosed open put option positions divided by the number of open call options. Since puts are generally a bearish bet and calls are a bullish bet, put/call ratios greater than 1 indicate a bearish sentiment, and ratios less than one indicate a bullish sentiment. We a chart of this ratio and how it has behaved over the last three months: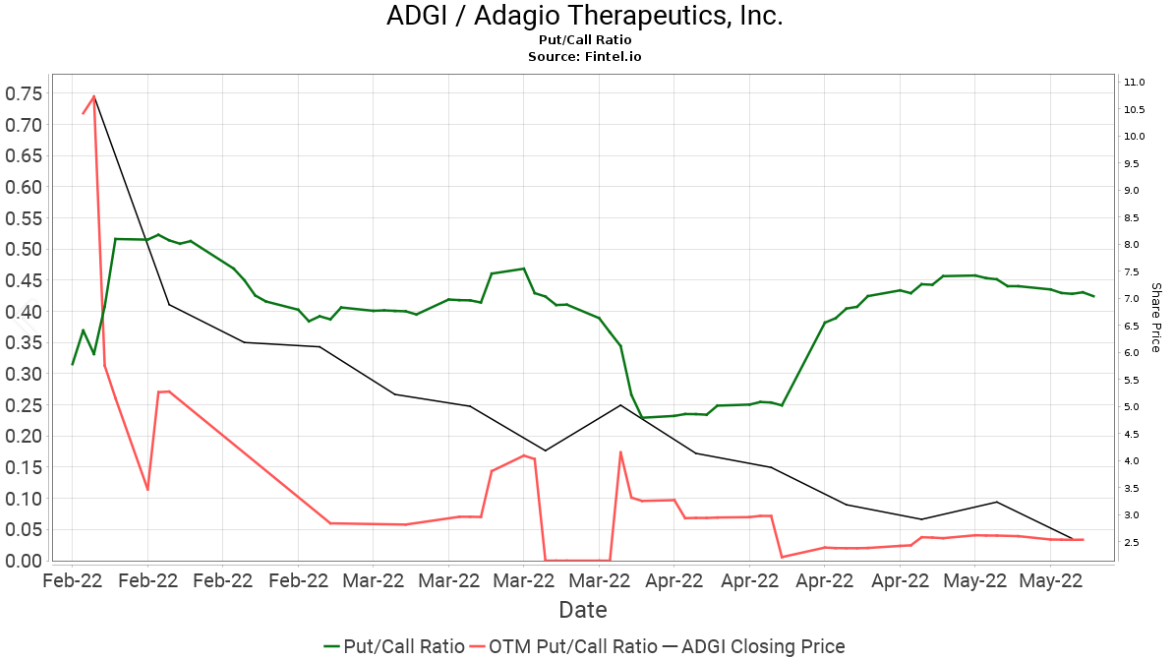 Interestingly, the stock also sports a Fintel Short Squeeze Score of 86.61, which places it in the top 5% of our 5,500 screened companies. The Short Squeeze Score uses a sophisticated, multifactor quantitative model that identifies companies with the highest risk of experiencing a short squeeze. The scoring model uses a combination of short interest, float, short borrow fee rates, and other metrics. The number ranges from 0 to 100, with higher numbers indicating a higher risk of a short squeeze relative to its peers and 50 being the average.
The consensus analyst rating for the shares is "underweight."
Article by Ben Ward, Fintel